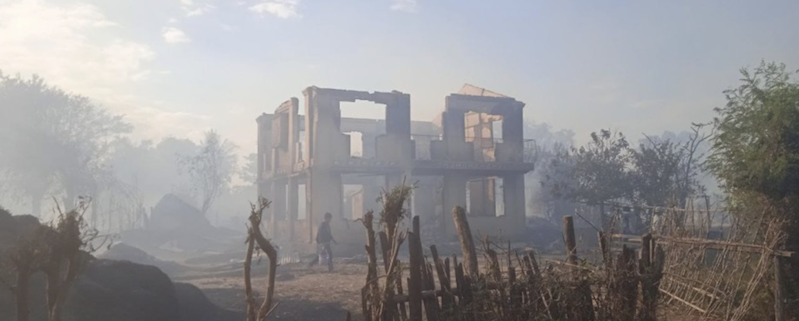 The remains of most of the victims, including two elderly men in their 80s, were burned almost beyond recognition
Regime forces have killed at least seven civilians since late last week in a series of raids targeting villages in central Sagaing Region, according to local sources.
On January 6, a junta column of around 100 soldiers left the town of Kanbalu and attacked Htan Pin Kone, a village located about 15km to the northeast in neighbouring Kyunhla Township, locals told Myanmar Now.
Residents of the area say that when they returned to the village after the soldiers left the next day, they found the body of Nyi Nyi, a 30-year-old man who had been shot in the head.
Three days later, on Tuesday, the body of another man, identified as Tun Hla, 58, was discovered in a nearby wooded area.
"Tun Hla's body was burned on top of a haystack, with his hands tied behind his back," said a villager who saw the victim's charred remains.
"Everything was set on fire. Even tractors and motorcycles were torched," he added, speaking on condition of anonymity.
Sagaing-Depayin-Kyunhla-Kanbalu.jpeg
On the same day, three more bodies, also badly burned, were found near the Kanbalu Township village of Pinttha, according to a member of a local defence team.
"There was not much left of them, just pieces of their skulls and fragments of the longyis they were wearing. The rest was just ashes," he said.
The victims were identified as brothers Bo Bo, 30, and San Myint Aung, 27, both residents of Pinttha, and Maung Tun, 30, from the neighbouring village of Shan Kone.
Sources in both Htan Pin Kone and Pinttha said that the soldiers didn't just chase villagers from their homes—they also pursued them into the nearby forests as they attempted to flee.
Meanwhile, another column of around 150 regime soldiers has reportedly torched 400 houses in 11 villages in Depayin Township since January 3. Two elderly civilians were also killed in the raids.
According to local sources, an attack on the village of Satpyar Kyin on January 7 left an 84-year-old man named Phoe Tar dead, while another on the village of In Taing Lay two days later resulted in the death of 85-year-old local Wun Mya.
"They put his body inside his neighbour's house before setting it on fire," said a Satpyar Kyin resident who saw Phoe Tar's body.
Myanmar Now has been unable to independently verify this information, and junta officials were unavailable for comment.
The regime routinely denies carrying out arson attacks and targeting civilians, despite numerous reports of atrocities committed by the military since it seized power in a coup nearly two years ago.
https://ndburma.org/wp-content/uploads/2023/01/in_taing_lay.png
378
799
ND Burma
https://ndburma.org/wp-content/uploads/2020/04/ndbLogo-296x300.png
ND Burma
2023-01-12 08:32:26
2023-01-16 08:34:47
Seven civilians killed in junta raids on central Sagaing villages