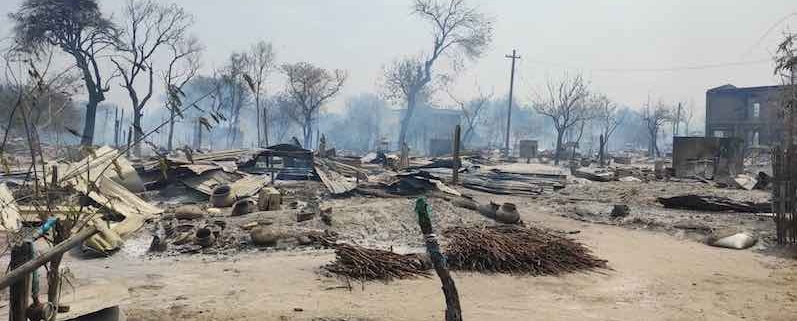 Seven people who were unable to flee due to their advanced age and disabilities are found dead in their torched houses after a three-hour siege by junta troops in Budalin Township
A 50-soldier junta column killed seven civilians—most of whom were elderly and had disabilities—in an arson attack on a village in Sagaing Region's Budalin Township over the weekend, according to local sources.
The military unit raided Son Kone, five miles south of Budalin town, at 8am on March 25, burning around 180 of the village's 300 homes during a three-hour assault. While most of the residents fled, a few stayed behind, unable to run. They were later found dead in their torched houses, survivors said.
"The military came unannounced and we couldn't save anyone but ourselves," a local man told Myanmar Now. "We tried to save some, but everything was in chaos as it happened early in the morning."
Among the victims identified by two Son Kone villagers were four 80-year-olds: one man, Kyi Myint, also known as Japan Gyi, and three women—Khwe Ma, Khin Myint and Tin Ei. Two more 75-year-old women were among the casualties, Daw Pyae and Kyi Aung, as well as 50-year-old San Myint.
"They deliberately started the fires and the northern wind caused them to spread. Only the newly built houses in the extended area of the village were spared," another man from the community said. "The bodies were found inside the remains of the houses that were torched. They were covered with debris from the houses falling apart."
Myanmar Now has not been able to speak with the relatives of the deceased.
More than 20 cattle that belonged to villagers in Son Kone were also found to have been killed in the fires.
The troops who carried out the attack were identified by eyewitnesses as belonging to Light Infantry Division 11, based in Yangon's Htauk Kyant Township, but stationed in the headquarters of the Northwestern Military Command in the city of Monywa, 20 miles south of Son Kone. They reportedly departed the command base on March 24, heading towards Budalin, and were ambushed with explosive devices planted by local resistance teams outside of Son Kone before the raid the next day.
The soldiers left Son Kone at around 11am, splitting into two columns and heading towards Depayin Township, according to locals, who cited scouts from resistance forces in the area.
In February, the military declared martial law in 40 townships nationwide, 14 of which are in Sagaing Region. Budalin was not among them.
The junta has not released any information on its activities in the township. 
https://ndburma.org/wp-content/uploads/2023/03/Sagaing-Region.jpeg-.jpg
375
797
ND Burma
https://ndburma.org/wp-content/uploads/2020/04/ndbLogo-296x300.png
ND Burma
2023-03-28 08:52:43
2023-03-29 08:56:24
Myanmar army column kills several elderly civilians in assault on Sagaing Region village