ND-Burma formed in 2004 in order to provide a way for Burma human rights organizations to collaborate on the human rights documentation process.
The 13 ND-Burma member organizations seek to collectively use the truth of what communities in Burma have endured to advocate for justice for victims.
ND-Burma trains local organizations in human rights documentation; coordinates members' input into a common database using Martus, a secure open-source software; and engages in joint-advocacy campaigns.
Vision:
A peaceful, democratic and federal Burma that has acknowledged past human rights violations and has implemented measures to uphold the dignity of victims and guard against recurrence.
Mission:
Achieve government recognition, redress and guarantees of non-recurrence for victims of human rights violations.
Goal:
Produce high-quality data that ND-Burma and other human rights advocacy groups can use effectively.
Members
Membership Criteria
Political independence
A strong track record of human rights documentation
A strong interest in contributing to a collaborative effort
Membership of ND-Burma includes the following organizations:
Partner Organizations
East Bago – Former Political Prisoners Network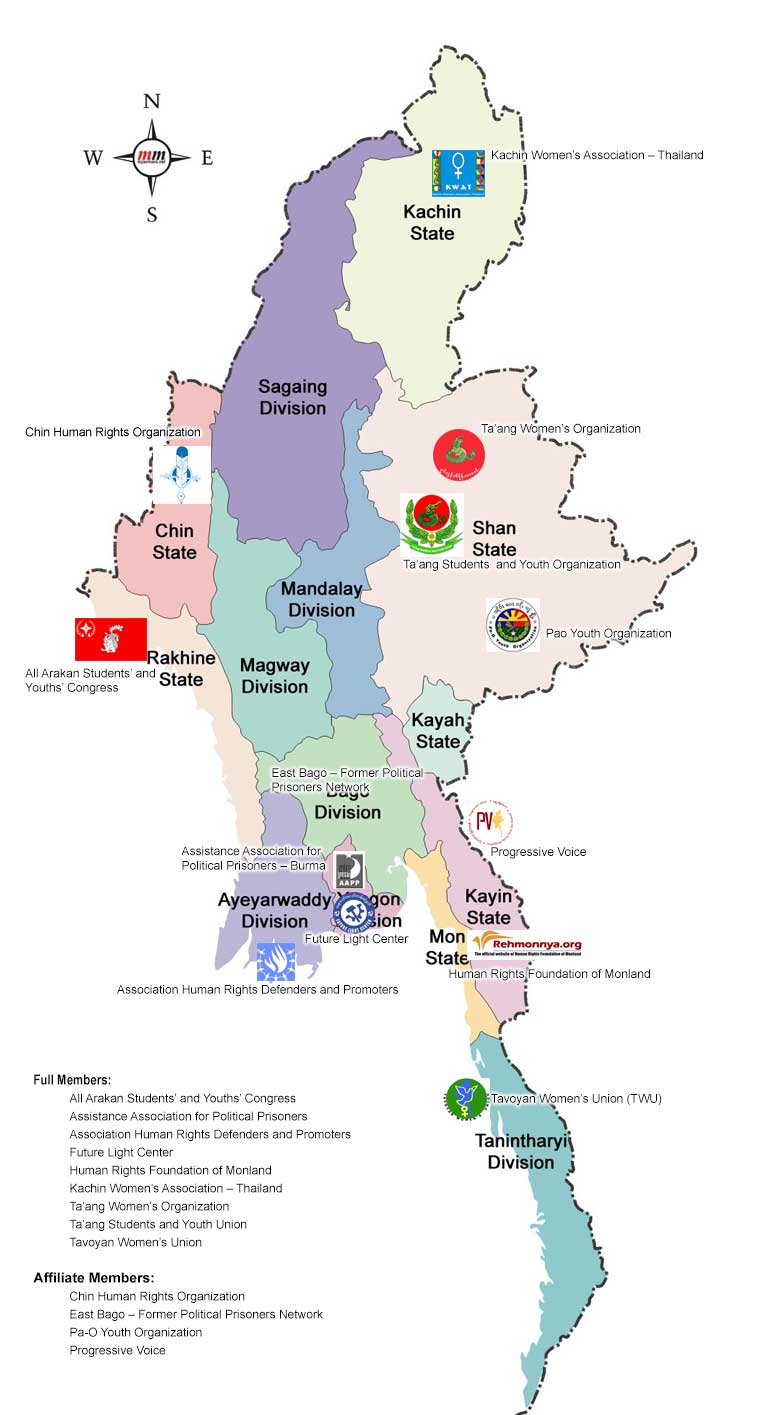 Activities
Human Rights Documentation
The range of human rights violations in Burma is extensive and each ND-Burma member organization focuses on certain violations that are particularly relevant to their mission. To provide a framework for collaboration among members, ND-Burma has developed a "controlled vocabulary" of the categories of human rights violations on which the network focuses.
Documentation Manual Series
Based on ND-Burma's controlled category list ND-Burma has developed a documentation manual series to support its members in effectively documenting human rights violations.
Killings & Disappearance
Arbitrary Arrest & Detention
Recruitment & Use of Child Soldiers
Forced Relocation
Rape & Other Forms of Sexual Violence
Torture & Other Forms of Ill-Treatment
Forced Labor
Obstruction of Freedom of Movement
Violations of Property Rights
Forced Marriage
Forced Prostitution
Human Trafficking
Obstruction of Freedoms of Expression and Assembly
General Documentation
Other training provided includes:
Training
ND-Burma's Training Team organizes and provides training to its members, affiliates and other stakeholders.
Human Rights Documentation and Martus software training is held regularly.
International human rights legal systems
Project management
Finance
Film shooting/editing workshop
Taxation systems
Interview techniques
Advocacy
Training of trainers
Human Rights Data Management
All members use the same "Martus" software for documentation, allowing for analysis and storage of encrypted incident reports on a secure common server. ND-Burma provides Martus training and support to its members.
Advocacy
ND-Burma translates its data on human rights violations into regular briefings and reports which it shares on its website and social media. It also host events on human rights issues and holds meetings with national and international legislators, journalists, NGOs and others to update them on the human rights situation in Burma.