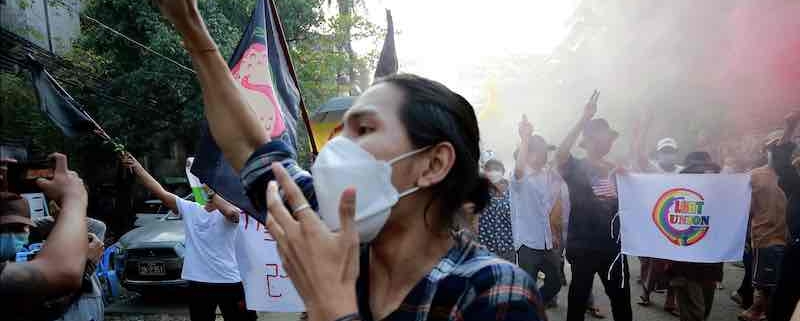 ASEAN Countries Should Adopt Tough Sanctions against Junta
(Jakarta) – Myanmar's junta has been responsible for war crimes and crimes against humanity since the military coup in February 2021, Human Rights Watch said today in its World Report 2023. The security forces have been implicated in mass killings, arbitrary arrests and detention, torture, sexual violence, and attacks on civilians in conflict areas. Amid a post-coup economic crisis, the junta has severely hindered the delivery of humanitarian aid to communities most at risk.
Member countries of the Association of Southeast Asian Nations (ASEAN), which Indonesia will chair in 2023, should coordinate to support targeted sanctions on the Myanmar military's major revenue streams.
"Ending the Myanmar junta's widespread abuses needs a global commitment to impose pressure through targeted sanctions and accountability for atrocities," said Elaine Pearson, Asia director at Human Rights Watch. "Indonesia as ASEAN chair should take the lead in imposing concrete measures that will curtail the junta's ability to violate the rights of its citizens."
In the 712-page World Report 2023, its 33rd edition, Human Rights Watch reviews human rights practices in close to 100 countries. In her introductory essay, acting Executive Director Tirana Hassansays that in a world in which power has shifted, it is no longer possible to rely on a small group of mostly Global North governments to defend human rights. The world's mobilization around Russia's war in Ukraine reminds us of the extraordinary potential when governments realize their human rights obligations on a global scale. The responsibility is on individual countries, big and small, to apply a human rights framework to their policies, and then work together to protect and promote human rights.
Since the coup, Myanmar's security forces have arbitrarily arrested more than 16,000 pro-democracy activists and supporters and killed at least 2,300, according to the nongovernmental Assistance Association for Political Prisoners. In July, the military executed four political prisoners in Myanmar's first use of the death penalty in over three decades. The National League for Democracy leader, Aung San Suu Kyi, is serving a 33-year sentence after closed military trials for corruption, incitement, breaching the Official Secrets Act, and other politically motivated charges.
The Myanmar military has carried out indiscriminate ground and air attacks that have resulted in numerous civilian deaths. Fighting since the coup has displaced over one million people internally, with another 70,000 refugees fleeing into neighboring countries.
The junta has blocked desperately needed humanitarian aid from reaching millions of displaced people and others at risk, in violation of international humanitarian law. Across the country, security forces imposed new travel restrictions and attacked aid workers, blocked access to roads and aid convoys, destroyed non-military supplies, and shut down telecommunications services.
In Rakhine State, new restrictions on movement and aid affecting ethnic Rohingya camps and villages exacerbated water scarcity and food shortages, increasing cases of preventable diseases and severe malnutrition. Escalating hostilities between the Arakan Army armed group and the Myanmar military resulted in Rohingya and Rakhine civilian deaths, arbitrary arrests, and displacement.
Key international actors such as the European Union, United States, United Kingdom, and Canada have imposed targeted sanctions on senior military and junta officials and some junta entities. However, countries in the Asia-Pacific region, notably ASEAN member countries, Australia, and Japan have not taken meaningful actions against the junta, undermining efforts by other governments, Human Rights Watch said.
https://ndburma.org/wp-content/uploads/2023/01/hrw.jpg
370
800
ND Burma
https://ndburma.org/wp-content/uploads/2020/04/ndbLogo-296x300.png
ND Burma
2023-01-13 09:21:28
2023-01-20 09:22:59
Myanmar: Abuses Mount Since Military Coup