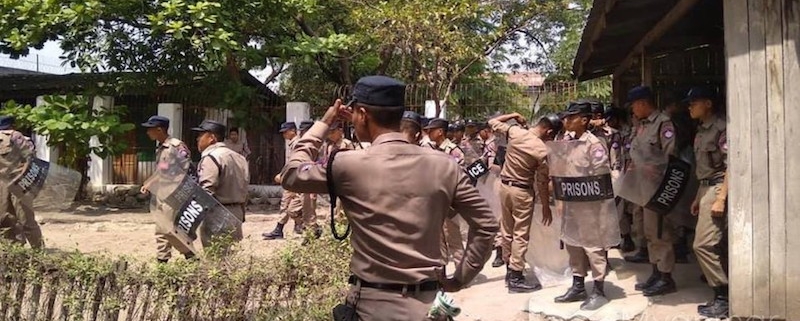 The wife of a political prisoner connected to the outbreak of violence at the prison late last week has also reportedly been targeted
Political detainees inside Pathein Prison in Ayeyarwady Region have been hit by new restrictions following a recent outbreak of violence, according to a source close to the prison.
On Monday, prison guards shaved the heads of all male political prisoners and confiscated items sent to them by their families, including food and clothing, the source said.
They are now required to wear prison-issue clothing and are only given one meal a day, he added. Care packages are no longer permitted.
On January 6, violence broke out inside the prison after eight inmates were taken from their cells the previous day for staging a protest amid rumours that a condemned prisoner, Kaung Khant Kyaw, was soon to be executed.
Seven of the prisoners were later returned to their cells, but their leader, Mae Gyi, was not among them.
As tensions rose over the incident, prison guards reportedly attacked an inmate with a baton, prompting others who witnessed the assault to rush to his defence.
At least one prisoner, 33-year-old Wai Yan Phyo, was killed in the ensuing melee. In a statement, the regime claimed that he had been beaten to death by fellow inmates.
The statement also blamed the incident on the prisoners, accusing them of attacking prison guards.
69734ecb-B744-4aeb-Aab8-Ee2c4e0dc4b4.Jpeg
The funeral photo of Wai Yan Phyo, a political detainee killed in the crackdown on a protest at the Pathein Prison (CJ via Radio Free Asia)
Mae Gyi, who is also known as Win Min Htet, has not been seen since he was separated from the other prisoners, raising fears about his safety.
"It would be some consolation to his family if the authorities confirmed whether he was dead or alive," said Myanmar Now's source, who spoke on condition of anonymity.
On January 7, junta troops reportedly arrested Sandar Aye, the wife of political prisoner Win Htun Aung, who was among the eight inmates who joined the protest led by Mae Gyi.
The reason for her arrest remains unclear, but there were concerns that she was being targeted as retaliation for her husband's alleged role in stoking unrest.
On Sunday, the Assistance Association for Political Prisoners (AAPP) released a statement condemning the junta's treatment of Pathein Prison inmates as a violation of the UN Convention Against Torture.
"This is even worse than what we have heard of from other prisons," an AAPP official told Myanmar Now. "This is a grave criminal offence."
The AAPP official also noted that the International Committee of the Red Cross has not been permitted to conduct prison inspections since the military seized power nearly two years ago, heightening the likelihood of serious abuses.
There have been a number of instances of prisoners being killed behind bars since the February 2021 coup. In March of last year, seven inmates of Kalay Prison in Sagaing Region were shot dead by prison authorities, allegedly for attempting to escape.
The use of excessive force by prison authorities has long been a problem in Myanmar. In May 2019, a riot inside Shwebo Prison in Sagaing resulted in the deaths of four prisoners.
According to AAPP—which keeps records on political prisoners arrested, sentenced, and released in Myanmar—at least 13,429 civilians throughout the country remain in detention for opposing the military regime as of January 11. 
https://ndburma.org/wp-content/uploads/2023/01/shwebo_prison_0.jpeg
334
800
ND Burma
https://ndburma.org/wp-content/uploads/2020/04/ndbLogo-296x300.png
ND Burma
2023-01-12 08:27:18
2023-01-16 08:30:50
Pathein Prison inmates face new abuses in wake of recent unrest