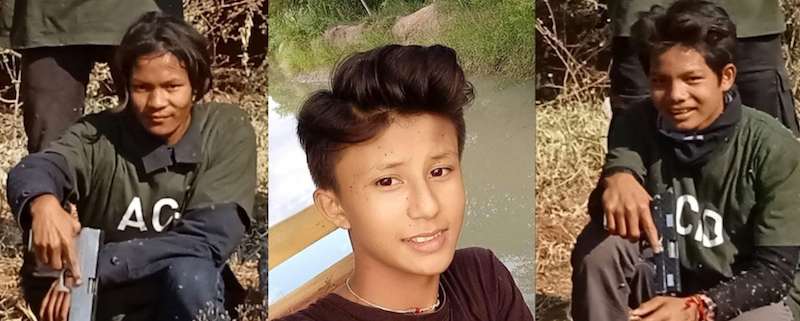 Resistance forces claim the military captured and executed three of the fighters, while the other two were killed in combat
Content warning: This report contains graphic images and text depicting the effects of extreme violence, which may be upsetting to some readers. We advise discretion in viewing this content.
The mutilated remains of five resistance fighters—two of them under the age of 18—were found in Myinmu Township, Sagaing Region, on Sunday shortly after military forces left the area.
Three of the victims were members of the local People's Defence Force (PDF) and were captured while resistance forces prepared to ambush a junta column that had been raiding villages in the township between February 25 and 27, according to fellow PDF members acquainted with them.
The deceased included La Min Sein, also known as Pho Sein, age 15, Myo Zin, 19, Zaw Myo Thant, 19, Pho Ke, 17, and another victim who is still unidentified, according to the PDF members.
When allied resistance forces found the bodies, four of them had had their heads removed and the other, unidentified body found near Pa Dat Taing village had been cut into pieces, according to eyewitnesses.
Some 70 junta soldiers had started raiding Pa Dat Taing village, on the border between Ayadaw and Myinmu townships, on February 25, according to the PDF of Myinmu Township.
Khin Thaung, the local PDF's information officer, claims the military captured one member of the PDF while he was setting explosive devices, then proceeded to kill him and dismember his remains.
"His body was cut into pieces and put inside a cloth sack," she added.
Two other PDF members, La Min Sein and Pho Ke, had tried to attack the junta column on February 25 as it advanced out of the village of Pa Dat Taing, located about 12 miles northwest of Myinmu, but the military captured them in Nyaung Pin Kan village, three miles to the east.
Three local defence teams claim the column used the two prisoners as hostages and human shields while advancing toward another village, Kandaw, located around 5 miles southeast of Nyaung Pin Kan.
On the morning of February 26, seven PDF groups based in Sagaing and Myinmu townships intercepted the junta column in an ambush less than a mile northwest of Kandaw.
Soldiers in the military column executed the captured PDF members at a nearby base belonging to the anti-junta "Zero" guerrilla force that they had torched and destroyed, according to the commander of Squadron 2, Battalion 2 of the Sagaing District PDF, which took part in the ambush.
"The junta column was holding the two prisoners hostage while attacking Kandaw village. We attacked the column near Kandaw but had to retreat when we ran out of ammo. The soldiers killed the prisoners as soon as we withdrew," he said.
According to the squadron commander, who goes by the nom de guerre "Acid," the two captive resistance fighters had been fellow members of his resistance group.
"We assume they were beheaded alive as there were various signs of struggle. The bodies were covered with dirt and there were no gunshot wounds on either of them. Their heads were removed and left in separate places," he added.
The soldiers left one of the heads on a table and placed the other on a pole, Acid said.
The allied resistance forces returned to Kandaw around 7pm to attack the junta column, which was stationed there for the night. Myo Zin and Zaw Myo Thant were shot during the ensuing battle, said Moe Gyo, commander of the Sartaung Moe Gyo PDF based in Sagaing.
"We tried to fight back just for a chance to get their bodies back, but we eventually had to give up and leave them because we didn't have enough weapons and had to minimise casualties among our other troops," Moe Gyo said.
"If only we had had enough weapons, we'd have been able to get each and every one of those dogs [soldiers] who killed our fighters," he added.
Myinmu_victims.jpg
Body parts of four victims found on February 27 (Supplied)
According to Moe Gyo, both bodies were found later, mutilated and with their heads removed. Zaw Myo Thant had also had his wrists slit.
"One of them even got one of his arms cut off and both of them were beheaded. One of the heads was hung on a wall," he said.
The military council has not released any official statement regarding these incidents.
References to Myo Zin and Zaw Myo Thant's deaths on pro-junta Telegram channels omitted any mention or evidence of beheading and dismemberment.
Members of Moe Gyo's resistance group surmised that the soldiers only mutilated the victims' bodies after taking photos suitable for pro-junta propaganda.
"They are taunting us with actions like this. This is a form of psychological warfare. They want to break our minds; that's why they killed them in such a manner. We shall never forgive them," said Moe Gyo.
"They do not have any humanity left in them, and it shows in the way they killed the captured victims," said Acid, referring to the junta soldiers.
The column that killed and mutilated the resistance fighters is now reportedly carrying out assaults near Kan Pyar village, just northeast of Myinmu.
The resistance forces, vowing retribution, said they would keep fighting against the military council for their fallen comrades.
https://ndburma.org/wp-content/uploads/2023/03/pdf.jpeg
324
800
ND Burma
https://ndburma.org/wp-content/uploads/2020/04/ndbLogo-296x300.png
ND Burma
2023-03-02 09:16:33
2023-03-07 09:18:28
Beheaded bodies of PDF members found in southern Sagaing Region