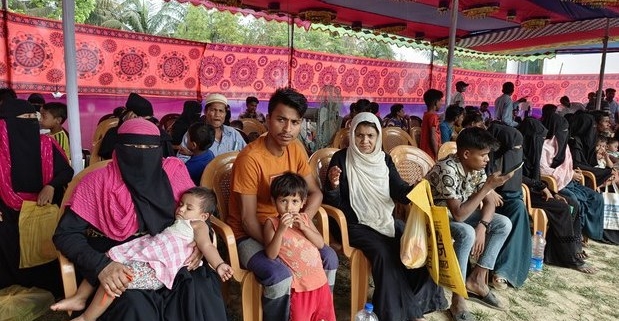 A delegation from Myanmar has arrived in Bangladesh to begin interviewing possible returnees.
The United Nations refugee agency said Wednesday that conditions in Myanmar's Rakhine state were not favorable for the safe return of 1,000 Rohingya from Bangladesh whom Myanmar wants to repatriate under a China-mediated program.
A delegation from Myanmar arrived in the Bangladeshi border town of Teknaf on Wednesday to begin interviewing Rohingya in an effort to clear their return to Rakhine, from where they fled following a brutal 2017 military crackdown.
U.N. refugee agency UNHCR said it was not involved in this so-called pilot project.
"In UNHCR's assessment, conditions in Rakhine State are currently not conducive to the sustainable return of Rohingya refugees," UNHCR spokeswoman Regina De La Portilla said in an email to BenarNews, an RFA-affiliated news service. "The process is being coordinated by authorities of the two countries."
Rakhine, a state in western Myanmar bordering Bangladesh, was the site of months of intense fighting between Burmese junta forces and Arakan Army rebels. It is also the state where most of Myanmar's persecuted Rohingya lived before the 2017 military crackdown.
The Myanmar military and the Arakan Army in November announced a ceasefire, but news reports have said returnees face a high risk of being hurt or killed by landmines and many areas of the state are in a shambles with no access to food and shelter.
UNHCR maintained that every refugee has a right to return to his or her home country "and some may choose to do so even under current conditions."
Still, it added that any return to Myanmar "should be voluntary, in safety and dignity, and allow for sustainable reintegration in Myanmar.
"No refugee should be forced to return against his or her will," UNHCR said.
Cox's Bazar, a southeastern district in Bangladesh, houses about 1 million Rohingya, including about 740,000 who fled since August 2017.
Along with the U.N., activists and refugees themselves have expressed skepticism about the pilot project proposed in 2020, but has seemingly gained momentum in recent months.
On Wednesday, the 17-member Myanmar delegation which arrived in Teknaf, interviewed 90 Rohingya men and women listed for repatriation by Bangladesh. The purpose was to verify their identities and determine whether they lived in Rakhine state before fleeing to Bangladesh. The Myanmar delegation is scheduled to be in Teknaf for seven days.
Rohingya Khaled Hossain said he and his wife, Imtiaz, were questioned for three hours and asked to provide residency records.
"We handed them old records and photos. We want to go back to our country of origin. But we will only return when we will be given our civil rights and recognition as Rohingya community," Hossain told BenarNews.
"We want the same citizenship status as Mogh [Rakhine Buddhists], Burmese and other communities. Apart from that, they must assure our security through the U.N. After that, we decide whether to return or not," he said.
Khaled's wife, Imtiaz, said four family members were interviewed.
"Maybe they'll bring us back to Myanmar. But we seek peace," she told BenarNews.
"We'd be willing to return to Myanmar if they provided the opportunity to live like the rest of the population. Otherwise, how do we return?"
'China-pressure'
No Bangladesh or Myanmar junta official who spoke to BenarNews or Radio Free Asia (RFA), an affiliated news service, mentioned what the returnees' citizenship status would be.
The Rohingya, whose ethnicity is not recognized by the government, have faced decades of discrimination in Myanmar and are effectively stateless, denied citizenship.
Myanmar authorities previously denied Rohingya freedom of movement, access to jobs, health care and education. Successive administrations have refused to call them "Rohingya" and instead use the term "Bengali."
The 2017 atrocities against the Rohingya were committed during the tenure of the civilian government of Aung San Suu Kyi, who in December 2019 defended the military against allegations of genocide at the International Court of Justice.
The Nobel Peace Prize winner and one-time democracy icon languishes in prison – toppled by the same military in its 2021 coup.
Now, the Myanmar military is responding to China's diplomatic coercion in promoting the pilot repatriation project, Nay San Lwin, an activist and co-founder of the Free Rohingya Coalition told RFA.
"The junta is implementing the repatriation program just to look good in the international community, as there was some China-pressure as well," he said.
The returnees will likely end up staying in the centers for years, he said.
The project envisages bringing returnees through two reentry centers in Ngar Khu Ya and Hla Pho Khaung in Rakhine, according to a report last month in the junta-controlled state newspaper Myanmar Alinn.
Myanmar military officials gave tours of the centers to the heads of embassies from China, Bangladesh, India and eight ASEAN countries on March 8, Hla Thein, the junta's attorney general and spokesman for Rakhine state, told RFA.
The returnees would receive assistance through education, livelihood and health programs at the two centers, he said, adding they would be accepted based on five points. The points include requiring a returnee to come back of his or her own volition.
China has mediated repatriation discussions between Bangladesh and Myanmar officials.
'True good will'?
In addition to safety and Rohingya citizenship issues, there are other problems in repatriation, noted Bangladesh Foreign Minister A. K. Abdul Momen.
"The Chinese government had built new houses in some protected areas there for Rohingya. [But] They want to go to their original homes," Momen told BenarNews.
"[T]he Myanmar authorities say their homesteads have been occupied by the Arakan Army. The places are unsafe. They cannot guarantee their return to their original homesteads," said the minister, adding Bangladesh would not forcefully send refugees to Rakhine.
Additionally, the junta needs to say how many weeks or months returnees would have to stay in one of the two centers and where they would be sent afterward, said Khin Maung, director of the Rohingya Youth Association who lives in Cox's Bazar.
"We are not sure if the military junta is implementing the repatriation program out of its true good will. A lot of things depend on that answer," he told RFA.
Former Bangladesh Foreign Secretary Md. Touhid Hossain told BenarNews on Monday that the pilot project wasn't a workable idea.
"A sustainable repatriation can only be achieved when the 1.1 million refugees would voluntarily return to Myanmar," he said
"Settling the Rohingya crisis lies in Myanmar. The responsibility to improve the situation in Rakhine also goes on them. If they do so, the Rohingya would voluntarily return to their homeland."
Abdur Rahman in Cox's Bazar, Bangladesh, and Kamran Reza Chowdhury in Dhaka contributed to this report. BenarNews is an RFA-affiliated news service.
https://ndburma.org/wp-content/uploads/2023/03/rohingya1.jpg
394
619
ND Burma
https://ndburma.org/wp-content/uploads/2020/04/ndbLogo-296x300.png
ND Burma
2023-03-16 10:20:54
2023-03-22 10:23:25
UNHCR: Rakhine not safe for Myanmar's Rohingya repatriation pilot project