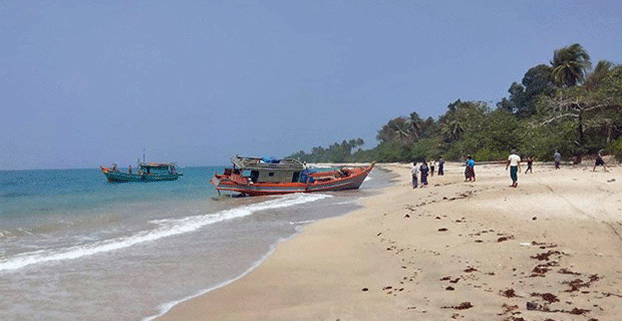 About 90 people, including women and children, were aboard the boat heading to Malaysia
More than a dozen people, including women and children, died on Saturday when a boat carrying at least 90 Rohingya from western Myanmar's Rakhine state to Malaysia capsized and sank in the Bay of Bengal during a storm, Myanmar residents and rescue workers said.
The passengers, refugees from deadly crackdowns on Rohingya Muslims by Myanmar troops that have driven nearly a million people into camps in Rakhine and neighboring Bangladesh, had paid U.S. $1,500-2,500 each to traffickers to take them to Malaysia, where they hoped to find employment, some of the Rohingya survivors told RFA.
More than 50 other passengers remain missing, and more than 20 survivors, mostly men, have been detained by local authorities at the Shwe Thaung Yan township police station in Pathein district of Ayeyarwady region, the sources said.
"Ninety people were said to be on the boat, 23 were arrested, and 14 dead bodies have been found so far, most of them children around 11 or 12 years of age," said a Shwe Thaung Yan resident who declined to be named for safety reasons.
RFA has not been able to independently confirm the figures.
Seven bodies were recovered after they washed ashore Sunday near the popular Shwe Thaung Yan beach, local rescue workers said. Six others were found earlier in the afternoon in the Wetlet area, and another body washed up on the shore in Shwe Thaung Yan's ward No. 1.
The bodies were not found on the resort side of the beach, one local said.
One rescue worker said the bodies were buried Sunday night with the help of Muslim religious leaders from Pathein.
"The bodies were buried yesterday," he said. "The leaders of their religious group came and buried them. We found another dead body in Shwe Thaung Yan No. 1 ward at about 5.30 p.m. The Muslim leaders buried it too. They came from Pathein."
The passengers were trying to reach Malaysia from displacement camps in Rakhine's Sittwe, Buthidaung and Maungdaw townships, locals said.
The ward administrator said that the traffickers and some people about 20 years of age were found alive.
"The single body found in our ward was that of a 10-year-old girl," he said.
He speculated that the boat may have been sunk in a cyclone.
"The sea around here is very scary. Storms come unannounced sometimes," he said.
Traffickers apprehended
Maj. Gen. Zaw Min Tun, spokesman for Myanmar's ruling junta, said that the boat capsized about five nautical miles west of Thapyay Hmaw Island near Shwe Thaung Yan.
"A search was carried out and found 14 Bengalis dead. The rest will be deported as usual," he said.
Authorities captured five "suspects" in Shwe Thaung Yan's Thae Gone village at about 2:30 p.m. on Saturday, Zaw Min Tun said.
"We checked them and found them to be human traffickers. They were bringing these Bengalis from [Rakhine's] Rathedaung [township] by boat to go to Yangon and then to Malaysia," he said, using a derogatory term for Rohingya, who in Myanmar are considered illegal immigrants from Bangladesh.
In addition to tens of thousands of Muslim refugees in Rakhine, more than 740,000 Rohingya have been sheltering since a 2017 crackdown at refugee camps in southeastern Bangladesh's Cox's Bazar, where they are fenced in and not allowed to work outside their confines.
Rohingya in the camps and those still in western Myanmar pay traffickers to transport them to Malaysia, Indonesia and Thailand to find work and a better life. Groups of Rohingya have also packed into boats and sailed off in search of asylum in other countries, often only to be denied entry.
Tin Hlaing from the Rohingya displacement camp in Thetkeibyin village, Sittwe township, said many have tried to leave Myanmar with the help of traffickers, which in most cases has not ended well.
"They left because there are a lot of difficulties in the refugee camps here," he said. "About 90% of them had financial problems. Jobs are scarce. In some cases, children have grown up. … That's why they leave."
The Rohingya often ignore warnings of camp administrators about the risks of paying traffickers to transport them, Tin Hlaing said.
"About 35 out of 100 people make it," he said. "They have to pay a lot of money to the traffickers and now they are losing their lives."
"The latest tragedy shows once again the sense of desperation being felt by Rohingya in Myanmar and in the region," Indrika Ratwatte, director of the regional bureau for Asia and the Pacific at the U.N.'s refugee agency (UNHCR), said in a statement issued Monday. "It is shocking to see increasing numbers of children, women and men embarking on these dangerous journeys and eventually losing their lives."
At least 1,000 Rohingya have left internal displacement camps in Rakhine's Buthidaung, Maungdaw and Sittwe township s every year in an effort to eke out a living elsewhere. They usually must pay traffickers 3 million-5 million kyats (U.S. $1,600-2,700) per person to be smuggled.
Nay San Lwin, co-founder of the Rohingya Liberation Coalition, said Rohingya hoping for a better future in Malaysia have been repeatedly deceived by traffickers
"People are not allowed to travel, [and] their working rights are restricted, so they try to flee, thinking that if they go to Malaysia, they will find a brighter future," he said.
RFA could not reach Maung Maung Than, social affairs minister of Ayeyarwady region, for comment.
Myanmar police arrested 41 Rohingya in Shwe Taung Yan's Nwe Nyo Chaung village on March 22 after their boat broke down and was stranded on the beach.
Translated by Khin Maung Nyane for RFA's Myanmar Service. Written in English by Roseanne Gerin.
https://ndburma.org/wp-content/uploads/2022/05/rohingyi.gif
349
622
ND Burma
https://ndburma.org/wp-content/uploads/2020/04/ndbLogo-296x300.png
ND Burma
2022-05-23 09:20:00
2022-05-24 09:21:42
More than a dozen Rohingya die when boat capsizes off Myanmar coast