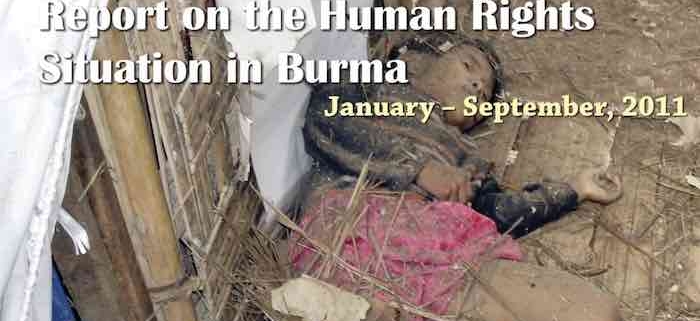 The periodic report of the Network for Human Rights Documentation–Bur- ma (ND-Burma) documents the human rights situation in Burma during the period January–September 2011. The ND-Burma periodic reports provide up-to-date information on human rights violations (HRVs) and highlight press- ing issues and trends within the country. The information gathered covers 16 categories of human rights violations (HRVs)1, documented in all 14 states and regions across Burma.
During this reporting period, some early positive signs of reform emerged in the political arena. Pro-democracy leader Daw Aung Suu Kyi met four times with government liaison and Labor Minister Aung Kyi and once with President U Thien Sein. The government released nearly 200 political prisoners under an amnesty program for over 6,000 prisoners. New legislation was intro- duced on freedoms of association and media restrictions were relaxed. The gov- ernment also introduced the National Human Rights Commission and, perhaps most significantly, suspended the development of the Myitsone Hydropower Dam Project.
ND-Burma welcomes these developments as positive moves towards change. As a network of human rights organizations, monitoring the situation in Burma's prisons, cities, villages, and rural areas, our primary perspective is the human rights situation in the areas where we work. This report serves as a call to not rush to judgment too quickly that the Burmese government is seri- ous about improving the human rights situation in the country, particularly in the areas of ethnic nationalities. The information coming from our fieldworkers demonstrates an ongoing human rights crisis in the country and communities unaffected by the elite political maneuvers in Naypyidaw and Rangoon.
The ongoing civil war in ethnic areas is a serious concern that needs to be at the center of any analysis about political developments in Burma. Fighting in Karen states has intensified since the November 2010 election, and a 17-year ceasefire between the Kachin Independence Army (KIA) and the Burmese armed forces fell apart when the Burma Army attacked a strategic KIA post on June 9, 2011. Ongoing fighting in ethnic areas has meant ongoing human rights violations against the ethnic nationalities in conflict areas by the Burma Army, including killings, land confiscation, torture and ill-treatment, and forced relocation, among others. In addition, Burma Army soldiers have committed human rights violations related to mega-development projects and natural re- sources extraction projects in ethnic areas, including Arakan, Kachin, and Shan States. The Burma Army continues the recruitment and use of child soldiers, in direct violation of international prohibitions on the practice and its own obliga- tions under the Convention on the Rights of the Child (1989).
https://ndburma.org/wp-content/uploads/2011/11/hr2011_jan-sep.jpg
390
700
ND Burma
https://ndburma.org/wp-content/uploads/2020/04/ndbLogo-296x300.png
ND Burma
2011-11-11 06:47:24
2022-09-14 12:26:44
Report on the Human Rights Situation in Burma (January - September, 2011)