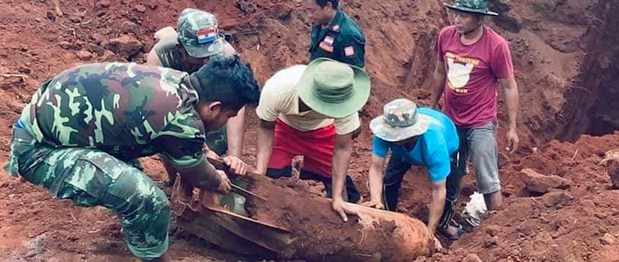 The US and Myanmar have not signed an international convention banning the weapons that often kill civilians.
Myanmar's junta is using internationally-banned cluster bombs to attack rebel forces in ethnic areas of the country, said residents, officials from armed ethnic groups and an international campaign working to eradicate the weapons.
Cluster bombs, which can be fired from cannons or dropped from airplanes, explode in mid-air, releasing dozens or hundreds of smaller bombs that scatter and explode, often killing or maiming civilians.
Neither Myanmar nor the United States are among the 123 signatories to the 2008 Convention on Cluster Munitions, an international treaty outlawing the use of such weapons.
"Myanmar's production and use of cluster bombs is gravely concerning as these indiscriminate weapons primarily kill and injure civilians. There can be no justification for using them," said Yeshua Moser-Puangsuwan, a researcher with the Cluster Munition Monitor, the research and monitoring wing of the International Campaign to Ban Landmines-Cluster Munition Coalition based in Geneva, Switzerland.
"All governments should condemn this use of an internationally-banned weapon," he said.
In a report issued on Aug. 31, the Cluster Munition Coalition said the ruling junta has used domestically-produced cluster bombs in attacks in several parts of the country since 2021, including as recently as early this June.
For example, the junta used cluster munitions in attacks near the villages of Kon Tha, Nam Mae Kon, and Warisuplia, in Demoso township of Kayah state from Feb. 17 to Mar. 7, the CMC's report said.
The CMC also cited evidence that the Myanmar military used cluster bombs during an Apr. 16 airstrike on Pan Pa village in Chin state's Mindat township, which killed three people, including a child, and injured seven others.
Denial
Thein Tun Oo, executive director of the pro-military Thayninga Institute for Strategic Studies, denied that the military was using cluster bombs.
"As far as we understand, as far as we have studied so far, we have never heard of the military using cluster bombs," he said.
"Has the other side got any evidence?" he asked. "For example, the details of where and how a cluster bomb was dropped, [and] what the ground situation was like when it was dropped. They need these details to accuse."
Radio Free Asia could not reach junta spokesman Maj. Gen. Zaw Min Tun for comment.
Former military Capt. Kaung Thu Win, who joined the anti-regime civil disobedience movement, said unexploded submunitions from cluster bombs can detonate later from a mere touch of the hand and are a danger to children and rural residents.
"They will remain unexploded in forests, ditches and forest valleys," he said. "They are hidden for a while and explode only when children are playing near them or civilians go into the forests."
Spreading horror
Salai Htet Ni, spokesman of the Chin National Front, said the junta has been dropping cluster bombs in western Myanmar's Chin state, including on Mount Victoria, where the ethnic Chin nationalist political organization is based, for a long time.
When junta dropped bombs onto the group's headquarters from a plane, the explosions sent out submunitions that exploded again and again in a 61-meter (200-foot) radius, he said.
"And if they strike a forest, all nearby trees and plants are [destroyed], and they won't regrow," he said.
An official from the Karenni National Defense Force's information department said he has seen junta forces use cluster bombs to attack civilian communities in Kayah state, burning down homes in villages and wiping out entire neighborhoods.
"The junta usually uses these highly explosive cluster bombs when attacking nonmilitary targets [and] civilian areas or places where war refugees shelter," he said. "In 2023, the military started to frequently use 500-pound bombs, missiles and cluster bombs."
The junta's use of these weapons against civilian targets is a violation of international law and a crime against humanity, said Banyar Khun Aung, executive director of the Karenni Human Rights Group.
"The intention behind these cluster bombs … is to deliberately kill and destroy a large number of the civilian population, causing mass casualties and forcing them to flee to other locations," he said. "That is evidently a horrible human rights violation."
https://ndburma.org/wp-content/uploads/2023/09/bomb.jpg
262
619
ND Burma
https://ndburma.org/wp-content/uploads/2020/04/ndbLogo-296x300.png
ND Burma
2023-09-13 08:19:00
2023-09-15 08:22:01
Myanmar junta steps up use of banned cluster bombs