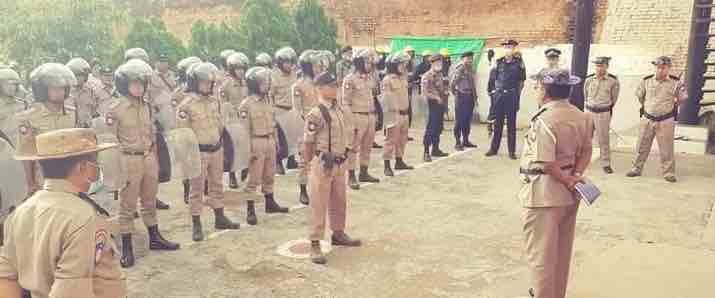 While prison administrators promised adequate medical treatment following negotiations, the current health status of the striking inmates—who refused food for five days—is unconfirmed
After opening negotiations with political prisoners on a hunger strike on Wednesday, authorities at Sagaing Region's Monywa Prison have agreed to meet their demands, according to sources connected to the prison.
Some 50 political prisoners including Wai Moe Naing, leader of the Monywa People's Strike Committee, initiated a hunger strike on September 9.
On the fifth day of the strike authorities including the prison superintendent came to the participants to negotiate, according to Shin Thant, one of the Monywa People's Strike Committee's senior members.
"I was told that the prison complied with all of the requests including those about care packages, medical care, and return of the inmates' personal items," Shin Thant said.
Thaik Tun Oo of the Political Prisoners Network confirmed he had the same information about the agreement between the prison authorities and strike participants.
The current health status of the prisoners participating in the strike, who refused food for five days, is still unknown.
The hunger strike started after a "special search force," made up of members of the military as well as junta police, fire department, and administrative personnel, inspected Monywa Prison on September 8 and confiscated personal items such as books, clothes, and appliances from the inmates.
Initially, 14 participants demanded the return of the confiscated items, permission to receive care packages from relatives outside the prison, and adequate medical care for sick and injured inmates. Wai Moe Naing was among more than 30 additional political prisoners to join the strike after authorities ignored these demands.
Authorities denied medical treatment to three of the participants after they fainted from malnourishment during the strike, and reportedly put Wai Moe Naing in solitary confinement after he joined.
Wai Moe Naing is currently serving a 50-year prison sentence following his arrest in April 2021 while participating in protests against the coup regime.
Political prisoners face exceptionally harsh treatment in Myanmar's prisons.
In one incident in December 2021, authorities at Yangon's Insein Prison brutally beat, and later denied medical treatment, to over 80 prisoners for singing songs associated with the resistance and refusing to leave their cells in solidarity with a "Silent Strike" taking place throughout Myanmar that day.
In June and July of 2023, several political prisoners removed from their cells in Mandalay and Bago regions, purportedly for transfers to other prisons, later proved to have been executed by prison authorities. 
https://ndburma.org/wp-content/uploads/2023/09/prison-dep1.jpg
298
715
ND Burma
https://ndburma.org/wp-content/uploads/2020/04/ndbLogo-296x300.png
ND Burma
2023-09-15 08:13:51
2023-09-15 08:13:51
Monywa Prison authorities agree to hunger strike participants' demands