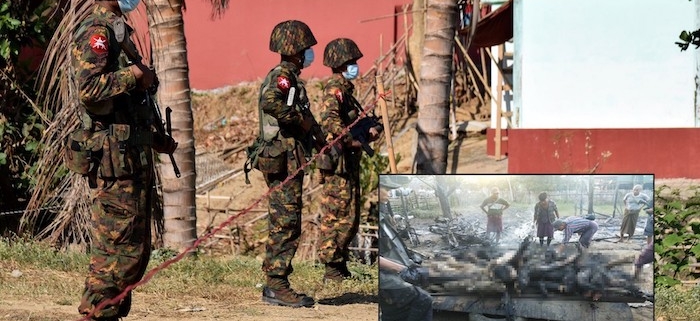 Nine of the victims were members of a local resistance group killed in a pre-dawn raid in Yinmabin Township
The charred remains of nine resistance fighters and one unidentified civilian were found in a village in Sagaing Region's Yinmabin Township on Friday, according to local sources.
The bodies were discovered in the village of Shwe Hlan, which had been raided by around 100 regime forces the day before, the sources said.
"A total of 10 people were killed and their bodies were thrown into a house that was then set on fire," said Lone Yat, a member of a local defence force.
In statement released on Saturday, an anti-regime group called the Aung San Generation said that nine of the victims belonged to two of the group's battalions—eight from its Monywa District Battalion 13 and one from Pakokku District Battalion 2.
All nine were in their early 20s, the group said. Two other members were wounded, and two have gone missing, according to the statement.
No information was available about the civilian who was killed.
According to a member of a people's defence team who did not want to be identified, the raid began at around 5am and took the resistance fighters completely by surprise.
"We had people guarding the area, but some of them were asleep when the military arrived. It was very early, so many local civilians were also trapped," he said.
At least eight houses were torched in the village, he added. Locals estimated that the raid caused around 60m kyat ($29,000) in damage and loss of property.
Two helicopters were used to take the regime forces out of the village on Friday evening, according to Lone Nat.
There were also reports that the troops that attacked Shwe Hlan also robbed and killed two civilians—a pregnant woman and an elderly person—the day before.
Before raiding Shwe Hlan, the military column also carried out multiple air and ground attacks on Yin Paung Taing, a large village located in the same area, locals said.

Two defence team members who attempted to attack the regime forces with explosives as they left Yin Paung Taing were reportedly tortured and decapitated after being captured.
According to unconfirmed reports, 19 civilians, including two children aged 10 and 17, were killed in the village over the course of three days.
https://ndburma.org/wp-content/uploads/2022/10/soldiers.jpeg
466
700
ND Burma
https://ndburma.org/wp-content/uploads/2020/04/ndbLogo-296x300.png
ND Burma
2022-10-25 09:28:03
2022-10-25 09:28:03
Myanmar junta forces kill, burn 10 in southern Sagaing village