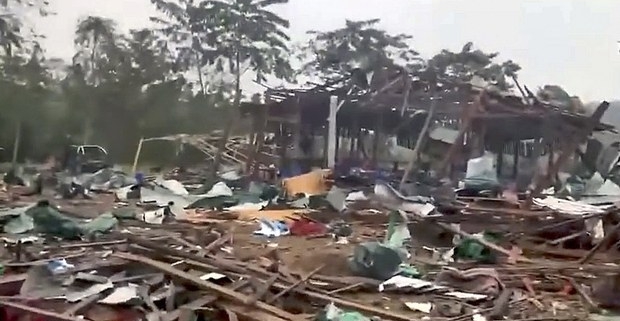 Attack is believed to be single deadliest airstrike since February 2021 coup.
Military jets bombed a concert northern Myanmar commemorating the founding of an ethnic political group on Monday, killing at least 50 civilians and wounding 100 more, according to residents.
It was believed to be the deadliest single airstrike since the military seized power in a February 2021 coup.
The attack came just days ahead of a special meeting of foreign ministers from the Association of Southeast Asian Nations, or ASEAN, in Indonesia to discuss growing violence in Myanmar, one of its members.
The bombing was the latest explosion of violence in fighting over the past 20 months between the military and pro-junta militias and rebel groups scattered across the country. It was strongly condemned by the United Nations, Western governments and human rights groups.
"The junta dropped four bombs in the middle of a crowd where a thousand people were celebrating," said Col. Naw Bu, a spokesperson for the Kachin Independence Organization, or KIO, which was marking its 62nd anniversary at the concert, which featured several Kachin celebrities, some of whom were killed.
"It is really concerning that the junta intentionally dropped bombs on an area that was not only not a battlefield, but a place where we were celebrating together with many civilians," he said.
A month ago, two military helicopters killed more than a dozen civilians, including seven children, at a school in Sagaing region, further to the north, in what was previously thought to be the bloodiest airstrike since the coup.
https://www.youtube.com/embed/JEYzd644CLIThe attack occurred at the Anan Par Training Ground, about two miles outside of Hpakant township's Kan Hsee village, residents told RFA's Burmese language service. The training ground is under the control of the 9th Brigade of the Kachin Independence Organizatin's military wing, the Kachin Independence Army, or KIA, which has been fighting the government off and on for decades in a bid for greater autonomy.
Among those killed in the attack were KIA soldiers, Kachin celebrities, and civilians, residents of Hpakant said Monday.
A Kachin artist, who declined to be named, said at least nine Kachin celebrities who attended the concert were among the casualties. Musicians Aurali Lahpai, Galau Yaw Lwi (a.k.a Yungwi Shadang), and Ko King were killed, while Zaw Dain, a veteran actor and the former chairman of the Kachin Artist Association was injured, he said.
The Associated Press reported that as many as 80 people were killed, citing KIO members and a rescue worker.
RFA was unable to independently verify the death toll or the identities of the victims.
Blocked Access
A member of a Hpakant-based relief group, who declined to be named for security reasons, told RFA that providing assistance to the wounded wasn't possible because junta forces had blocked off the road leading to the site of the attack.
"We cannot go there to provide any relief help," he said. "Junta forces have blocked several gates to make sure no one can travel to the area,"
Other local relief groups said that although they had requested permission to travel to the Anan Par Training Ground from General Ko Ko Maung, the head of the junta's Northern Military Command, they had not been cleared to go as of the evening on Monday. The area is located around 15 miles outside of Hpakant.
Win Ye Tun, the junta's Minister for Social Affairs and the spokesperson for Kachin state, told RFA that he hadn't received details about the airstrike, but said he is assembling a team to provide assistance.
"I haven't received any specific information about civilians being killed. I heard some news, but it's an ongoing battle," he said. "I am currently networking resources to help. We can't just take off to go there and help immediately. After the fighting is over and when it is safe to go there, I will follow up."
International condemnation
The attack prompted a statement on Monday from the U.N. office in Myanmar condemning what it said appeared to be an "excessive and disproportionate use of force by security forces against unarmed civilians," adding that reports suggested "over 100 civilians may have been affected."
The statement said that those injured should be "availed [of] urgent medical treatment," calling such airstrikes "unacceptable" and demanding that those responsible be held to account.
Stéphane Dujarric, the spokesperson for U.N. Secretary-General António Guterres, said Monday that Guterres had expressed "deep concern" over reports of the airstrikes in Kachin state.
"We reiterate our call for the immediate cessation of violence and all those who were injured need to be given urgent medical treatment as needed," he said.
A statement jointly issued by the U.S. Embassy in Yangon, EU member states, Norway, Switzerland, and the U.K., said Sunday's attack "underscores the military regime's responsibility for crisis and instability in Myanmar and the region and its disregard for its obligation to protect civilians and respect the principles and rules of international humanitarian law."
Phil Robertson, deputy head of Human Rights Watch's Asia-Pacific Division, went further, calling the strike a "war crime."
"It is outrageous and unacceptable that they have attacked a group of civilians," he said, adding that the junta knew there was an entertainment event taking place at the site and suggesting the airstrike was "retaliation" against the KIA for its resistance to military rule.
"It shows how completely bankrupt, both morally and ethically, this Myanmar military junta is," he said. "It's a clarion call for the U.N. Security Council to finally act … to stop the military junta from these kinds of atrocities against their own people."
Myanmar's shadow National Unity Government suggested that the military had violated the Geneva Conventions with the latest attack on civilians and called in a statement on the international community and the U.N. to "take effective actions urgently" against the junta.
It noted that the attack came just a month after a Sept. 16 airstrike on Sagaing region's Let Yet Kone village killed 13 civilians, including seven children, and wounded 12 others. The attack, in which two military helicopters fired on a school for more than an hour, was thought to be the single worst air raid on a civilian area in Myanmar since the coup.
The National Unity Government said that since seizing power, the military had carried out nearly 240 airstrikes targeting the civilian population throughout Myanmar, "resulting in [the] deaths of over 200 civilians and destruction of many houses and religious buildings."
Later on Monday, the junta issued a press statement denying reports that civilians had been killed in the attack in Kachin state, which it said were "lies" circulated by "fake" online media groups.
The statement said the training ground where the attack occurred was an "active military area operated by terrorists," and that there were only armed fighters and KIA-supporting businessmen at the site, but no "common civilians."
It also claimed that junta forces had carried out the operation "according to the law of armed conflict, based on the Geneva Conventions."
https://ndburma.org/wp-content/uploads/2022/10/bome.jpg
370
620
ND Burma
https://ndburma.org/wp-content/uploads/2020/04/ndbLogo-296x300.png
ND Burma
2022-10-25 09:19:37
2022-10-25 09:19:37
Military jets bomb concert in northern Myanmar, killing at least 50