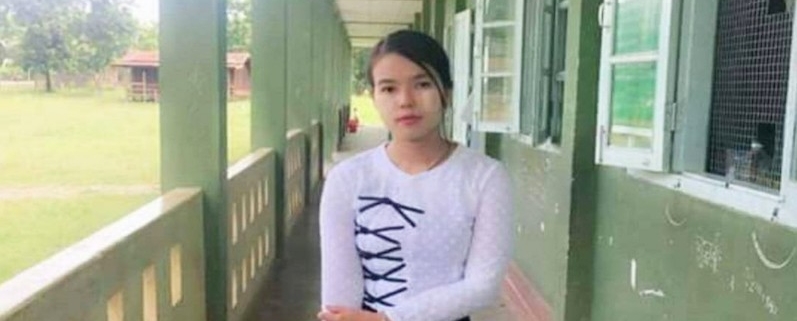 The teacher was accused of distributing money from the National Unity Government to teachers taking part in the Civil Disobedience Movement
A primary school teacher from Sagaing Region's Tamu Township has been sentenced to 10 years in prison for financing "terrorist" activities, according to a source close to her family.
Honey Su Kyi Zaw, 30, was arrested at her home in Tamu's Saw Bwar 6 Ward on November 23 last year and accused of financially supporting the Civil Disobedience Movement (CDM) against military rule.
The Tamu District Court sentenced her on Monday, two days before the anniversary of her arrest, the family source told Myanmar Now.
She was prosecuted under Section 50j of Myanmar's Counter-Terrorism Law for distributing funds provided by the shadow National Unity Government (NUG) for CDM teachers, the source said.
The military junta that seized power in February 2021 designated the NUG a terrorist organisation in May last year.
"She was collecting donations for teachers who had tested positive for Covid-19. It wasn't as they alleged," said the source, who spoke on condition of anonymity.
The source added that the evidence against Honey Su Kyi Zaw was provided by KBZ Bank, which submitted account information that allegedly showed transactions involving other accounts linked to the NUG.
"They didn't find any evidence on her phone. She was unjustly accused and prosecuted," the source said.
Honey Su Kyi Zaw was a teacher at Primary School No. 8 in Chauk Natgyi, a village in Tamu Township. Residents there say that she was likely targeted because she was a member of the ousted ruling party, the National League for Democracy (NLD).
"She didn't like the military coup, so she joined protests and the CDM. She was an NLD member, but she also spoke out against party members if she thought they were acting dishonestly," said one local resident.
"After joining the CDM, she made handicrafts and sold them online to support herself. She was an honest and peaceful teacher," he added.
Honey Su Kyi Zaw has been held at the police station in Tamu since her arrest. She remains there for the time being due to the poor security situation on the road from Tamu to Kalay, where she will later be transferred to prison, sources said.
Since last year's coup, the junta has prosecuted hundreds of people under Section 50j of the Counter-Terrorism Law without concrete evidence. Conviction carries a sentence of 10 years to life imprisonment.
https://ndburma.org/wp-content/uploads/2022/11/honey_su_kyi.jpeg
347
797
ND Burma
https://ndburma.org/wp-content/uploads/2020/04/ndbLogo-296x300.png
ND Burma
2022-11-23 08:43:31
2022-11-28 08:45:07
CDM teacher in Tamu gets 10-year sentence on terror charges