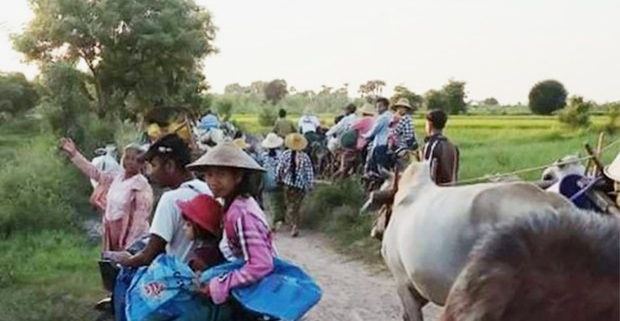 Troops stormed another village in the same township the following day, torching houses.
A mortar shell fired by junta troops killed a woman and injured two family members when it struck their home in Wetlet township in Myanmar's Sagaing region, according to a local who declined to be named for safety reasons.
The troops fired heavy artillery at Shein Ma Kar village on Monday night, the resident told RFA.
"Two shells hit the southeast corner of the village and two shells hit the north," the local said. "When a shell landed on a house near the hospital and the football field, a woman … was hit and died. Her husband was also injured. Half of their child's face was torn and she lost an eye. Their house also burned down. The shells were fired even though there was no fighting [with local People's Defense Forces]."
The woman, 33, was identified as Ka China Ma and her husband, also in his thirties, was named as Thaung Myint Oo. The baby girl, aged around one-year-old, had not yet been named by the family.
Locals said that a military column of about 50 soldiers also raided Pi Tauk Chon village near Shein Ma Kar on Tuesday morning, set fire to houses and then returned to Wetlet township. RFA has not been able to verify their claims.
Nearly 6,000 residents from 10 villages in the township fled their homes during nearly four weeks of junta raids on Wetlet last month, according to locals.
The village attacks came as local People's Defense Forces (PDFs) stormed the Shwe Pan Kone village police station in the western part of Wetlet township. The military fired on them from a helicopter gunship, killing a woman from a nearby village in the process.
It has been a brutal month for people living in Sagaing region. Troops killed four villagers from Monywa township during five days of fighting with PDFs at the start of November, forcing more than 3,000 villagers to flee their homes.
According to the Assistance Association for Political Prisoners (Burma)2,420 civilians have been killed by the junta since the Feb., 2021 coup.
https://ndburma.org/wp-content/uploads/2022/11/idps.jpg
426
620
ND Burma
https://ndburma.org/wp-content/uploads/2020/04/ndbLogo-296x300.png
ND Burma
2022-11-08 08:31:22
2022-11-09 08:36:32
Junta shell kills a woman and injures her husband and baby in Sagaing region