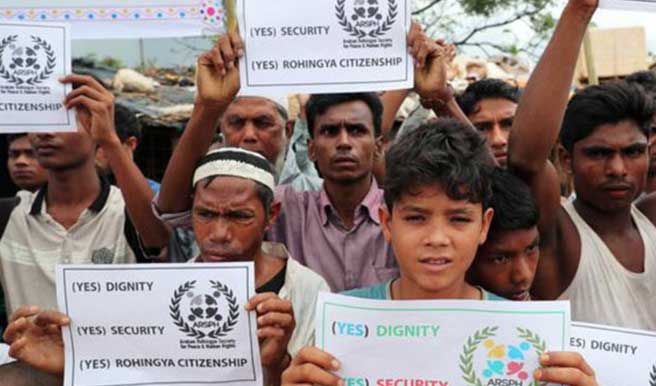 WASHINGTON — A US government investigation has found that Myanmar's military waged a "well-planned and coordinated" campaign of mass killings, gang rapes and other atrocities against the Southeast Asian nation's Rohingya Muslim minority.
The US State Department report, which was released on Monday, could be used to justify further US sanctions or other punitive measures against Myanmar authorities, US officials told Reuters.
But it stopped short of describing the crackdown as genocide or crimes against humanity, an issue that other US officials said was the subject of fierce internal debate that delayed the report's rollout for nearly a month.
The report, which was first reported by Reuters, resulted from more than a thousand interviews of Rohingya men and women in refugee camps in neighboring Bangladesh, where almost 700,000 Rohingya have fled after a military campaign last year in Myanmar's Rakhine State.
"The survey reveals that the recent violence in northern Rakhine State was extreme, large-scale, widespread, and seemingly geared toward both terrorizing the population and driving out the Rohingya residents," according to the 20-page report. "The scope and scale of the military's operations indicate they were well-planned and coordinated."
Survivors described in harrowing detail what they had witnessed, including soldiers killing infants and small children, the shooting of unarmed men, and victims buried alive or thrown into pits of mass graves. They told of widespread sexual assault by Myanmar's military of Rohingya women, often carried out in public.
One witness described four Rohingya girls who were abducted, tied up with ropes and raped for three days. They were left "half dead," he said, according to the report.
Human rights groups and Rohingya activists have put the death toll in the thousands from the crackdown, which followed attacks by Rohingya insurgents on security forces in Rakhine State in August 2017.
UN Report Found "Genocidal Intent"
The results of the US investigation were released in low-key fashion – posted on the State Department's website – nearly a month after UN investigators issued their own report accusing Myanmar's military of acting with "genocidal intent" and calling for the country's commander-in-chief and five generals to be prosecuted under international law.
The military in Myanmar, previously known as Burma, where Buddhism is the main religion, has denied accusations of ethnic cleansing and says its actions were part of a fight against terrorism.
US Senior State Department officials said the objective of the investigation was not to determine genocide but to "document the facts" on the atrocities to guide US policy aimed at holding the perpetrators accountable. The report, however, proposes no new steps.
One of the officials, speaking on condition of anonymity, said it would be up to US Secretary of State Mike Pompeo whether to make such a "legal" designation in the future and did not rule out the possibility.
A declaration of genocide by the US government, which has only gone as far as labeling the crackdown "ethnic cleansing," could have legal implications of committing Washington to stronger punitive measures against Myanmar. This has made some in the Trump administration wary of issuing such an assessment.
The International Criminal Court last week said it had begun an examination of whether the alleged forced deportations of Rohingya could constitute war crimes or crimes against humanity.
Asked whether the new US findings could be used to bolster such international prosecution, the State Department official said no decision had been made on seeking "judicial accountability" over the Rohingya crisis.
The Trump administration, which has been criticized by human rights groups and some US lawmakers for a cautious response to Myanmar, could now face added pressure to take a tougher stand.
Sarah Margon, director of the Washington office of Human Right Watch, said: "What's missing now is a clear indication of whether the US government intends to pursue meaningful accountability and help ensure justice for so many victims."
The United States on Monday announced it was almost doubling its aid for displaced Rohingya Muslims in Bangladesh and Myanmar, with an extra $185 million.
"The stories from some refugees show a pattern of planning and pre-meditation," the report said, citing the military's confiscation in advance of knives and other tools that could be used as weapons.
About 80 percent of refugees surveyed said they witnessed a killing, most often by military or police, according to the report.
"Reports of mutilation included the cutting and spreading of entrails, severed limbs or hands/feet, pulling out nails or burning beards and genitals to force a confession, or being burned alive," the report said.
Later on Monday, the Public International Law and Policy Group, a Washington-based human rights law firm contracted by the State Department to conduct the refugee interviews, issued a companion report saying it provided 15,000 pages of documentation of "atrocity crimes."
The State Department's investigation was modeled on a US forensic examination of mass atrocities in Sudan's Darfur region in 2004, which led to a US declaration of genocide that culminated in sanctions against the Sudanese government.
Any stiffer measures against Myanmar authorities could be tempered, though, by US concerns about complicating relations between civilian leader Daw Aung San Suu Kyi, a Nobel Peace Prize laureate, and the powerful military which might push Myanmar closer to China.
The US government on Aug. 17 imposed sanctions on four military and police commanders and two army units but Myanmar's military chief, Min Aung Hlaing, was spared. Further targeted sanctions have been under consideration, officials said earlier.
The Rohingya, who regard themselves as native to Rakhine State, are widely considered as interlopers by Myanmar's Buddhist majority and are denied citizenship.
https://ndburma.org/wp-content/uploads/2018/09/roghna.jpg
386
656
ND Burma
https://ndburma.org/wp-content/uploads/2020/04/ndbLogo-296x300.png
ND Burma
2018-09-25 12:11:44
2018-09-25 12:11:44
US Accuses Myanmar Military of 'Planned and Coordinated' Rohingya Atrocities