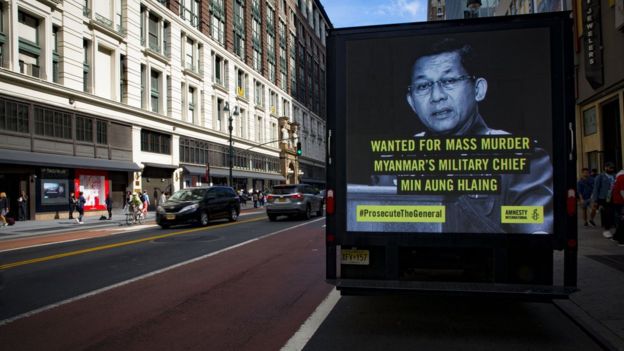 "Wanted" pictures of Min Aung Hlaing, the Commander-in-Chief of the Myanmar military who oversaw atrocities against the country's Rohingya population, were posted around New York overnight, as part of Amnesty International's campaign for accountability in Myanmar.
World leaders, including representatives from Myanmar's government, are meeting in New York this week for the 73rd session of the UN General Assembly (UNGA).
Senior General Min Aung Hlaing is responsible for overseeing crimes against humanity in Myanmar.
Accountability for the atrocities committed against the Rohingya and Myanmar's other ethnic minorities is expected to be high on the agenda. The UN Human Rights Council is currently discussing the establishment of an evidence preservation mechanism which could see Min Aung Hlaing and other suspected perpetrators come closer to prosecution.
Amnesty International's posters have been plastered on sidewalks in 30 locations around the city, including iconic landmarks.
"Senior General Min Aung Hlaing is responsible for overseeing crimes against humanity in Myanmar. He was top of the chain of command during the Myanmar army's vicious campaign of murder, rape, torture and village burning which forced hundreds of thousands from their homes," said Kumi Naidoo, Amnesty International's Secretary General.
"His army has also committed war crimes against ethnic minority civilians in northern Myanmar, where conflicts continue to rage. We want world leaders to have his face in their minds this week when they discuss next steps for accountability.
"For too long Min Aung Hlaing has managed to stay out of the spotlight and escape international attention, despite overseeing the horrendous crimes against the Rohingya. It's time to expose those responsible for these atrocities, and make sure they are held to account."
The posters put up around New York overnight read: "Wanted for mass murder – Don't let him get away with it", and also include harrowing quotes from Rohingya survivors.
"I heard the baby cry, then they shot, then nothing," one Rohingya woman, 45, said. She was referring to her seven-month-old granddaughter who was murdered by soldiers in August 2017.
More than 80% of northern Rakhine State's Rohingya population have fled to neighbouring Bangladesh to seek safety since military operations began on 25 August 2017.
Command responsibility
Amnesty International's research shows that many of the crimes committed against Rohingya women, men and children were planned and orchestrated at the highest levels in the Myanmar military. At the very least, the Myanmar military's command structure means it is inconceivable that Min Aung Hlaing and other senior military officials would not have been aware of what was happening on the ground in northern Rakhine State, yet they failed to take action to prevent or stop the crimes, or to punish those responsible.
In fact, top military commanders, including Min Aung Hlaing, travelled to the region before or during the ethnic cleansing campaign to oversee parts of the operation and documented their visits in Facebook posts.
World leaders must commit Min Aung Hlaing's face to memory,
Amnesty International also identified specific military units operating under the direct command of the Senior General's War Office which were on the ground in northern Rakhine State from August 2017 and responsible for many of the appalling abuses against the Rohingya. Amnesty International has also implicated these same units in war crimes and other human rights violations against ethnic minority civilians in Kachin and Shan States in northern Myanmar.
Amnesty International is calling for the UN Security Council to refer the situation in Myanmar to the International Criminal Court without delay.
"World leaders must commit Min Aung Hlaing's face to memory," said Kumi Naidoo.
"He and his fellow commanders were in command of forces that committed shocking crimes under international law – it's time they faced justice."
https://ndburma.org/wp-content/uploads/2018/09/103574199_malai1.jpg
351
624
ND Burma
https://ndburma.org/wp-content/uploads/2020/04/ndbLogo-296x300.png
ND Burma
2018-09-26 10:48:12
2018-09-26 10:48:12
UN: 'Wanted for mass murder' posters target Myanmar's top general