On 1 February 2021, the Burmese military attempted a coup, resulting in the rise of a national resistance movement on an unprecedented scale. Following a brutal crackdown and a national uprising on an unprecedented scale, 4,160 people, including pro-democracy activists and civilians have been killed by the junta and pro-military groups, 25,353 people have been arrested and 19,632 are currently in detention.
Resistance to the junta took many forms, including establishment of the Committee Representing the Pyidaungsu Hluttaw (CRPH), National Unity Government (NUG), National Unity Consultative Council (NUCC) and the National Unity Government (NUG). The People's Defense Force (PDF) was established in May 2021 by the NUG, to serve as the armed wing of the resistence movement. Since then, the PDF in various forms has operated nationwide, both under and outside of NUG authority, including in the areas that were historically non-conflict, such as Sagaing and Magway Region and in areas controlled by Ethnic Revolution Organizations (EROs).
Chin State, Karen State, Karenni (Kayah) State, Kachin State, Sagaing and Magway regions are among those targeted with routine air and ground strikes by Military Junta. According to UNHCR, the number of estimated of IDPs displaced within Myanmar at the beginning of the coup was 306, 200 and IDPs increased in post-coup as of 23rd October 2023 is 1,659,600, which means displacement has increased by 441% since February 2021. Since the coup, the junta has failed to take control of the country, and the Special Advisory Council for Myanmar (SAC-M)'s own report released in 2022 stated that the junta can only control of around 20 percent of the country's townships. The rest areas were either controlled or heavily contested by ethnic resistance organizations (EROs) and local PDFs.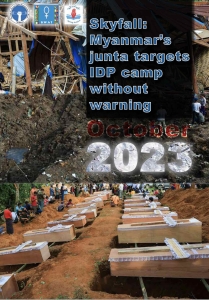 https://ndburma.org/wp-content/uploads/2023/11/mung-lai.jpg
480
900
ND Burma
https://ndburma.org/wp-content/uploads/2020/04/ndbLogo-296x300.png
ND Burma
2023-11-16 13:41:57
2023-11-21 10:07:58
Skyfall: Myanmar's junta targets IDP camp without warning