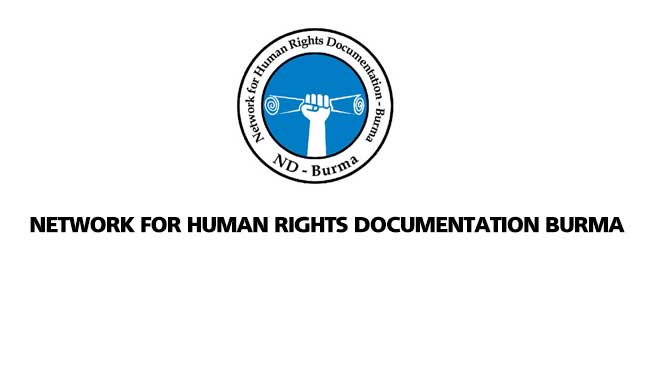 ND-Burma's bi-annual report finds human rights situation deteriorating across the country
11 September 2018
For immediate press release
ND-Burma's biannual report on the human rights situation has found that intense conflict between the military and ethnic armed organisations has been accompanied by a spike in the number of human rights violations recorded. In Kachin and northern Shan states the military committed human rights violations against civilians during armed conflict, including: indiscriminate shelling and aerial bombing of civilian areas; looting and destruction of property; and using those fleeing conflict as human shields and minesweepers.
As part of the military's ongoing campaign against ethnic armed organisations, soldiers have continued to arbitrarily arrest and torture ethnic nationality civilians accused of supporting insurgents. A 41-year-old man interviewed for the report was tortured for four days by Burma army soldiers after being accused of providing rice to the Kachin Independence Army, telling ND-Burma that soldiers beat him "as if they were pounding sticky rice to become powder."
Impunity for human rights violations continues to be the norm. ND-Burma's report found that sexual violence is so normalised in the armed forces that a soldier who raped a mentally handicapped woman in northern Shan State faced no disciplinary measures aside from a slap on the cheek from his superior.
An escalation in conflict has also resulted in civilians being killed and injured by landmines laid by both government soldiers and ethnic armed organisations.
The reporting period also saw a clampdown on freedom of expression and assembly, with protesters in Rangoon and Arakan states arrested, tortured, and killed.
Key findings:
ND-Burma documented 45 cases of human rights violations across four states and regions over the period January – June 2018. ND-Burma recorded 24 cases over the same six-month period in 2017, and  50 cases over the whole of 2017.
The uptick in human rights violations recorded is the result of an intensification in conflict in Kachin and northern Shan states. Three quarters of the human rights violations ND-Burma documented were in Kachin and northern Shan. In these areas civilians have been subjected to shelling, arbitrary arrest, torture, and death and injury by landmines.
The reporting period also saw the curtailment of fundamental freedoms. In Arakan State a police crackdown on a protest resulted in the death and injury of civilians and an unclaimed bomb explosion resulted in the arbitrary arrest of a former political prisoner. An anti-war protest in Rangoon led to the detention of a number of demonstrators.
The majority of human rights violations were committed by government security forces. Several instances of death and injury by landmines were recorded. ND-Burma also documented human rights violations committed by ethnic armed organisations, including arbitrary arrest and detention, forced recruitment and labour, and death as a result of fighting between armed groups in civilian areas.
None of the cases in this report have seen justice. In one case, the Burma army gave 200,000 kyats (approx. 150 USD) to the family of a woman raped by a soldier in northern Shan State.
ND-Burma's documentation shows that as long as there is impunity for human rights violations, they will continue. Government security forces continue to show little respect for human life, in particular in conflict zones, and armed groups also commit human rights abuses. Civilians are the victims and urgently need a government reparations programme to address the impact of human rights violations and end impunity.

Media contact:
Chit Chit Win
Advocacy team member
Mobile: +95 (0) 9452204210
ND-Burma is a 13-member organisation whose members represent a range of ethnic nationalities, women's groups, and former political prisoners. We have been documenting human rights abuses and fighting for justice for victims since 2004.
Affiliate members
Association of Human Rights Defenders and Promoters
East Bago – Former Political Prisoners Network
[wpdm_package id='3634′]
https://ndburma.org/wp-content/uploads/2018/09/statement-ndb.jpg
386
656
ND Burma
https://ndburma.org/wp-content/uploads/2020/04/ndbLogo-296x300.png
ND Burma
2018-09-10 10:06:56
2018-09-11 11:14:04
ND-Burma's bi-annual report finds human rights situation deteriorating across the country