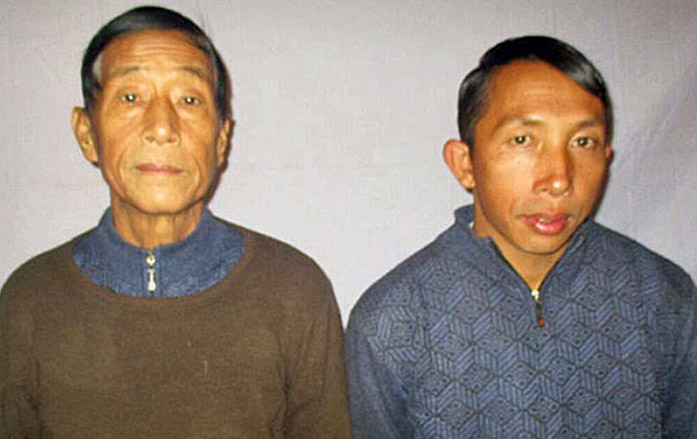 Seeking Justice in Burma
October 2017
Ethnic leaders criticise government on two year anniversary of Nationwide Ceasefire Agreement
15 October marked the two year anniversary of the Nationwide Ceasefire Agreement (NCA) and the month saw a number of ethnic leaders and peace negotiators criticise the lack of progress on the peace process.
The Chairman of the Shan Nationalities League for Democracy criticised the NLD for neglecting ethnic political parties since their election, saying at a party event:
"The NLD hasn't yet been able to develop the ongoing peace process and also they haven't yet been able to [successfully] negotiate with other ethnic armed groups to sign the NCA . I think that the NLD-led government is worse than the USDP because the Thein Sein [administration] have good relations with ethnic armed groups."
The leaders of the Karen National Union and Arakan National Liberation Party  also criticised the slow progress on the peace process.
Tatmadaw chief Senior General Min Aung Hlaing used the anniversary to reiterate the government's position that ethnic armed organisations (EAOs) would have to sign the NCA before joining political negotiations as part of the Panglong peace process. In his speech he equated refusal to sign the NCA with a "desire for armed 'anarchy'".
Eight EAOs signed the NCA two years ago under the auspices of the U Thein Sein government. None have signed since. The signatories make up about 20% of the total number of EAO troops in Burma.
In order to revive the sputtering peace process, the General Secretary of the Mon National Party called on the government to allow non-signatory EAOs to join the political dialogue before signing the NCA. The eight EAOs that have signed the NCA have requested the same of the government.
The five members of the United Nationalities Federal Council (UNFC) have said they are ready to sign the NCA at the next session of Panglong, potentially scheduled for December.
However the Federal Political Negotiation and Consultative Committee (FPNCC) – representing seven non-signatory EAOs, including several breakaway members of the UNFC – has said it will not sign the NCA in its current form.
One good piece of news in the peace process that women's participation has crept up from just 7% at the first conference in 2016 to 17% in May this year.
Frontier Myanmar published an excellent briefing outlining the outstanding issues in the peace process. It warns that a lack of progress could lead to the NCA  "being remembered as merely an intellectual exercise on drafting political statements rather than firm agreements for peace that have a positive impact on the population."
Please also see ND-Burma's briefing ahead of the most recent Panglong peace conference in May outlining our members recommendations to the government.
Human rights defenders in Shan and Rakhine jailed for exposing Tatmadaw abuses;
Journalists arrested for flying drone near parliament
Two Kachin pastors who were arrested in January this year after showing reporters the site of an alleged Tatmadaw airstrike in Northern Shan State were sentenced to six and a half years of jail time between them.
67-year-old Dumdaw Nawng Lat and 35-year-old Langjaw Gam Seng were both sentenced to two years and three months under the Unlawful Associations Act for their alleged support of the Kachin Independence Army, and under the Import Export Act for operating motorcycles without a licence. Nwang Lay received an additional two year charge for an interview he gave about alleged Tatmadaw airstrikes in 2016.
David Baulk of NGO Fortify Rights said: "How many more human rights defenders have to be locked up before the world realises that the Myanmar military have no intention of being held to account for their crimes?"
October also saw Arakan National Liberation party official Ko Khaing Myo Tun sentenced to 18 months in jail on defamation charges after having published a statement accusing the Tatmadaw of torture and forced labour.
In a separate story, three reporters and their driver were arrested after flying a drone near the parliament in Naypyitaw. They are potentially facing a three year sentence for bringing the drone into the country.
Refugees face hunger and lack of medical care as international aid dries up
The Irrawaddy reported on 23 October that Shan refugees in camps on the Thai-Burma border in Shan State have almost completely run out of food. Funds from international donors have been drying up since the country's peace process started. The reports were followed by an announcement from government spokesperson Zaw Htay that refugee camp leaders need only ask the government and it would provide the food aid. Shan refugee representatives are sceptical.
October also saw the Mae Tao clinic on the Thai-Burma border launch a fundraising campaign to enable it to carry on providing healthcare to refugees from Burma.
Tatmadaw continues to deny human rights violations in Rakhine as EU calls for justice
The government kickstarted the month by suggesting that the more than half a million Muslims who have fled Northern Rakhine State have done so in order to 'mislead' the international community. The Tatmadaw announced it would conduct an investigation into troop behaviour during the counterinsurgency campaign. The accuracy of previous Tatmadaw probes into soldiers' conduct in Northern Rakhine is doubtful, with the most recent finding only two soldiers guilty of misconduct – one for stealing a motorbike. The repatriation of refugees has yet to begin.
The EU suspended military training of Tatmadaw officers and called on Burma to end impunity and bring all perpetrators of human rights violations to justice.
Karen National Union "regrets witnessing the repeat of this history" in Rakhine
On the second anniversary of the NCA the Karen National Union (KNU) released a statement saying the Tatmadaw's campaign in Northern Rakhine State "brings to mind what the KNU and the Karen people experienced […] The KNU regrets witnessing the repeat of this history […]."
Mark Farmaner of Burma Campaign UK published a powerful piece demanding the 1991 'Bogalay crisis' in Karen State – where the Tatmadaw is alleged to have carried out a campaign of  executions, rape and mass looting – be investigated and commemorated.
Ethnic Armed Groups accused of rape and forced recruitment
Two soldiers from the Ta'ang National Liberation Army (TNLA) have been accused of raping a school headmistress in Northern Shan State. According to ND-Burma's sources compensation has been given to the victim, though what punishment the soldiers received is still unclear. In a separate incident the KIA abducted over 60 civilians in Kachin State and has so far released approximately 20.
Ministers and armed organizations cultivating refugee land in conflict areas;
Report finds Special Economic Zones favour investors over locals
An investigation by The Irrawaddy found that land belonging to people who had fled due to conflict was being cultivated by former ministers as well as armed groups.
ND-Burma member the Tavoyan Women's Union (TWU) joined the launch of a report examining Special Economic Zones (SEZs) in Southeast Asia. General Secretary of the TWU Su Su Swe said of the SEZ in Dawei: ""Without right process, such a mega investment project cannot contribute positive impact and it will create more conflicts in our area. We are very worried that the local government will go ahead without listening to people's concerns, particularly of the women."
Reports find judiciary and parliament in bad shape;
Corrupt Mon State officials face legal action
A damning report published by UK organisation Justice Base found corruption, delays, and carelessness in the Burmese judicial system, as well as a lack of checks and balances. A report published by local NGO the Yone Kyi Yar Knowledge Propagation Society found that many MPs are perceived as slackers and have "little knowledge of laws". Here a useful breakdown of the legislation passed under the current parliament.
Meanwhile the Mon State General Administrative Department (GAD) has said legal action is being taken against eight ward and village administrators who have been accused of corruption and abuse of power.
Ethnic nationalities fight to preserve their languages
Karen literature and culture committees from across Burma convened to discuss how the Karen language will be taught in a future federal system. Members said that ethnic languages teachers – who teach outside of school hours – had not been paid for the last six months. A joint committee of government and Karen representatives agreed to begin working on the first English- Burmese – Karen languages dictionary. And the U.S. Mon community donated 40 million kyats (approximately $30,000) to fund Mon language education. in Burma.
…………………………………………………………………………………………………………….
ND-Burma is a 13-member organization whose members represent a range of ethnic nationalities, women and the LGBTI community. We have been documenting human rights abuses and fighting for justice for victims since 2004.
Members
Assistance Association for Political Prisoners – Burma (AAPP)
Kachin Development Networking Group (KDNG)
Human Rights Foundation of Monland (HURFOM)
Kachin Women's Association – Thailand (KWAT)
Ta'ang Women's Organization (TWO)
Ta'ang Students and Youth Organization (TSYO)
Tavoyan Women's Union (TWU)
Affiliate Members
All Arakan Students' and Youths' Congress (AASYC)
Chin Human Rights Organization (CHRO)
EarthRights International (ERI)
Equality Myanmar
Lahu Women's Organization (LWO)
Pao Youth Organization (PYO)
https://ndburma.org/wp-content/uploads/2017/11/pastors.jpg
439
697
veronicac
https://ndburma.org/wp-content/uploads/2020/04/ndbLogo-296x300.png
veronicac
2017-11-08 15:39:58
2018-03-18 10:28:32
ND-Burma October Justice newsletter: Ethnic leaders lambast stalled peace process; Kachin and Rakhine rights defenders jailed; no progress on Rakhine, and more....