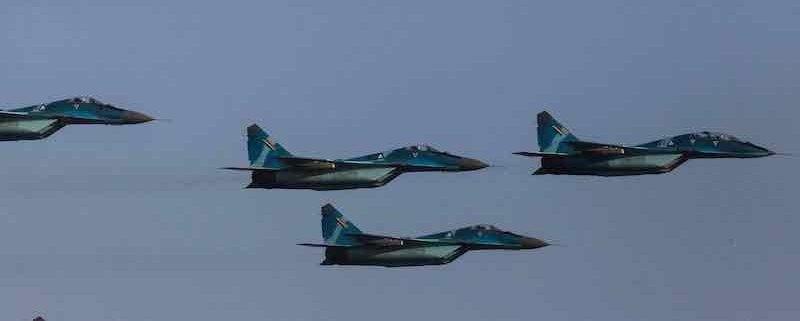 Three others were injured in the attack, which was the first of its kind in the township
Three civilians were killed and another three were injured when junta fighter jets dropped bombs on Karen National Union (KNU) territory in Bago Region's Htantabin Township on Tuesday, according to sources.
The attack took place at around 6pm and was the first of its kind in the township, the sources said.
The targets were Thayet Tan and Kywel Lan, two neighbouring villages located on the western bank of the Sittaung River near the border with Karen (Kayin) State.
Ye Soe Aung, 30, and Hsu Hlaing Aye, 22, both from Kywel Lan, were killed instantly, while Lei Lei Khine, 30, died later of her injuries, residents of the area told Myanmar Now.
The injured victims were identified as Poe Ei Theint, 12, from Thayet Tan, and Maung Tun Win, 22, and Nyunt Maung, 55, from Kywel Lan. Their condition was unknown at the time of reporting.
The attack took place about an hour after shooting broke out near a junta base in Bon Ma Tee, a village of around 400 households located west of Thayet Tan and Kywel Lan.
Two fighter jets were involved in the assault, according to a local woman who witnessed the incident.
"One dropped bombs and the other opened fire on the villages," she said, speaking on condition of anonymity.
A video seen by Myanmar Now shows the moment the villages were hit by loud explosions. The video is believed to have been taken by junta troops, as voices can be heard talking about the possible presence of resistance forces in the targeted villages.
Myanmar Now was unable to independently verify the authenticity of the video or confirm the casualty figures provided by its sources.
Htantabin Township is located in the KNU's Taungoo District, which is under the control of Brigade 2 of the Karen National Liberation Army, an armed wing of the KNU.
Myanmar's military has relied heavily on its air force to attack resistance strongholds around the country.
On April 11, an airstrike carried out against the village of Pa Zi Gyi in Sagaing Region's Kanbalu Township killed at least 160 people, including dozens of children.
https://ndburma.org/wp-content/uploads/2023/05/airattack.jpg
324
800
ND Burma
https://ndburma.org/wp-content/uploads/2020/04/ndbLogo-296x300.png
ND Burma
2023-05-04 09:16:16
2023-05-08 09:20:21
Myanmar junta airstrikes kill three in Bago's Htantabin Township