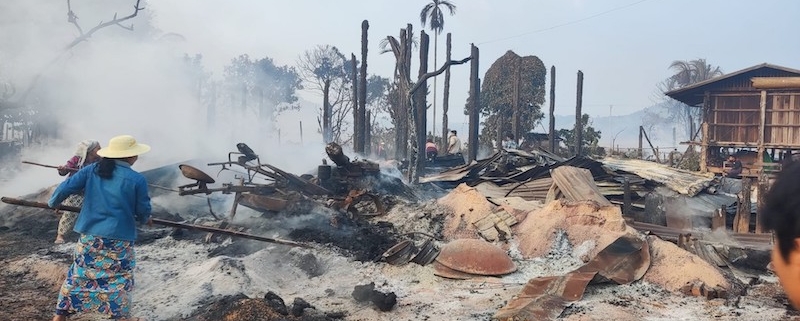 Three columns join to form a 300-soldier unit that assaulted a Wuntho Township village, killing a woman and an infant
Two civilians, including an 18-month-old child, were killed during a Myanmar army raid in northern Sagaing Region's Wuntho Township on Sunday, according to a member of an anti-junta guerrilla force active in the area.
The attack, which targeted Pein Hne Kone village, occurred on the second day of clashes between the military and allied resistance groups from Wuntho as well as Kawlin Township, located to the south.
Two junta columns were ambushed by the alliance near the village of Lwin Gyi—one mile from Pein Hne Kone—on Saturday.
According to the information officer from a Wuntho-based resistance group, one of the military columns—which had around 80 soldiers—retreated into Lwin Gyi after suffering several casualties at around 3pm.
"We set up landmines at the entrance of Lwin Gyi, so a lot of them were killed. We haven't confirmed the exact numbers, but up to six of them died in that attack," he said.
Myanmar Now was unable to independently verify the resistance spokesperson's figures.
The second unit of 50 junta troops, who had just torched and destroyed the nearby village of Shwe Taik Kone, joined the column in Lwin Gyi that afternoon around the time of the resistance force's attack. Together, the combined column of approximately 130 soldiers stayed overnight in Lwin Gyi before setting fire to the village at 6am on Sunday and departing.
They then joined a larger third column of 180 troops and raided Pein Hne Kone around two hours later, firing artillery into the village before burning at least four homes.
A woman was shot dead that afternoon while trying to flee the occupying soldiers, the Wuntho resistance force spokesperson said, adding that her identity was not confirmed.
An infant, one-and-a-half years old, was killed by heavy weapons fire; his father and one other civilian were also injured, he added.
On Monday morning, the consolidated unit of more than 300 troops advanced into the forests west of Ka Na Hpawt, the village next to Pein Hne Kone.
As of Monday afternoon, there were no further clashes in the area, according to the resistance spokesperson, who noted that guerrilla forces were still monitoring the junta soldiers in question.
Local resistance groups claimed that some 20 Myanmar military troops were killed in an earlier battle in Wuntho Township, near Tone Kyeik village, on January 12.
Myanmar Now was unable to confirm those figures.
The junta does not typically release information on clashes or casualties.
https://ndburma.org/wp-content/uploads/2023/01/kawlin_0_0.jpeg
332
800
ND Burma
https://ndburma.org/wp-content/uploads/2020/04/ndbLogo-296x300.png
ND Burma
2023-01-25 09:06:21
2023-01-25 09:06:22
Myanmar army columns merge in Sagaing to carry out raids following resistance ambush