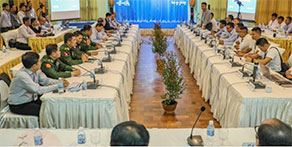 Seeking Justice in Burma
August-September 2019
Summary Report:
Throughout August and September, human rights violations were committed against the backdrop of peace negotiations, particularly in northern Shan, Rakhine and Kachin states. Despite reports that the Burma Army and armed groups agreed 'in principle' on a draft ceasefire at the beginning of September by the end of the month renewed clashes in Shan and Rakhine continued as the ceasefire with the Burma Army expired. The reason for not extending the self-imposed ceasefire in Kachin and Shan States, according to the Burma Army, was on the basis that the three groups from the Brotherhood Alliance 'do not seem to be interested in signing the Nationwide Ceasefire Agreement.'
Attacks on freedom of expression saw the NLD sue a cartoonist over a Facebook post criticizing the party and file a separate complaint over another Facebook page under the infamous Telecommunication Law's Article 66(d) for defaming the regional chief minister with memes.
Meanwhile, there has been a worrying stream of dialogue inciting a nationalistic approach to politics as the USDP leader urged citizens of Burma to 'take care of the race.' Just prior to this, a military appointee to the Lower House of Parliament suggested that the country's current democracy is 'chaotic' – which echoed the sentiment of former dictator Senior General Than Shwe. Meanwhile, a highly contested military debate on Burma's Constitutional reform geared up with the military reinforcing their opposition to the proposed Charter Amendment Committee, created by the NLD.
A UN report calling for a boycott of military cronies was met with State Counselor, Aung San Suu Kyi stating that the report was intended to harm Burma and that her government 'categorically rejects' the findings of the UN Fact Finding mission. The report confirmed nearly 60 foriegn firms were tied to military businesses. UK rights group, Burma Campaign UK, also expanded their 'Dirty List' of Companies tied to the Burma Army which includes almost 40 international firms such as Google and Apple.  The report accuses the US tech giants of 'hosting applications used by the Burma military commander-in-chief, Senior General Min Aung Hlaing and military companies.'
In a rare persecution of Burma Army soldiers, two members of the army will be charged in a civilian court following the death of seven civilians in Karen State. Earlier this year, the soldiers asked victims and their families to use a motorbike, and when they refused, the soldiers later returned to kill the civilians before driving off. Previously, a military court had already charged the two soldiers to 20 years imprisonment in July for crimes related to the killings. The seven civilians, including three children, were killed on 5 April in Anankwin village, Kyainseikgyi Township.
___________________
Armed Conflict Increasing as Tensions Exacerbate Seemingly Forgotten Appeals to Peace
Shan State
15 Burma Soldiers, Police and Civilians Dead in Coordinated Attacks
 A coordinated attack on Myanmar's Military Defense Service Technological Academy by the Brotherhood Alliance on 15 August resulted in 15 deaths and three injured. Casualties included Burma Army soldiers, police and civilians. The Burma government has condemned the attacks as terrorism while the Brotherhood Alliance maintains that they are acting in retaliation of the double-standards of the peace negotiations imposed by the Burma Army. Just two days after the clashes, a rescue worker in Lashio was killed and four of his team members were wounded after being attacked by a rocket propelled grenade and sniper attack in their attempts to rescue survivors trapped by the violence.
Civilians Caught in the Crossfire
When asked for comment on the situation on the ground in northern Shan State, an aid worker based in the area spoke of the difficult circumstances civilians have been forced to succumb to: "Even when there are no clashes, the army launches airstrikes. We therefore now have new IDPs [internally displaced persons]." With civilians bearing the brutal consequences of the fighting, CSOs and activists have made numerous calls for EAOs and the Burma Army to take responsibility for the 'indiscriminate shelling of a village that killed at least eight civilians' and to seek punishment for the perpetrator who was involved in the killing of two mothers and their children following a mortar blast in Kutkai, eastern Shan State.
Trapped civilians are in urgent need of medical treatment as rescue teams work to evacuate victims where survivors have been described as 'wounded, trapped and living in fear." Meanwhile, the education of villagers, who have been forced to flee as schools close due to security concerns, remains at risk . Calls from international groups such as Human Rights Watch have spoken out against the attacks claiming they are 'unlawful.'
Rakhine State 
Lawmaker Demands Probe Into Civilian Deaths in Burma's Rakhine State
With civilian deaths on the rise, the Rakhine state government has been asked to investigate after a lawmaker submitted a proposal urging the state government to organize a group of lawmakers, officials and civil society to look closer at the increase in casualties.  The proposal was accepted by all except those appointed by the military.
Army Shoots Man Dead at Bridge Checkpoint in Sittwe
A young man was killed by the Burma Army in Sittwe, while returning home from work. Reports claim that the military shot him after he was told to stop while soldiers conducted an inspection, and instead fled.
Man, Pregnant Woman Shot in Rakhine
A pregnant woman and man were injured in shootings by the Burma Army and sustained serious injuries.
Burma Army Restricts Movement in Northern Rakhine's Minbya
Thirty villages have been locked down by the Burma Army in the rural areas of southeast Myinba Township in northern Rakhine after being considered a 'battle zone.'
Police Officer in Rakhine State Stabbed to Death
The Police Sub-Lieutenant of the Yoe Ta Yoke Police in Ponnagyun Township was found stabbed to death after shopping at a local market. The perpetrators were a group of unidentified men in the early morning. In another striking incident of violence, two decapitated men's bodies were found in the middle of a market and identified as ethnic Aarakanese men.
Villagers, Including 3-Year-Old, Wounded in Rakhine
More clashes between the Arakan Army and the Burma Army resulted in six villagers including a six-year-old girl being wounded by artillery fire, while another civilian died in the strike.
Internet Access Restored to Parts of Rakhine, Chin States
Internet and data traffic services resumed in five of the nine townships it was cut from in Rakhine and Chin states, more than two months after the Burma government established the ban. Communities were isolated from news and updates.
Freedom of Expression Remains Undermined by Censorship 
Spiritual Leader Files Lawsuit Against Former Ex-Military Officer
A Muslim spiritual leader has accused U Hla Swe, former military USDP officer, of inciting hate speech against Islam.
Karen Activists Jailed for Use of 'Martyr' in Recognition of Karen Revolutionary Leaders
The Burma government informed organizers of Karen Martyr's Day to not use the term 'Martyr' in reference to Saw Ba U Gyi, a Karen revolutionary leader. When the term was used, three Karen activists were arrested for not complying with the government's request. There has been suggestions that this could undermine relations between the KNU and the NLD government and shows a retreat of ethnic rights.
Kachin Religious Leader Faces Lawsuit by the Burma Army
The lawsuit comes after the religious leader discussed the promotion of democracy and federalism in Burma with the US President, Donald Trump. The US expressed its concern about the lawsuit and charges were dropped. 
Filmmaker Sentenced to One Year in Prison
Prominent filmmaker and founder of the Human Rights, Human Dignity International Film Festival, U Min Htin Ko Ko Gyi, was sentenced to one year in prison after a lawsuit was filed against him by a Lieutenant of Burma's  Yangon Region Command for defaming the military in posts on Facebook.
Irrawaddy Reporter Charged Under Controversial 66(d)
A senior reporter at the Irrawaddy English-language edition was charged with online defamation under Article 66(d) of Burma's controversial Telecommunications Law for his coverage of a dispute involving hotel investment with Burma and foreign shareholders in Rakhine State.
Civilians in Chin State Oppose Proposed Statue of General Aung San
Chin people have responded to yet another effort by the state government to build a statue of General Aung San by condemning the plan, saying it does not make sense to erect the statue given the instability and conflict in ethnic areas.
Former Army Officer Jailed for Criticizing the Military Leadership
U Nay Myo Zin, former Burma Army captain was sentenced to one year in prison for violating Article 505(a) of the Penal Code for persuading military personnel to mutiny or neglect their duties.
Kachin Activist's Sentence Extended After Giving Judge Broken Scales of Justice
Activist, Ko Paul, was sentenced to 15 days in jail for organizing a street performance marking the eighth anniversary of the renewal of conflict in Kachin State. His sentence was extended when he gave the broken scales to signify a lack of due process to the judge in an attempt to symbolize the 'collapse of the judiciary in this country.'
Editor Appeals Defamation Case
Myanmar Now Editor, Ko Swe Win, was accused of defaming nationalist U Kyaw Myo Shwe in 2017 under Article 66(d) of the Burma Telecommunication Act for posting comments on Facebook that allegedly defamed ultra-nationalist Buddhist monk U Wirathu. An appeal to drop the lawsuit was heard at the end of August.
Arbitrary Arrest & Detention of Civilians Sows Fear & Intimidation in Ethnic Communities
Teacher Arrested by the Burma Army on Route to School
While on his way to school,  a primary school teacher in Rakhine state was arrested by the Burma Army after clashes escalated between the Burma Army and the Arakan Army. Reasons for his arrest have not been made clear.
Karenni Youth Charged Over Remarks Against Kayah State Chief Minister
After calling the Karenni state Chief Minister a traitor over his handling of the controversial independence hero, General Aung San – six Karenni youth were charged with slander under Article 8(d) of the Law Protecting the Privacy and Security of Citizens.
Shan Civil Society Organizations Appeal for Release of Shan Teachers
Two young Shan teachers were arrested and later released by the Burma Army on suspicion that they were involved in clashes involving the Brotherhood Alliance. The two were detained for more than 24 hours without court approval, which according to Burma law is illegal.
Burma Army Arrested and Detained Seven Kachin Detainees
The Burma Army unjustly detained seven Kachin civilians in northern Shan for six hours on suspicion that they knew of a burning truck in a nearby village. Bail has since been granted to the two brothers.
Police Arrested 9 Kayah Farmers Accused of Trespassing by the Burma Army
According to the Karenni State Farmers Union, nine out of 21 local farmers have been arrested on accusations of 'destroying public property and trespassing during protests earlier that month.'
Sexual Violence Against Children Demands Accountability & Legal Reform
Child Rapist Sentenced to 20 Years
A 51-year-old man who raped a young girl in Magwe Region was sentenced to 20 years in prison. The verdict came under fire by activists for how long the court proceedings were with the sentencing taking place a year and a half after the crime occured.
Victim Testifies in Toddler Rape Case
In a trial that has garnered the attention of many across Burma, the victim of a rape in Naypyitaw testified and identified two brothers as perpetrators of the sexual assault which took place at the victim's school. She was two years and 11 months old at the time of the crime.
Tutor Arrested in Shan State for Child Rape
A 30-year-old tutor has been accused of raping two girls. Ta'ang Women's Organization is helping the families fight for justice to ensure the perpetrator is punished.
Forced Recruitment Accusations & Denials

Ten ethnic civilians were arrested by the Restoration Council of Shan State (RCSS) and conscripted for military service in Hsipaw Township. The RCSS denied the allegations.
Pressure to hold perpetrators of human rights violations accountable continues to take precedent as activists, civil-society organizations and international governments continue to lobby the Burmese military and government to act in good faith by cooperating with recommended transitional justice mechanisms.
_____________
ND-Burma is a network that consists of 13 member organisations who represent a range of ethnic nationalities, women and former political prisoners. ND-Burma member organisations have been documenting human rights abuses and fighting for justice for victims since 2004. The network consists of six Full Members and six Affiliate Members as follows:
Full Members:
Affiliate Members:
Association Human Rights Defenders and Promoters
East Bago – Former Political Prisoners Network
Pa-O Youth Organization
Future Light Center
https://ndburma.org/wp-content/uploads/2019/10/hr-struct.jpg
147
292
ND Burma
https://ndburma.org/wp-content/uploads/2020/04/ndbLogo-296x300.png
ND Burma
2019-10-09 19:46:55
2019-10-09 19:50:11
Justice Newsletter August-September 2019