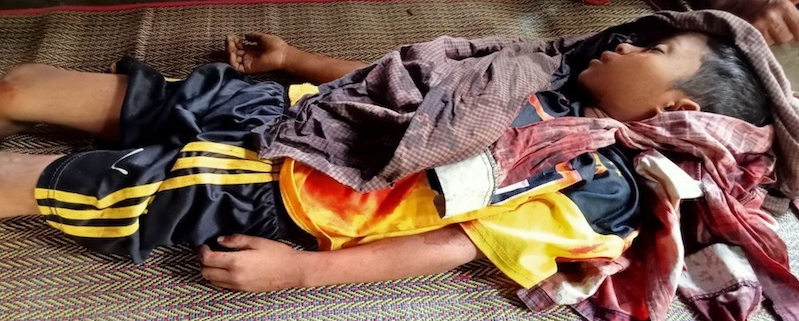 The military is using combat drones and heavy weapons in intensifying attacks on villages in Kyauktaw Township, the Arakan Army says
An elderly man and a child were killed during indiscriminate shelling by the Myanmar military on Friday morning in Rakhine State's Kyauktaw Township, according to locals.
They said that the heavy artillery fire was an act of retaliation in response to the Arakan Army's (AA) ambush of two junta vessels on the Kaladan River at 9am.
The ethnic armed organisation reportedly intercepted the boats around two miles outside of Kyauktaw town. Nearby military bases then began firing heavy and light weapons into the surrounding villages along the Kaladan, residents told Myanmar Now.
Some five mortars exploded in Shwe Pyi, a village six miles northeast of the town, a local said. Maung Tu Chay, 86, and an eight-year-old boy named Aung Min Naing were killed in blasts.
"The elderly man died soon after he arrived at a hospital and the child was killed when more shells hit," said the resident, who described the shelling as unprovoked, and insisted that no fighting had taken place near his village.
Other civilians were said to have been injured in the attack, and at least one house damaged.
"We don't dare to go outside the village and look around. We are hiding in bunkers now," another villager told Myanmar Now by phone on Friday afternoon.
In Kyauktaw town, schools and businesses closed due to the weapons fire, residents said.
Shells.jpeg
Fragments of bombs seen after a junta drone strike in Tanintharyi Region's Palaw Township on October 13 (Photo: Palaw K-PDF)
On Monday night, the Kyauktaw-based Military Operations Command (MOC) No. 9 also fired artillery into the area that killed a family of three, according to locals.
A Tuesday statement by the AA that the MOC and Light Infantry Battalion (LIB) 374 had used heavy artillery and drones to in attacks on the township on October 28.
The following morning, AA troops clashed with those from the junta's forces for around 20 minutes near Yoke Thar village, allegedly causing five Myanmar Army casualties. The AA said that the military then dropped bombs on the area at 2pm using drones, damaging a monastery.
Drone strikes were also reportedly carried out in Buthidaung and Rathedaung townships in January, the AA said, noting that the military's use of the devices in Rakhine State dates back to intense periods of fighting in 2020. The group confiscated an Israeli-made Skylark I-LEX combat drone in Rathedaung in June of that year.
Other ethnic armed organisations, including the Karen National Union, have accused the Myanmar army of surveilling their bases in southeastern Myanmar with drones since 2018; drones were also seen flying over internally displaced persons camps in territory controlled by the Restoration Council of Shan State in 2020.
A military council spokesperson confirmed the armed forces' use of the devices at a press conference on January 23.
Spy_drone.jpeg
AA members hold an Israeli-made Skylark I-LEX combat drone confiscated in Rathedaung Township in June 2020 (Arakan Army)
https://ndburma.org/wp-content/uploads/2022/11/kyauktaw_1.jpeg
374
799
ND Burma
https://ndburma.org/wp-content/uploads/2020/04/ndbLogo-296x300.png
ND Burma
2022-11-07 08:04:20
2022-11-09 08:30:16
Elderly man, child killed as Myanmar junta launches mortar shells at Rakhine State village