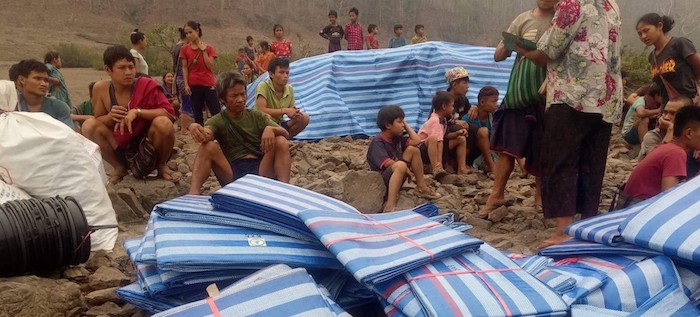 Community-based organisations suggest that the number of IDPs is double the estimates provided by UN agencies, whose access to the region continues to be restricted by the junta
Data recently released by Karen community-based organisations indicates that the number of people displaced in southeastern Myanmar since the 2021 coup may be more than double the figures previously provided by the UN.
Representatives of the Karen Peace Support Network (KPSN) said on October 27 that more than 347,500 people had been forced to flee their homes by military offensives throughout the seven districts of Kawthoolei—a predominantly ethnic Karen territory that includes all of Karen State and parts of Mon State and Bago and Tanintharyi regions.
"Our members are working very closely with the IDPs [internally displaced persons] on the ground. That's how we have these details," KPSN's Saw Lay Ka Paw told Myanmar Now.
On Monday, the UN Office for the Coordination of Humanitarian Affairs (OCHA) reported that there were a total of 169,700 IDPs in the region, including all of Karen and Mon states, Tanintharyi and eastern Bago—an area much larger than that described by KPSN.
An OCHA representative did not respond to Myanmar Now's specific inquiry regarding the discrepancy in IDP numbers, but said on October 28 that the agency was "staying and delivering [aid services] despite serious access challenges and funding shortfalls in Myanmar, including in the country's Southeast."
Duncan McArthur, Myanmar programme director for The Border Consortium—an alliance of international humanitarian organisations working with conflict-affected populations from the region in question—confirmed that the number of displaced "could be double OCHA's estimate," citing documentation from multiple groups on the ground.
"Estimating IDP numbers is always difficult, especially for those who are dispersed and not in camps," he told Myanmar Now. "However, there is a growing body of evidence to suggest that OCHA is grossly underestimating the scale and distribution of internal displacement in Myanmar."
The data has raised questions regarding which organisations have the access necessary to distribute aid to the region's displaced people amid what KPSN says is an ongoing "humanitarian emergency."
In an online briefing last week, the network pointed out that since the February 2021 coup, Karen community-based organisations—particularly Thai border-based groups—had delivered US$8.7m in food support to these IDPs, but that $17m more was required in order to meet their needs over the next year.
Naw K'nyaw Paw, general secretary of the Karen Women's Organisation, described this aid structure as decentralised, involving coordination between local networks and the emergency response committees of the Karen National Union, an ethnic administrative body opposed to military rule. She noted that over the past 30 years, $32m worth of food—mostly rice—had been provided to some 1.7m people in conflict-affected areas through these mechanisms, "without benefitting the previous military regimes or the [current junta]."
However, this aid delivery system has been "largely ignored by international donors," she said, adding that half of the funding for food assistance since the coup came from private patrons.
Several UN agencies have come under criticism from rights advocates and civil society organisations for carrying out aid operations in Myanmar under the oversight of the junta. It is an approach which, opponents argue, lends legitimacy to the coup regime and does not allow access to the large displaced populations outside of military-controlled areas.
UN accessibility to most of southeastern Myanmar was categorised as "difficult" or "very difficult" in the mid-year update on the Myanmar Humanitarian Response Plan, compiled by OCHA.
Operating in conflict areas "remains challenging due to the de-facto authorities denying travel authorizations for large-scale operations in areas outside their control," the June report said.
In OCHA's statement to Myanmar Now, a representative said that they had provided assistance to 500,000 people in southeastern Myanmar during the first half of the year, but did not offer further details about the recipients or the type of aid.
The agency acknowledged that "access restrictions are preventing us from reaching everyone who needs support" and that they would "engage with all stakeholders to lift access constraints that are delaying support to people in need."
Most food assistance that was distributed under the Humanitarian Response Plan during the same period went to 2.2m people largely belonging to "vulnerable populations other than IDPs" in urban areas, particularly Yangon.
Only 22 percent of the Humanitarian Response Plan's massive $826m budget had been raised as of Monday, according to OCHA. However, local aid providers have pointed out that the implementing agencies' lack of access to communities outside of junta-controlled territories is likely to continue even if the funding targets are met.
"The majority of the IDPs are in the areas of the opposition [to the Myanmar military], and the UN Country Team needs permission from the military to deliver aid," another KPSN representative, Saw Alex Htoo, said, calling on international institutions to "re-strategise" and include border-based groups.
"Delivery of humanitarian aid from Yangon faces a lot of limitations. Aid delivered through cities won't reach these people."
Editor's Note: This article was updated on the afternoon of October 31 to include UN OCHA's newest data, which was released after initial publication. It suggests that 7,100 more people in the region were displaced since the agency's previous October 1 report.
https://ndburma.org/wp-content/uploads/2022/11/kpsn.jpeg
317
700
ND Burma
https://ndburma.org/wp-content/uploads/2020/04/ndbLogo-296x300.png
ND Burma
2022-10-31 09:04:00
2022-11-01 09:07:49
Displacement crisis in southeastern Myanmar requires local humanitarian response, Karen groups say