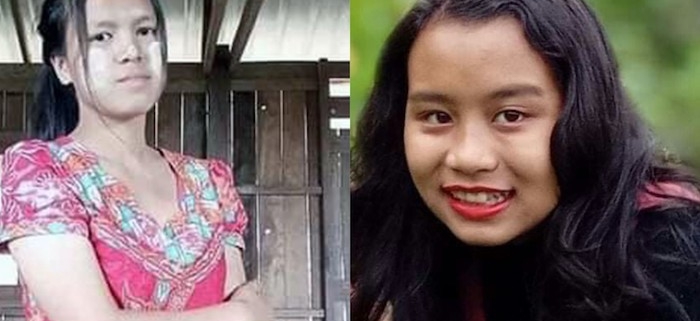 The two victims disappeared last week while on their way home from a nearby village; their bodies were discovered on Sunday
A young woman and a 14-year-old girl were found murdered in southwestern Magway Region's Ngape Township on Sunday, four days after they went missing in the heavily militarised area.
The two victims, who were both members of the Asho Chin ethnic group, were last seen alive in the village of Goke Gyi, where they had met relatives on Thursday.
They were walking back to their home village of Bone Maw, some 1.2km away, later that day when they disappeared, local sources reported.
The bodies of 21-year-old kindergarten teacher Mai Shwesin Ye and eighth-grader Mai Naung Pa Hla were discovered near Myay Latt, another village in the same area, on Sunday, the sources said.
"There were so many stab wounds—in their thighs, backs, necks, breasts, and stomachs. It was just so cruel," said one person close to the victims' families who saw the bodies.
It was believed that the older victim had also been raped.
"The older girl was wearing a dress but her body didn't have any underwear on. The younger girl was wearing a pair of jeans and had been tied up with ropes," said the source.
The murders were reported at the village police station in Goke Gyi, but as of Tuesday, no information had been released regarding an investigation.
The bodies of the victims were cremated in the nearby town of Padein on Monday and their remains were interred at the cemetery in Bone Maw the next morning, the family friend told Myanmar Now.
According to local news outlets, the military maintains a base in Goke Gyi as part of its efforts to eradicate opium poppies in the nearby hills.
Soldiers stationed in the village were said to be from Light Infantry Division 88, based in Padein. Since last year's coup, an additional 100 troops have been sent there as reinforcements, the news outlets reported.
There is also another base in the area set up to guard a pipeline that runs from the Rakhine coast to China, according to locals, who say that the base is usually manned by six soldiers and four police.
Ngape Township, which borders Rakhine State, also has two weapons factories and several other military installations.
Despite being in Magway Region, which has been one of the main areas of resistance activities since the military seized power in February of last year, Ngape Township has seen relatively little fighting due to the proximity of the pipeline and geographical conditions, locals said.
https://ndburma.org/wp-content/uploads/2022/10/asho_chin_women_0.jpeg
466
700
ND Burma
https://ndburma.org/wp-content/uploads/2020/04/ndbLogo-296x300.png
ND Burma
2022-10-12 07:40:00
2022-10-13 07:42:29
Chin woman and girl knifed to death in Magway township with heavy military presence