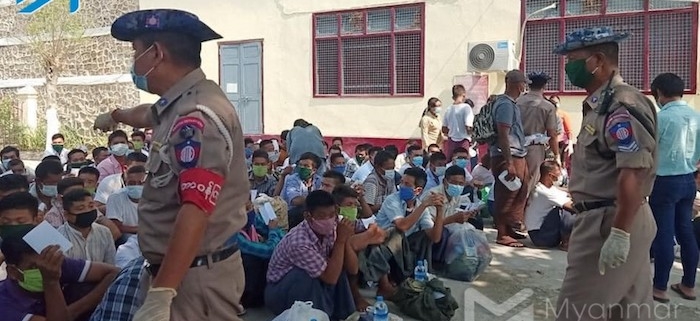 The prison, which holds hundreds of political detainees, has become one of the most notorious in the country since last year's coup
A prisoner who was sent to Mandalay Region's Myingyan Prison last week was beaten to death within a day of his arrival, according to prison sources.
Nay Myo Oo, a resident of the village of Nabu in Mandalay's Taungtha Township, was transferred to the prison on the afternoon of October 3 to serve a one-month sentence for drunk and disorderly conduct.
Soon after his arrival, however, he was viciously beaten by four officials, according to an inmate of the prison.
In a letter received by Myanmar Now from a source close to the prison, the inmate claims that the officials—Thant Zin Maung, Win Myat Ko, Nay Zaw and Thiha Naing—inflicted multiple injuries on the victim when they ganged up on him.
When Nay Myo Oo was found dead the next day, a prison warden named Myat Kyaw Thu ordered officials to state that he had choked to death on his own vomit, the letter adds.
An officer of the Monywa Township People's Strike Committee familiar with the incident confirmed the details of the letter's account.
"The prison authorities beat him up for his drunken behaviour and for running around in his cell," said the officer, adding that Nay Myo Oo was denied medical treatment despite his injuries.
According to the officer, the victim had broken bones, was bleeding from his eyes and mouth, and was also struggling to breathe.
In August, hundreds of political prisoners were transferred to Myingyan Prison from Mandalay's Obo Prison and Monywa Prison in Sagaing Region. Many have been singled out for abuse, dissident sources have reported.
Zin Min Htet, the chair of the Monywa Student Union, is said to have been beaten unconscious inside the prison for refusing to cut his hair or "sit in position" as ordered by prison authorities. Another student leader was also attacked for attempting to protect him, sources reported.
Besides being subjected to various forms of torture, Myingyan inmates are also reportedly forced to do hard labour and pay bribes to officials.
Dr. Myint Naing, the ousted chief minister of the Sagaing Region, is among the prison's political detainees.
The International Committee of the Red Cross (ICRC) has been denied permission to visit Myanmar's prisons since last year's coup.
"They don't care about the ICRC," said one activist, referring to prison authorities. "They openly say that international organisations don't matter anymore."
The families of prisoners say that many detainees are transferred to remote locations to make it more difficult for them to maintain contact and provide care packages. 
Myanmar Now News
https://ndburma.org/wp-content/uploads/2022/10/obo_prison_staff_1.jpeg
466
700
ND Burma
https://ndburma.org/wp-content/uploads/2020/04/ndbLogo-296x300.png
ND Burma
2022-10-10 07:37:00
2022-10-13 07:40:15
Prisoner beaten to death in Myingyan Prison