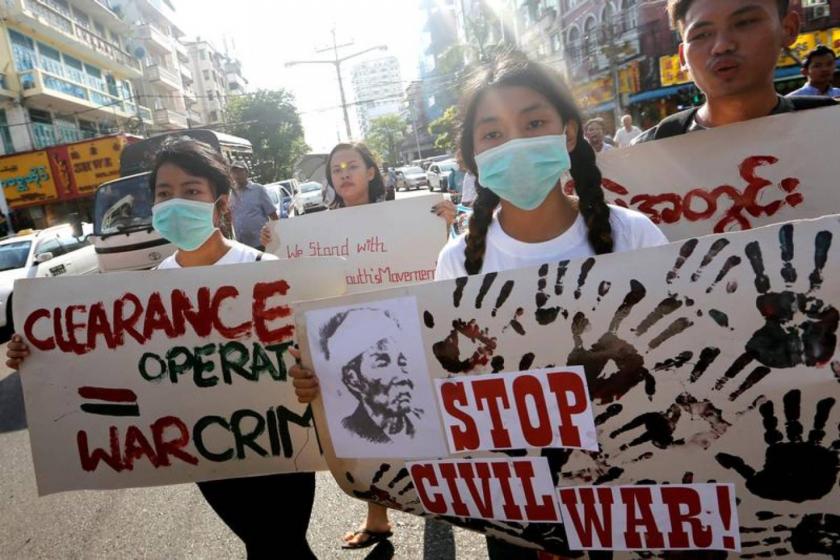 In 2017, soldiers in northern Shan state detained a Kachin man in his 50s who had been displaced by fighting and was working as an overnight guard at a tea factory.
They accused him and five others from the factory of being Kachin Independence Army soldiers. Then they blindfolded him and took him to an unknown location, where they burned his knees with candles and made him kneel on the sand-covered floor. They beat him and broke his arm.
When he was released after two days, he was unable to afford the long trip to a hospital to get proper treatment for his arm, leaving him disabled. The injury means he can longer work to provide for his family.
As the world marks the International Day in Support of Victims of Torture, Myanmar's police and soldiers continue to inflict brutal and cruel punishments on people with impunity.
The National League for Democracy (NLD) government has had five years to try to rein in these excesses, but has done almost nothing. Myanmar has still not signed the UN Convention Against Torture, and so far remains out of reach of any international justice mechanisms that might bring an end to the systematic use of torture here.
Justice denied
Most torture victims in Myanmar never tell their stories, according to a forthcoming report, called Seeking Justice, by the Kachin Women Association – Thailand.
Torture goes unreported for several reasons. First, victims and community members are afraid of retaliation by the perpetrators, who are most often members of the Myanmar military.
They also do not trust the police or the courts, and for good reason. And even if they do want to take their chances in a judicial system beholden to the military, the victims often lack the resources to do so. They are largely from rural areas and IDP camps, with little means to pay for repeated trips to court or legal fees.
The report documents 51 cases of serious human rights abuses for which the perpetrators have not faced any real consequences. The cases, all from between 2011 and 2019 in Kachin and northern Shan state, include rape, murder, disappearances, and arbitrary detention.
Victims in 11 of the 51 cases reported experiencing torture. The report reveals that most cases involving torture were people charged under the Unlawful Associations Act by the military. The law forbids interacting with certain rebel groups.
For victims who tried to take their cases to court, interference by the military is reported as the main obstacle to getting justice.
Myanmar's constitution, as well as the Defense Services Act, dictates that any cases involving torture committed by military personnel on duty must be handled by courts martial. The outcome of such trials is therefore ultimately up to the Commander-in-Chief.
Weeks after a viral video surfaced of soldiers torturing five handcuffed Rakhine civilians, their family members said the men have still not received any medical attention while in detention.
Human rights organisations, both local and international, are dealing with a mounting number of cases as armed conflict and violence continue across the country. Scores of civilians in Rakhine and Chin state have been arrested, tortured and killed in the past few months. Amid fresh fighting in northern Shan state, the military's Light Infantry Battalions 88 and 99 have used civilians as porters.
Victims of torture live in fear without any recourse to justice. They are often too afraid of reprisals to press charges, and face harassment and attempts to silence them if they do. Cases that have been investigated were far from fair, transparent or just.
The NLD must act
When the NLD came into power in 2015, many hoped to see a national plan reaching out to victims of human rights abuses, including torture. But those hopes have long been abandoned.
Civil war continues and there has been no progress in peace negotiations, nor any meaningful attempt at reconciliation with the country's diverse ethnic and religious communities.
At the 43rd session of the UN Human Rights Council earlier this week, Myanmar rejected a resolution to extend the mandate of the human rights envoy to the country. The resolution also called on Myanmar "to ensure full respect for International Humanitarian Law" and "allow free and unhindered access to provide humanitarian assistance."
Kyaw Moe Tun, Myanmar's permanent representative to the UN, asked the international community to be "non-confrontational" and use a "dialogue-based approach" when addressing human rights issues in Myanmar.
Based on its five years in office, it is safe to say that State Counsellor Aung San Suu Kyi's government has no plan to offer justice, reconciliation or even recognition to victims of torture living with immense psychological trauma.
She and her government have also actively harmed their cause by choosing to side with the military and help cover up its abuses against Rohingya, Rakhine, Chin, and other ethnic groups in western Myanmar.
The NLD has talked a lot about its desire for reconciliation, but this is meaningless if the government keeps refusing to address past abuses and openly supporting current ones. Many feel the focus on reconciliation is simply a bid to appease the military.
The NLD may not have perpetrated the crimes itself, and it may not have control of the military. But as the democratically elected party of power, it has a responsibility to at least try to use what leverage it has to keep the military in check; that includes speaking out against its abuses.
In the next few months, before the general election, the NLD has a chance to show some good will towards this country's ethnic and religious minorities by signing and ratifying the UN Convention Against Torture, and adopting it into national law.
The government should also provide a meaningful space for torture survivors in the upcoming Panglong Conference, which will be the last event in the peace process before the election.
It also needs to recognise survivors' rights to justice and support them through the judicial process. This, more than anything, would help prevent future acts of torture.
If the NLD genuinely wants peace and reconciliation, it is well past time it took bold political action like this; Myanmar's torture victims have no use for more empty words.
Stella Naw is a human rights activist who writes about peace and conflict in Myanmar. The views expressed in this article are those of the author and do not necessarily reflect Myanmar Now's editorial stance.
https://ndburma.org/wp-content/uploads/2020/07/students_take_part_in_a_rally_demanding_peace_at_the_war-torn_kachin_state_in_yangon_myanmar_may_6_2018.jpg
560
840
ND Burma
https://ndburma.org/wp-content/uploads/2020/04/ndbLogo-296x300.png
ND Burma
2020-06-26 13:42:05
2020-07-02 13:45:09
Aung San Suu Kyi's government must sign the UN torture convention and make it law, before the election