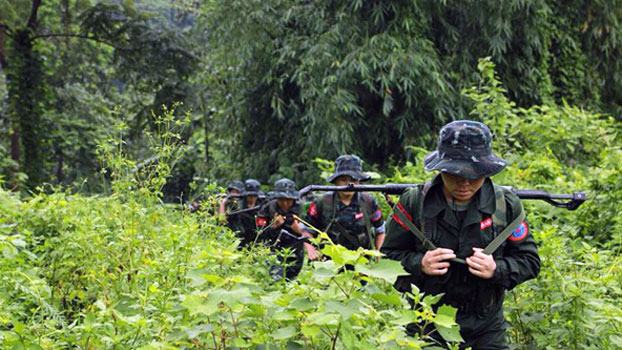 A young man has died after being detained and interrogated by Myanmar's military on suspicion of being a member of the ethnic Rakhine Arakan Army (AA), according to his family members, who said he was repeatedly tortured while in custody.
Zaw Win Hlaing, 28, from Shwe Tun Phyu village, in war-ridden Rakhine state's Mrauk-U township, died on July 1—a day after being sent to a hospital in the Rakhine capital Sittwe, his mother Thein Nu Sein and brother Win Hlaing told RFA's Myanmar Service on Tuesday.
He was arrested by the military on June 19 as he returned home from Mrauk-U's Waitharli village and subjected to five days of interrogation, they said, before being transferred to the Kyauktaw Township Police Station on June 24.
On June 25, he was transferred to the Kyauktaw Hospital after he lost consciousness from suffocation while being tried at the Kyauktaw Township Court on charges under Myanmar's Anti-Terrorism Act, and on Sunday was sent to the Sittwe Hospital for urgent care after vomiting blood, but died a day later, his family members said.
Thein Nu Sein told RFA that during a visit with her son in detention he told her "not to worry about me" because "I don't think I will make it."
"I asked what they did to him and he said that they repeatedly beat him on the back with bags of stones," she said.
"They also broke his knees. I saw that they had pierced his ankles with knives."
Win Hlaing told RFA that his brother was in fine health before he was detained.
"All of his injuries were a result of beatings he received while in custody," he said.
"I believe that the military should be held responsible for his death. I would like to appeal [to the authorities] to punish the military, which has been arresting innocent civilians for no reason."
Zaw Win Hlaing's family members dismissed the military's allegations that he was a member of the AA.
Their claims were backed up by Khine Thuka, a spokesperson for the AA, who said Zaw Win Hlaing's death amounted to a "war crime."
"He was just a young man who had no ties with our troops," he said.
"The military is targeting civilians and these kinds of offenses eliminate the prospect of ethnic unity and reconciliation."
Last week, two of nine civilians detained by the Myanmar military on June 22 were tried in Kyauktaw on suspicion of attacking an army column as members of the AA and told the court they had been severely beaten while questioned in jail, according to their relatives and members of the group Rakhine Human Rights Protection who attended the hearing.
'File a complaint'
On Tuesday, Brigadier General Zaw Min Tun of the military's Information Committee confirmed to RFA that Zaw Win Hlaing had been transferred to the police station in Kyauktaw to face charges in court after the military "completed its investigation."
"There are accusations that he died as the result of torture during the investigation," he said, adding that he was unable to comment on the claims.
"All citizens have rights—if [his family members] believe he was treated unjustly, they have the right to file a complaint with the relevant authorities."
Zaw Min Tun said the military has clear rules preventing the torture of detainees, with no exceptions.
Yu Lwin Aung, a member of the Myanmar National Human Rights Commission, told RFA that the death of any detainee as the result of torture during detention amounted to an "undeniable violation of human rights."
"They could raise the question of why he was detained in the first place," he said.
"But even if a detainee is proven to be the enemy, torture and beating deaths while in custody are completely unacceptable."
In Geneva on Tuesday, Yanghee Lee, the U.N. independent expert on human rights in Myanmar, told the U.N. Human Rights Council that were signs of fresh atrocities in Rakhine state.
"The conflict with the Arakan Army in northern Rakhine State and parts of southern Chin State has continued over the past few months and the impact on civilians is devastating. Many acts of the Tatmadaw [military] and the Arakan Army violate international humanitarian law and may amount to war crimes, as well as violating human rights," Lee said.
Reported by Min Thein Aung for RFA's Myanmar Service. Translated by Ye Kaung Myint Maung. Written in English by Joshua Lipes.
https://ndburma.org/wp-content/uploads/2019/07/image-3.jpeg
350
622
ND Burma
https://ndburma.org/wp-content/uploads/2020/04/ndbLogo-296x300.png
ND Burma
2019-07-02 11:22:16
2019-07-06 11:24:06
Young Man Accused of Ties to Arakan Army Dies Following Interrogation by Myanmar Military