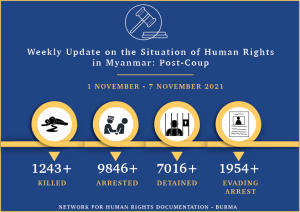 Worsening military offensives in conflict-torn Chin State has left thousands without homes and enough food to survive. The increased presence of military junta soldiers is depriving civilians of their rights to live safely. Places of worship, including predominantly churches in the Christian minority state, have been burned to the ground with local religious leaders targeted. On 4 November, over 500 civil society organizations, including ND-Burma, called on the United Nations Security Council to impose a global arms embargo on Myanmar, given the gravity of the situation and likelihood of war crimes being perpetrated by the junta.
In the wake of the brutality, Chin armed defences forces have stood their ground. They have bravely fought back to protect their people, and their State's territory. Even amid casualties, Chin soldiers have not been deterred as they face the onslaught of the junta's violence and their highly advanced weaponry. ND-Burma affiliate member, the Chin Human Rights Organization (CHRO), has continued to report tirelessly on the human rights violations being committed. Civilians of all ages have been killed and endlessly tortured with many succumbing to their wounds or barely surviving. Among those murdered by the junta, a 70 year old retired teacher was fatally struck by artillery rounds which were intentionally fired in Mindat township on the afternoon of November 3rd. Three other civilians were injured in the explosion.
In the harrowing nine months which have now passed since the coup, thousands have been displaced. Arbitrary arrests are ongoing, and testimonies of the junta's brutal interrogation tactics – of which few live to speak of their experience – exhibit the lawlessness that is the institution of the Tatmadaw. Pursuing violent acts is the only way that the junta has ever known to control civilians. Nonetheless, appeals to the international community are ongoing for action. The junta is neither credible nor capable of protecting the many who are displaced and increasingly vulnerable. It is with the utmost urgency that calls from civil society organizations, human rights defenders and civilians themselves on the ground be listened to.
Rights groups are continuing to publish reports with evidence of large scale abuses taking place. Overwhelming evidence pushes for the regime to be held accountable for the crimes that they have committed. Among the many lessons in the months since February 1, the most severe has been that the international community has acted too slowly. The economic and humanitarian crisis demands a response that protects the people and holds the junta accountable.
CHIN STATE
Abductions in Chin State are widespread. The numbers of those killed in custody of the junta are growing, and pose yet another threat to civilian safety and security. CHRO reported that of seven detainees taken on 1 November, one person has been killed. Two had been killed previously while taken hostage by the regime in Hakha township in May.
The burning of over 200 homes in Thantlang due to artillery shelling by the Myanmar junta was denied by the regime who claimed it was villagers who set their homes on fire. It is clear that the attacks on Thantlang were pre-meditated and coordinated in an attempt to weaken the bases of Chin defense forces and further demoralize innocent civilians.
Amid the ongoing violence, several embassies have voiced their concern to the atrocities taking place, including the United States and Sweden. It is important that their words also be met with action.
KAYAH STATE
The junta's use of human shields is forbidden by Protocol I of the Geneva Conventions and yet the terrorist regime continues to target civilians by forcing them to lead in combat and through unfamiliar territory. In Kayah State, locals have been used as human shields at least four times. Civilians abducted from their villages are rarely heard from or seen again as families are left without any information about their whereabouts or condition.
The Karenni National Defense Force said that the junta divisions of the 66ht, 77th and 88th battalions are conducting operations against Karenni armed groups. A soldier from one of the civilian defense groups witnessed 19 detainees being forced to lead soldiers as human shields, which forced them to abandon their attack. The National Unity Government has called for people's defence forces to make sure their every single act of revolt is directed toward justice.
SHAN STATE
Clashes in southern Shan are fueling displacement as the junta burns down homes in local villages, which has recently forced approximately 300 people to flee. Three hour clashes between Kayah State based People's Defence Forces, ethnic armed organizations and the military junta sent many seeking shelter in temples, churches nearby.
Internally displaced persons are struggling to survive due to a continued lack of food, shelter and medicine. The lack of supplies has left those struggling feeling depressed and hopeless for their futures. According to the Shan Herald Agency for News, conflict between the Restoration Council of Shan State and the allied forces of the Shan State Progress Party and the Ta'ang National Liberation Army has
forced
almost 3,000 villagers to seek shelter in Mong Ting, Byein Hkar, Ner Moong, Nam Sawt, Kyu Shaw, Mang Hka, Mong Ngor and Hu Suan in Kyaukme Township.
---
https://ndburma.org/wp-content/uploads/2021/06/hr-st-up.jpg
441
1500
ND Burma
https://ndburma.org/wp-content/uploads/2020/04/ndbLogo-296x300.png
ND Burma
2021-11-08 09:28:39
2021-11-09 09:32:31
Weekly Update on the Situation of Human Rights in Myanmar: post-Coup (November 1-7) 2021