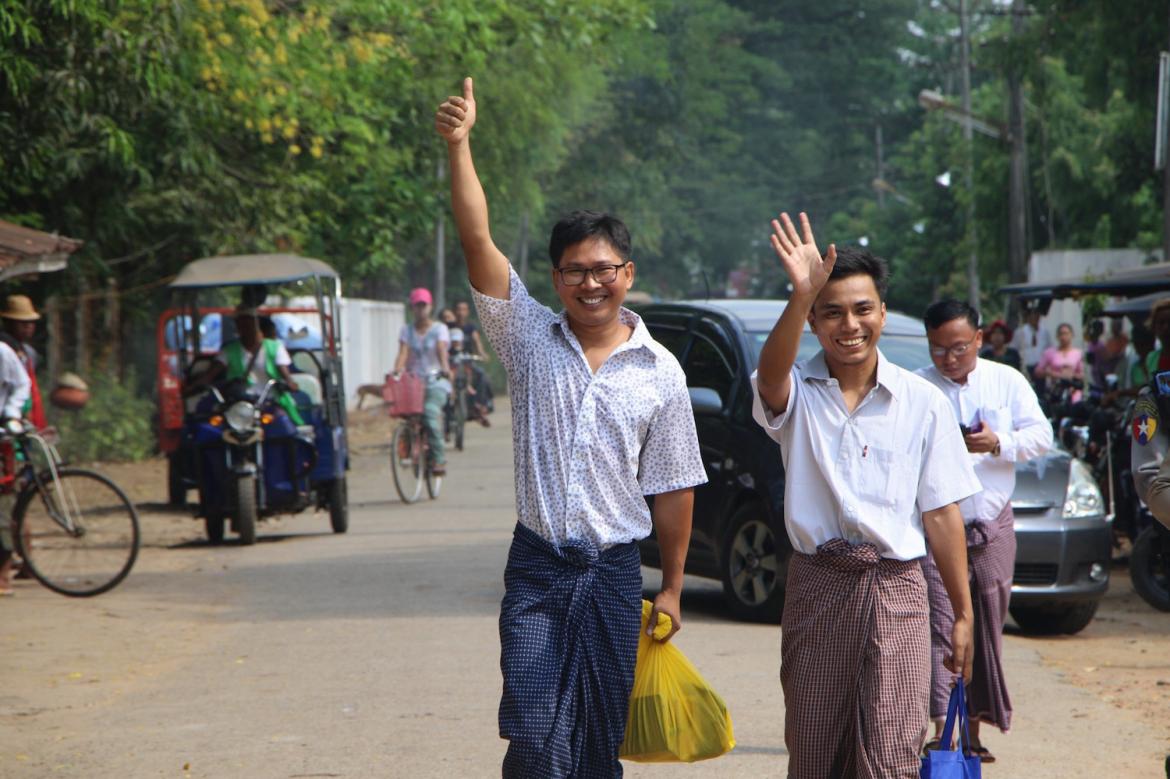 By YE MON | FRONTIER
YANGON — Reuters journalists Ko Wa Lone and Ko Kyaw Soe Oo were among 6,520 inmates freed on Tuesday in the third and final round of a mass presidential pardon to mark the Myanmar New Year.
The two reporters were freed from Yangon's Insein Prison on Tuesday morning.
Wa Lone told reporters after his release that he would continue working as a journalist and he thanked everyone who supported him and Kyaw Soe Oo and their families while they were in Insein Prison.
"I want to thank everyone who helped us in prison, and everyone around the world who called for our release. I can't wait to get back to the newsroom now," he said.
Prison warden U Zaw Zaw told Frontier that actor Ko Moe Aung Yin, who was given a combined sentence of 17 years in prison late last year for the possession and abuse of drugs, would also be freed.
Wa Lone and Kyaw Soe Oo lost their final appeal at Myanmar's Supreme Court on April 23 against their seven-year sentences for breaking the Official Secrets Act.
After the verdict, a lawyer for the journalists said that their families would write to President U Win Myint asking him to review their conviction.
"A presidential pardon is the best hope for the release of the two journalists. It wouldn't need to take long," U Khin Maung Zaw said.
This is the third round of presidential pardons, after Win Myint freed 9,551 prisoners on April 17 and another 6,948 on April 26, most of whom were serving sentences for drug offences. Just five political prisoners were included in these two pardons, leaving activists frustrated.
President's Office spokesperson U Zaw Htay hinted on April 26 that political prisoners would be freed in a third round. The government had discussed releasing "prisoners whose sentences were related to political issues", he said.
It was unclear on Tuesday morning how many political prisoners would be freed.
The Myanmar Prisons Department, which is part of the military-controlled Ministry of Home Affairs, released a statement last month asserting that there were no political prisoners in Myanmar, and that all prison inmates had been sentenced for committing criminal acts.
On Tuesday the United Nations in Myanmar said in a statement that it welcomed the release of Wa Lone and Kyaw Soe Oo from prison.
"The UN in Myanmar considers the release of Wa Lone and Kyaw Soe Oo a step toward improving the freedom of the press and a sign of Government's commitment to Myanmar's transition to democracy," it said.
Reuters editor-in-chief Mr Stephen J Adler said, "We are enormously pleased that Myanmar has released our courageous reporters, Wa Lone and Kyaw Soe Oo. Since their arrests 511 days ago, they have become symbols of the importance of press freedom around the world. We welcome their return".
Wa Lone and Kyaw Soe Oo were sentenced in September 2018 by a Yangon district court judge who ruled that they possessed "secret" documents that could have damaged national security.
Defence lawyers appealed on the grounds that the police had set the journalists up, a claim supported by a police witness for the prosecution, who testified that documents were planted on them. Judges at the Yangon Region High Court, and the Supreme Court in Nay Pyi Taw, nevertheless upheld the ruling.
The case was criticized internationally as an attack on media freedom, but domestic support for the journalists was limited, partly because of public anger with the international media over its perceived bias towards the Rohingya in its coverage of Rakhine State.
Mr Phil Robertson, deputy Asia director of Human Rights Watch said on Tuesday that Wa Lone and Kyaw Soe Oo should never have been arrested, much less imprisoned, and their release was long overdue.
"But the crisis is not over for the literally dozens of other Burmese journalists and bloggers who are still facing baseless criminal charges for their reporting about the Tatmadaw or NLD [National League for Democracy] government officials," he said.
"Myanmar's faltering respect for media freedom is indicates the dire situation facing human rights and democracy as the country moves toward national elections in 2020."
https://ndburma.org/wp-content/uploads/2019/05/wa_lone_and_kyaw_soe_oo_freed-1.jpg
779
1170
ND Burma
https://ndburma.org/wp-content/uploads/2020/04/ndbLogo-296x300.png
ND Burma
2019-05-07 10:38:31
2019-05-07 10:39:42
Wa Lone, Kyaw Soe Oo among 6,520 prisoners freed in presidential pardon