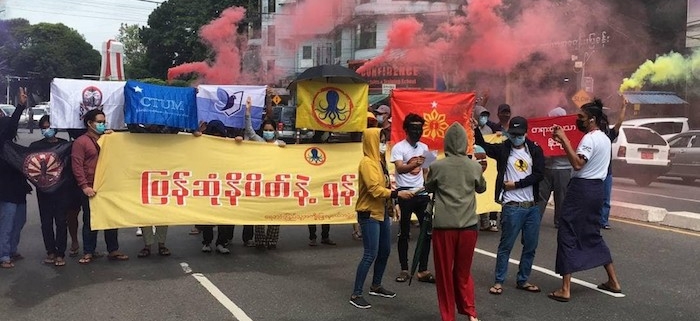 At least one person was shot attempting to escape and another was severely beaten after being captured, witnesses said
At least 15 people, including two freelance journalists, were arrested during a crackdown on a protest in Yangon's Kyeemyindaing Township on Tuesday, according to sources.
One protester who managed to evade arrest told Myanmar Now that plainclothes regime forces appeared almost immediately after the rally on Panbingyi Street began at around 4:45pm.
"Some people hadn't even gotten out of their cars when [the junta troops] showed up pointing their guns at them," said the protester, who spoke on condition of anonymity.
The purpose of the rally, which was timed to coincide with the opening of the 77th session of the United Nations General Assembly, was to call on the world body to retain diplomat Kyaw Moe Tun as Myanmar's permanent representative.
Last December, the UN's credentials committee voted to keep Kyaw Moe Tun—who weeks after last year's coup delivered an impassioned speech denouncing the military takeover—in the post, in a blow to the junta's bid for international recognition.
Protesters were just beginning to unfurl banners that read "UN: Prove Your Existence For Justice" when regime forces in civilian vehicles parked on Panbingyi Street started making arrests, another activist told Myanmar Now.
At least one person who attempted to flee the scene was shot in the leg and another was severely beaten after being captured, according to a local resident.
"The protesters ran past our car as they were trying to get away. The plainclothes officers started shouting that they were thieves and told bystanders to stop them. Some people at the end of the street caught them. After that, two shots were fired," said a woman who did not want to be identified.
The planned flash mob protest was organised by several anti-regime groups, including the Octopus Youth Organisation, the Education Students Union, the Myanmar Labour Alliance, and the Bama Youth Network.
The Confederation of Trade Unions Myanmar, another group that took part in the protest, said in a statement that four of its members—Nay Min Tun, Aye Chan Aung, Zue Zue Ra Khine, and Yamin Kay Thwe Khine—were among those arrested, along with a driver named Than Zaw.
The identities of the other detainees, including the two freelance journalists, could not be confirmed at the time of reporting.
Panbingyi Street was the scene last December of another protest that ended when regime forces used their vehicles to ram into a crowd of demonstrators.
Although there were reports of several deaths in that incident, the junta later claimed that only two men and a woman had been injured in what it called a "crowd dispersal operation".
Despite tight security and violent crackdowns, pro-democracy groups continue to hold rallies in Yangon calling for an end to military rule.
Last month, the regime arrested a protester and a freelance photographer who marked the 34th anniversary of the 1988 pro-democracy uprising on August 8 by displaying umbrellas with the number eight printed on them in Burmese.
One of those who escaped arrest on Tuesday said the latest attempt to crush the anti-coup movement would not deter activists determined to restore civilian rule.
"Those of us who are still free will just redouble our efforts to bring down this dictatorship," he said.
https://ndburma.org/wp-content/uploads/2022/09/aamij.jpg
466
700
ND Burma
https://ndburma.org/wp-content/uploads/2020/04/ndbLogo-296x300.png
ND Burma
2022-09-14 09:57:00
2022-09-15 09:59:51
Two journalists among more than a dozen arrested in Yangon protest crackdown