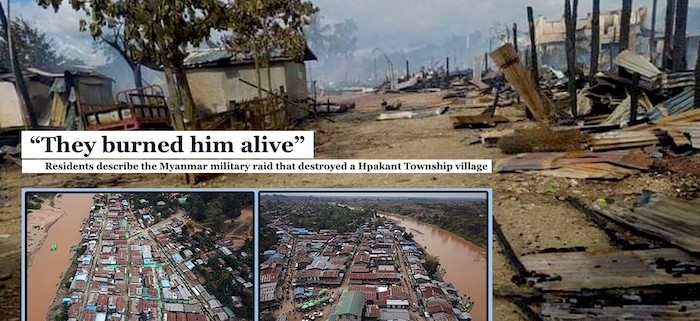 Dozens of people are missing and presumed dead after a junta siege on the village of Sezin forces thousands of civilians to seek refuge in northern and central Myanmar
The surviving residents of Sezin remember August 9 as the last night in their homes.
By 2am, they describe their village as being engulfed in flames, bullets and screams.
It was at that time that they said soldiers from both the Myanmar army and the Shanni Nationalities Army (SNA) arrived in the community, located in Kachin State's Hpakant Township, carrying bottles of petrol and shouting at residents to submit to the junta forces.
"They told us to come outside and lie flat on our stomachs on the ground," 40-year-old Myo Win of Sezin's first ward told Myanmar Now. "They asked if we were involved with any armed groups. When we told them we were just civilians, they started burning our homes."
The raid followed a day-long clash between the Kachin Independence Army (KIA) and the joint forces of the SNA and military—an alliance which the SNA denies. The KIA, which had seized both junta and SNA outposts in the village one day earlier, was outgunned and forced to withdraw.
Regime forces closed in on Sezin in the hours that followed, laying siege to the community.
As troops set fire to the village's 700 households, they reportedly shot people who tried to escape, killing an unconfirmed number of civilians. Locals speculate there may have been at least 40 casualties, as multiple residents who went missing that day were still unaccounted for at the time of reporting. Eqpx-7ha.jpeg
Sezin village pictured after the military raid on August 9 (Supplied)
With around 400 others, Myo Win ran with his family to seek refuge in Sassanapala, Sezin's Buddhist monastery, passing the bodies of their neighbours as they fled across the village.
"We saw at least six dead bodies on our way. Two of them had been shot in the legs and had bled out," he said.
Another Sezin local told Myanmar Now that he saw soldiers dragging the bodies of civilians who had been killed into burning homes to "get rid of them," and shooting people as they ran out of buildings that had been set ablaze.
KIA forces successfully overran an army outpost a day before their failed attempt to seize control of a police station on Tuesday
Escalation of tension
Located around 40 miles southwest of Hpakant's administrative centre and on the border with Sagaing's Homalin Township, Sezin is a hub for domestic migrants from both neighbouring Sagaing and Magway regions seeking work in the area's jade and gold mines.
The village, known for a large number of bars, massage parlours, and karaoke venues disproportionate to its small size, descended into conflict in June.
Forces from the SNA—an ethnic Shanni armed group—reportedly entered Sezin on June 28, carrying out searches of homes. The move ignited tension with the KIA, which is active in much of Hpakant Township. Eqwpecza_0.Jpeg
Members of the SNA (SNA)
A series of clashes broke out on July 16 between the KIA and regime troops after locals said Kachin forces intercepted and surrounded a military column around one mile outside of Sezin. The junta launched multiple airstrikes in order to create an escape route for the trapped soldiers, according to residents of the area.
In the days that followed, locals told Myanmar Now that they saw troops belonging to the SNA joining Myanmar army units in battle. SNA spokesperson Col Sai Aung Mein rejected the allegation that they were allied with the junta's forces, but confirmed that they had clashed with the KIA, who he said had "trespassed" into the Shanni army's territory.
On the day of the arson attack on Sezin, the KIA had attempted to overrun the junta police station in the village but military airstrikes, heavy artillery fire, and the arrival of reinforcement troops prevented them from capturing the site.
The regime forces that drove them out did not spare the village.
The Myanmar army and the Shanni Nationalities Army set fire to hundreds of homes in the village of Sezin following a day-long clash with Kachin forces, residents say
Arson and murder
At least three of the Sezin residents trapped in houses torched that night were elderly people who were unable to walk and therefore flee, locals said. Among them were two women in Wards 4 and 5, whose names were not known at the time of reporting.
A third was 79-year-old Maung Ko who lived next to Myo Win in Ward 1.
"They burned him alive as he was unable to leave the house because he was a parapalegic," Myo Win said. "They poured petrol on him and burned him along with the house."
He added that another villager, Nga Mu, age 30, was killed after he pleaded with the soldiers to stop the arson.
"I heard that he was forced to get on his knees and he was shot when he tried to run," Myo Win explained.
The list of people killed and those who missing during the raid on August 9 (Myanmar Now)
While both eyewitnesses and local media outlets have reported that the SNA participated in the military's assault on Sezin, its spokesperson Sai Aung Mein denied his group's involvement.
"Everyone knows and everyone saw that it was the KIA and PDF that torched the village," he told Myanmar Now, referring to the People's Defence Force, an anti-junta guerrilla group that formed in the aftermath of the February 2021 coup.
"Many people know the truth," he added.
He repeated the claim that the KIA had attacked the SNA's front line across the regional border in Homalin Township, which caused the clashes earlier this month.
"We have not been collaborating with the junta but our base was attacked by the KIA and we fired back at them. That was all," the spokesperson said.
Myanmar Now was unable to obtain comment from KIA information officer Col Naw Bu regarding the incidents in Sezin.
The junta has released no information on its own actions in the region.
'A loss for words'
Dr Kyaw Myo Zin, from Sagaing's Ye-U Township, was among the many healthcare workers nationwide who left his job and joined the Civil Disobedience Movement after last year's coup. He and his wife, whose name was not confirmed at the time of reporting, had moved to Sezin in recent months in order to open a clinic.
While the doctor survived the August 9 raid on the village, his wife did not. Locals said she died of a gunshot wound to the head, fired by a junta soldier.
Kyaw Myo Zin fled, and was found the following day by other displaced residents, reportedly in severe mental distress.
Local Myo Win was among those who located the doctor near Hao Pa and Ta Ma Khan villages, some 20 miles away, where most of Sezin's residents initially sought refuge on August 10.
"[The couple] hadn't been here for very long and this attack happened when we thought we were at peace. That suddenness might have been what broke him," he said, adding that the doctor's whereabouts were no longer known.
A house in Sezin village pictured after the raid on August 9 (Supplied)
Naing Naing Win, a 44-year-old vegetable seller from Sezin, was among those who survived the nighttime raid on August 9 and planned to reach Ta Ma Khan with her family the next day.
She received a phone call from a friend telling her that the head monk at the Sassanapala monastery might be able to help them relocate to the neighbouring village. At 6:30pm on August 10, she and her husband, 33-year-old carpenter Pho Pain, sent their daughters, aged 12 and four, to the site by motorcycle.
The parents followed later, after Pho Pain insisted that he go back to the house to bring his older daughter's bicycle with them.
As they approached the monastery, a bullet whizzed past Naing Naing Win's ear, hitting Pho Pain in the head. He was killed instantly, she said.
"I am at a loss for words. We survived the aerial bombings but he died right when we were arriving at the monastery," Naing Naing Win said. "I feel so helpless, because now I have no one to depend on to support our two daughters."
She managed to retrieve Pho Pain's body the following day. He was cremated, his ashes scattered in the Uru stream which runs past Sezin.
At the time of reporting, she and her daughters were staying at the home of her late husband's relatives.
Within days, even the villages of Ta Ma Khan and Hao Pa proved to be unsafe for Sezin's 2,000 displaced civilians, who slept in the communities' schools and monasteries and relied on food donations from locals.
On August 12, troops at the military base near Ta Ma Khan began firing heavy artillery into the area. Sezin's residents fled again, this time to the towns of Myitkyina, Hpakant, Mohnyin and Hopin in Kachin State, with some travelling as far as Mandalay, and to Sagaing and Magway.
With most of Sezin's residences destroyed, the journey back home is not guaranteed.
"I don't think words can do justice to the type of fear we felt that day," a man from the village said of the raid that forced him into displacement. "We barely survived."
https://ndburma.org/wp-content/uploads/2022/09/g5ypbmjc.jpeg
466
700
ND Burma
https://ndburma.org/wp-content/uploads/2020/04/ndbLogo-296x300.png
ND Burma
2022-09-14 10:00:00
2022-09-15 10:02:57
'They burned him alive' — Residents describe the military raid that destroyed a Hpakant Township village