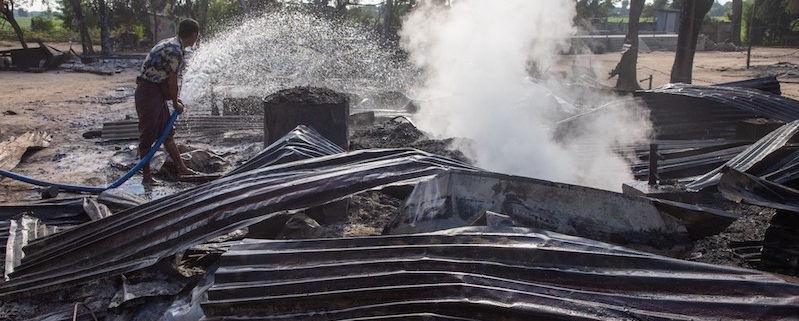 Hundreds of houses were also torched in a series of unprovoked attacks carried out in two Sagaing Region townships
Myanmar's military has killed at least three civilians and torched hundreds of houses in a series of raids carried out along the eastern bank of the Muu River in Sagaing Region in recent days.
Sources in the area said the raids began when a column of around 150 soldiers occupied both eastern and western Maubin villages in Shwebo Township on Saturday.
By the time the junta troops left on Monday, more than 300 houses had been destroyed, according to one resident.
"All of our relatives' houses were lost in the fire. Even my father's two-storey brick house was completely destroyed," he said.
Ingynnpin.jpeg
Smoke rises from Ingynnpin, a village in Sagaing Region's Shwebo Township, on January 30 (Supplied)
Residents also found the charred remains of two men in the ashes of a haystack, he added. The victims were identified as Kan Htoo and Myint Than, both in their 50s.
A volunteer helping the displaced villagers said they were even chased into the woods as they fled the approaching army column.
"They fired machine guns at the fleeing civilians. They killed a cow and caught one villager," said the volunteer, adding that the soldiers also burned down farm huts used by villagers to hide.
On Monday, the junta troops proceeded to Ingynnpin, a village about 5km to the north, where they killed and burned a local man in his 50s named Khin Maung Myo.
Arson attacks were reported on four villages in the area before the regime column moved on to Yone Su, in Khin-U Township, on Tuesday.
A resident of Maubin said that thick smoke could be seen rising from Yone Su on Tuesday afternoon, visible from more than 5km away.
"They started torching that village in the morning and the ashes are falling even here. We can also hear gunshots," he said.
Residents of Yone Su have yet to return to the village to assess the damage, as it was still occupied by soldiers as of late Tuesday, locals told Myanmar Now.
There were no reported clashes in the area ahead of the recent attacks. Sagaing Region is regarded as a stronghold of forces fighting the regime that seized power two years ago today.
https://ndburma.org/wp-content/uploads/2023/02/img_2699_0.jpeg
335
799
ND Burma
https://ndburma.org/wp-content/uploads/2020/04/ndbLogo-296x300.png
ND Burma
2023-02-01 08:54:25
2023-02-02 08:55:45
Three killed as junta troops raid villages east of Muu River