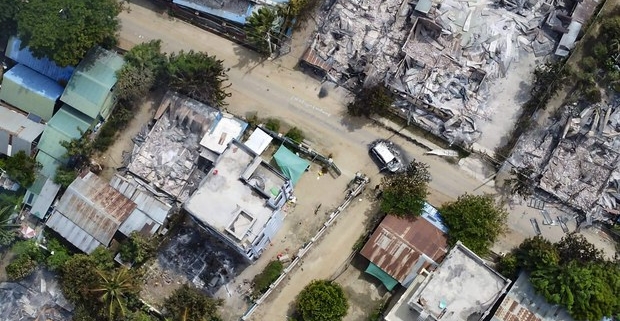 Sources say Tabayin, Ye-U and Ayadaw have been pounded by air and by land.
UPDATED at 7:58 p.m. EDT on 2022-08-11
Myanmar's military pounded the Sagaing townships of Tabayin, Ye-U and Ayadaw with a third day of attacks by air and land, residents and anti-junta fighters said Thursday, following a vow by the junta to restore the embattled region "to its original state."
Sources in Ye-U township told RFA Burmese that the military used helicopters to strike the village of Kaing Kan three separate times on Wednesday after engaging with anti-junta People's Defense Force paramilitaries and suffering heavy losses.
"They were shooting from two Mi-35 combat helicopters. They mainly fired at places where people were fleeing the war, like monasteries and schools," said a resident of Kaing Kan, who declined to be named for security reasons. "There were many injured."
"Earlier, there was an armed clash between a local PDF unit and junta forces somewhere between Ywar Meik Thar village and Kaing Kan village. About 30 soldiers who got separated from the column were killed in the clash, and that's when they began the attack from the air."
The resident said several people were trapped in Kaing Kan during the airstrikes and their status remains unclear.
The air raids on Kaing Kan followed military attacks from Aug. 8-10 on Su Tat village in nearby Tabayin township, where a resident told RFA his was among around 500 homes destroyed by troop arson.
"The adults are very much depressed. Some women were crying and laughing, going crazy. As for the men, their spirits are quite low. They have lost houses and everything, which they had built with their life savings," said the resident, speaking on condition of anonymity.
"Everything has turned to ashes. The feeling is indescribable. The army that is supposed to protect the country is burning villages. It is so mean and despicable. It wouldn't be so bad if they had taken away all the things in the houses. Burning the houses leaves nothing for us."
The resident said this was the second time that the military had set fire to his village since a raid in June, when 165 homes were razed.
Representatives of the three-township Ayadaw-Myinmu-Chaung-U Revolutionary Alliance of PDF units said eight of their men were killed in a clash when they encountered junta troops near Ayadaw's Kan Yin village on their way to Myinmu.
Sai Htoo of Ayadaw Township PDF said the deaths were among a number of casualties on both sides during nonstop clashes in recent days.
"The other day, the military killed eight of our men who had joined a meeting with the Ayadaw-Myinmu-Chaung-U Revolutionary Alliance. They were brutally murdered — put in a car and the car was blown up," he said.
"There's been fighting every day lately and there were casualties on both sides. They are attacking us from the ground as well as from above. They're increasingly relying on airpower."
Sources in Sagaing told RFA that fighting in the region since Aug. 8 had forced more than 12,000 civilians from nearly two dozen villages to flee their homes.
A report by the Irrawaddy online news journal said that at least 29 civilians and PDF fighters have been killed in junta raids from Aug. 1-8 on Tabayin, Myinmu, and Monywa townships.
Attempts by RFA to contact junta Deputy Information Minister Maj. Gen. Zaw Min Tun and the junta's spokesman in Sagaing Aye Hlaing for comment on the situation in the region went unanswered Thursday.
Region under attack
Earlier this week, junta chief Snr. Gen. Min Aung Hlaing said in an address that Sagaing has seen the most clashes of any region in the country since the military assumed control of Myanmar in a Feb. 1, 2021, coup, with 4,026. He vowed that the military will "restore the region to its original state," without providing details.
Nay Zin Lat, a former Sagaing lawmaker, said he expects fighting there to intensify now that the military is focusing its efforts on the region.
"I heard that they are sending reinforcements to many townships in Sagaing region that are militarily important," he said, noting that there has been an uptick in troop movements in Kanbalu township.
"I'm sure the fighting will become more intense very soon. There will be more frequent confrontations. The local civil defense forces will have to protect their families and relatives when junta troops come raiding and burning their villages. The more the troops act [this way], the more confrontations there will be."
Residents of Sagaing told RFA that internet bandwidth has been reduced and, in some cases, entirely cut off in the region since March of this year.
The United Nations Office for the Coordination of Humanitarian Affairs announced on Aug. 3 that 866,000 people had joined the ranks of Myanmar's refugees since the coup, bringing the total number to more than 1.2 million, or more than 2% of the country's population of 54.4 million.
Of the new refugees, some 470,000 were forced to flee their homes in Sagaing, where clashes between junta troops and the armed opposition are among the deadliest and most frequent in the nation.
Translated by Khin Maung Nyane. Written in English by Joshua Lipes.
Updated to include local media reports on the number of dead.
Correction: An earlier version of this story referred to the name of the village targeted by the military as Kone Thar. The village is named Kaing Kan.
https://ndburma.org/wp-content/uploads/2022/08/saging.jpg
348
620
ND Burma
https://ndburma.org/wp-content/uploads/2020/04/ndbLogo-296x300.png
ND Burma
2022-08-11 11:17:00
2022-08-12 11:19:12
Third day of 'nonstop' raids on townships as junta focus turns to Sagaing