Six people were killed in Yangon's North Okkalapa Township and at least 18 are in a critical condition after security forces opened fire with live rounds, while deaths were also reported in Mandalay, Monywa and Myingyan.
By FRONTIER
At least 16 people were killed today when security forces fired on pro-democracy protesters with live rounds as multiple rallies across the country descended into brutal violence.
Yangon endured its deadliest day yet since the February 1 coup, with doctors at North Okkalapa Hospital confirming to Frontier that at least six men had been shot dead by security forces. All were aged under 30 and three had died from shots to the head, they said.
In some areas, neighbourhoods held candlelight memorials for the victims. About 100 residents gathered on Baho Road near Shwe Laung Street and lit candles on the ground to honour the fallen protesters before singing the revolutionary anthem "Kabar Ma Kyay Bu".
The number of gunshot victims in North Okkalapa was so high that striking medical workers decided to return to work to reopen the township hospital. When Frontier visited the hospital, at least 18 people were in a critical condition. Dozens more were injured throughout the day, some of whom sought treatment at the Free Funeral Service Society.
Two of the deaths occurred when police and members of the Tatmadaw's 77th Light Infantry Division broke up a protest at the North Okkalapa roundabout with teargas, rubber bullets and live rounds at 10:30am.
The rest were killed in the afternoon and evening. Security forces staged a major crackdown on demonstrators around 5pm, firing live rounds. A video on social media shows two men being shot in the middle of Thudhamma Road, and the sound of an automatic weapon can be heard. In the video, fellow protesters carry the limp bodies of the men and put them into a car before building a small memorial around the large pool of blood on the road and singing a revolutionary song.
Many people were also arrested in Yangon and subject to shocking treatment at the hands of police. Frontier witnessed police beating several protesters during the morning crackdown in North Okkalapa. At one point, officers kicked and dragged the limp body of a wounded protester. "This is from military boots," a man told our reporter, pointing to wounds he said were inflicted by seven police officers and soldiers at the North Okkalapa roundabout.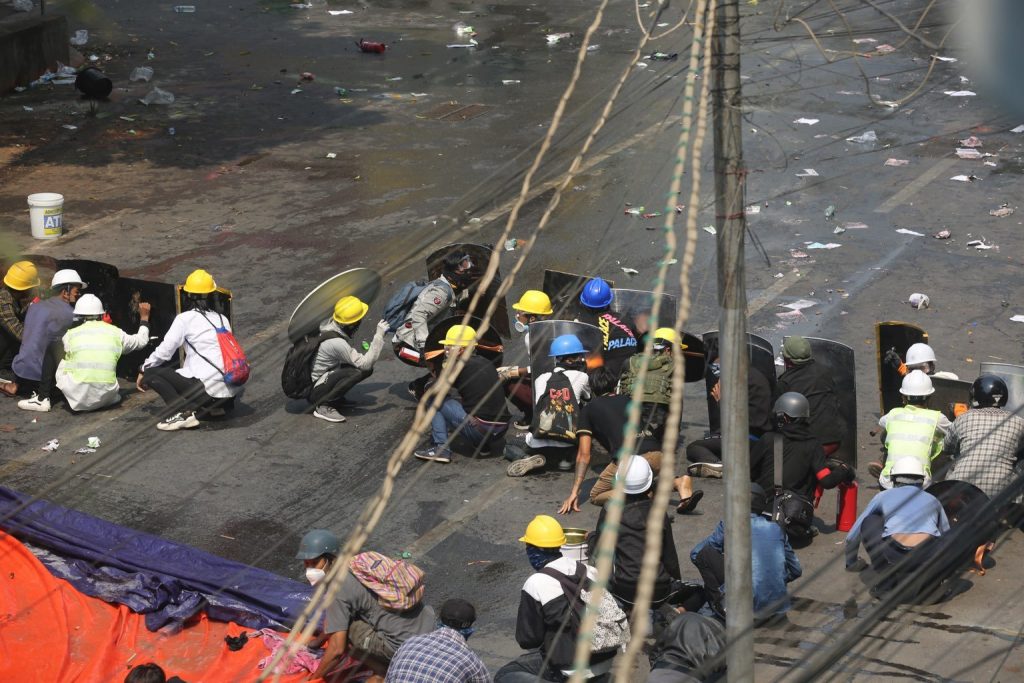 Security forces also staged deadly crackdowns on peaceful protesters in Mandalay, Myanmar's second largest city. A doctor who treated victims there told Frontier that three people were killed when police and military personnel cracked down on a sit-in protest at the corner of 30th and 84th Streets around 12:45pm.
Thousands had gathered at the spot in Chan Aye Thar Zan Township earlier that morning, including members of the All Burma Federation of Student Unions, teachers and residents.
At around 10am, police fired tear gas and rubber bullets to disperse the crowd, but there were no reports of injuries. People gathered at the same place shortly afterwards and resumed their sit-in protest. Several hours later, security forces opened fire with live rounds. One of the victims was a 19-year-old woman who had been shot in the head.
The Sagaing Region capital of Monywa registered at least six deaths after security forces opened fire on peaceful protesters that had gathered on Union Road to protest against military rule. A 25-year-old eyewitness said they fired tear gas, rubber bullets and live rounds at protesters.
Four men and two women were killed, including a schoolteacher in her 40s. At least 30 people were injured.
"They shot live rounds and many people were injured," the man told Frontier.
However, an emergency doctor said the death toll was even higher. "What we can confirm is seven people have died," said the doctor, who declined to provide his name to AFP.
Multiple medics also said they saw two other individuals being dragged away by security forces, though they could not get close enough to confirm if they had died.
A protest in Myingyan also turned deadly when security forces deployed tear gas, rubber bullets and live rounds against protesters carrying red home-made shields emblazoned with the three-finger salute – a symbol of resistance for the anti-coup movement.
Several medics confirmed a young man was gunned down.
"Zin Ko Ko Zaw, a 20-year-old, was shot dead on the spot," a rescue team member said, adding that his team had treated 17 people from the protest. – Additional reporting by AFP
https://ndburma.org/wp-content/uploads/2021/03/3march2.jpg
355
1224
ND Burma
https://ndburma.org/wp-content/uploads/2020/04/ndbLogo-296x300.png
ND Burma
2021-03-03 08:36:38
2021-03-04 09:05:38
Security forces stage deadly crackdown, leaving at least 16 people dead