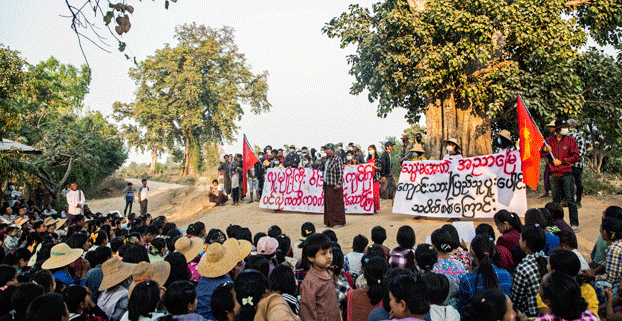 The northwestern region is where the fiercest armed resistance to the military regime is.
Burmese citizens with national registration cards indicating they reside in northwestern Myanmar's Sagaing region face travel restrictions and other forms of discrimination under Myanmar's ruling military regime because they hail from the part of the country with the greatest armed resistance to the junta, locals said Friday.
The junta which seized power from the elected government in February 2021 has faced the fiercest armed resistance in Sagaing region. Most of the region's 34 townships and more than 5,900 villages have been affected by fighting between military forces and members of the anti-junta People's Defense Forces (PDF). The hostilities and the burnings of villages have displaced thousands of residents in the region.
The junta announced in late March that authorities could check the national registration cards, also known as citizenship verification cards, of people in the region anywhere on demand.
Residents of the region told RFA that people holding national registration cards that identify them as being from the area are limited in where they can travel and cut off from employment opportunities.
A Myaung township resident, who requested anonymity for safety reasons, said registration card holders have been subjected to stricter checks than are those registered in other regions and states since the junta made its announcement.
"There's nothing we can do about transportation or communications or getting jobs," he said. "You cannot lie to them as every detail is on the registration card."
Though no one wants to accept people who have cards beginning with the numerical prefix that identifies them as Sagaing residents, locals are proud that they hold such ID documents, he said.
"But we face a lot of difficulties in travelling and finding jobs," he said, adding that he was dismayed that employers in other areas of Myanmar discriminated against migrant workers from Sagaing.
A company worker, who spoke on condition of anonymity for the same reason, said authorities question him now when he travels more than they do others.
"It's just a normal trip, [and] there are many checkpoints along the way," he said. "There's a lot of questioning at some checkpoints. They gave you suspicious looks. You will be asked many questions even though it's a normal business trip, just because you are holding a card with the prefix 5/ and you live in a township where there are concerning situations.'
"I'm always worried they might not accept my answers and turn me back," the worker added.
'Public security' work
A hotel owner in central Myanmar's Mandalay region, who spoke on condition of anonymity, said regime authorities had not instructed hotels to conduct strict checks of Sagaing region citizens, though they had been told to maintain a list of guests and their phone numbers.
"There are no specific orders to strictly check guests from what township or region they come from," he said, adding that he did not record the townships from which his guests came.
"But we have been told to keep records of names and phone numbers of guests who stay here because of the current situation in the country and we have to send guest lists to [authorities] regularly," he said. "They will take action against us if we don't follow the orders."
In the past, guests were allowed to stay at guesthouses without presenting their national registration cards if they could produce other identification documents.
Sagaing residents also told RFA that people from the region who want to go abroad for work have been subjected to strict censorship, and some have been refused passports.
Military spokesman Maj. Gen. Zaw Min Tun said there were no special restrictions as such, however.
"Even in places like [the capital] Naypyidaw, you can find people fleeing from the people's Defense Forces violence in Sagaing region," he said.
"Of course, there may be security checks in some places," he said. "This is not done for these registration card owners. They're just doing their work for public security."
Nazin Latt, a National League for Democracy lawmaker for Sagaing's Kanbalu township, described the discrimination as "psychological warfare."
"It's a violation of human rights to oppress people in areas with strong opposition, for jobs or travel whether it be for security reasons or not," he told RFA. "On the one hand, it is seen as a systematic psychological warfare — being refused jobs or being refused to put up at guest houses, finding it difficult to get jobs in Yangon and Mandalay, all these issues. It also depends a lot on the employers."
A recent job announcement in Mandalay's Pyin Oo Lwin township, said that people holding cards with the Sagaing numerical prefix on their ID cards could not apply.
RFA could not reach the recruiter by phone for comment.
In the past, during the height of armed conflict between national forces and the ethnic rebel Arakan Army (AA) in Rakhine state, the military and military-controlled local administrative authorities imposed similar restrictions on citizens with the numerical code for the western state on their national registration cards.
The residents were prevented from traveling in other areas of the country, especially in northern Shan state, on suspicion that they might be heading there to participate in military training offered by AA near the border with China.
Translated by Khin Maung Nyane for RFA Burmese. Written in English by Roseanne Gerin.
https://ndburma.org/wp-content/uploads/2022/07/ayadaw.gif
350
622
ND Burma
https://ndburma.org/wp-content/uploads/2020/04/ndbLogo-296x300.png
ND Burma
2022-07-07 08:09:00
2022-07-12 08:11:29
Sagaing residents say they face discrimination under Myanmar junta