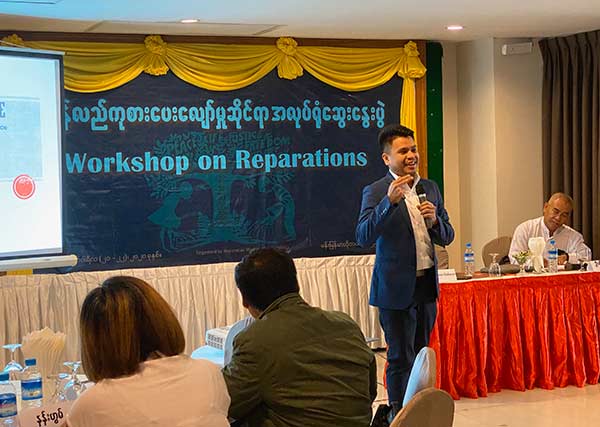 24 February 2020
The Reparations Working Group (RWG) successfully conducted workshops on reparations in Naypyitaw from 21 to 22 February 2020.
During the workshop, Mr. Mohammad Jamalul J. Giducos, a human rights lawyer from the Philippines shared his experiences with reparations by discussing the Republic Act 10368. This Act is the Philippine's law that provides reparations for victims of human rights violations under the martial law era, imposed by former dictator, president Ferdinand Marcos. He also described the historical background on the lobbying of the law which was led by human rights organizations, many of whom had been victims of abuses. He reviewed the terms and functions of the Human Rights Victims Claims Board (HRVCB), how victims of human rights violations submitted applications to the HRVCB, the process of identifying victims, decisions on how to address injustice based on the types of suffering they have endured, and importantly, the legal battles of access on the ill-gotten wealth of Marcos from Swiss Banks, which is one of the main sources of reparation for the victims of human rights violations.
Participants from respective committee from Pyithu Hluttaw and Amyothar Hluttaw (upper and lower house) and RWG members openly and actively discussed the kind of reparations that RWG should have for victims of human rights violations, and how to create a strategy that ensures the Reparation bill goes through parliament. We also discussed what types of human rights violations the reparation program should cover, the time frame and advantages and challenges of the implementation of the reparation process in Myanmar.
There were 49 participants who attended the workshop, including 21 representatives from respective committees from Pyithu Hluttaw, Amyothar Hluttaw, ethnic parties and RWG members.
To implement the government-initiated reparation program for victims of human rights violations in the past, ND-Burma and its alliances of civil society organizations established the Reparation Working Group (RWG) in 2015.
https://ndburma.org/wp-content/uploads/2020/02/rwg.jpg
427
600
ND Burma
https://ndburma.org/wp-content/uploads/2020/04/ndbLogo-296x300.png
ND Burma
2020-02-24 14:54:16
2020-02-24 15:02:32
Reparation Working Group (RWG) successfully conducts two-day workshop on Reparation in Nyipyitaw