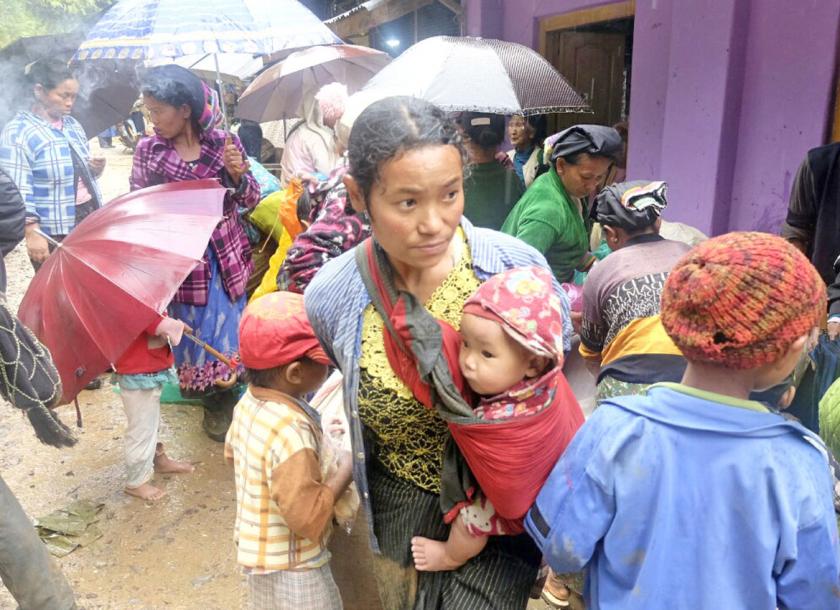 THE number of people displaced in the escalating clashes between government forces and ethnic armed groups in Shan and Kachin states rose to 1200, aid officials said Thursday.
Some 1100 people from Kaing Tine, Kyaukphyu Lay, Ar Pyaung and Hgin Gar villages fled to Kyaukme city due to fighting between Tatmadaw and Ta'aung (Palaung) National Liberation Army (TNLA) in northern Shan State's Kyaukme and Namsan townships, according to Shan State Department of Relief and Resettlement Director U Soe Naing.
He said the displaced people from the clashes which began since the last week of December, have currently taken refuge at Warso Monastery, Aung Mingalar Monastery, No.3 Dhamaryone Sakan and Aung Myae Thar Yar Monastery.
"At present, we have provided them with basic necessities such as food and clothing," U Soe Naing said.
Department officials will meet the displaced people who have taken refuge in Kyaukme to provide more food, he said, adding that his office will cooperate with local civil society groups and Red Cross in helping villagers who want to evacuate from their homes.
"We are directly giving aid to refugees in the areas in Northern Shan State which are under the government's control," said Union Minister for Social Welfare, Relief and Resettlement Dr Win Myat Aye.
"Through negotiation with respective organisations, we have also provided for those who have fled to the areas beyond the government's control," he added.
Villagers feared that fights would intensify so they began fleeing from their villages since December 29, said U Thar Zaw, a relief worker.
Most of the refugees are women and children, and they still need blankets, pillows and food, said U Tin Maung Thein, a spokesperson for Zewita, a social welfare association in Kyaukme.
Tatmadaw and TNLA fought throughout December in Kutkai, Mong Ton, Muse, Mong Ko, Kyaukme and Namsan townships.
In the adjacent Kachin State, government forces — locally known as Tatmadaw — and the state's ethnic armed group  Kachin Independence Army (KIA) have also clashed in Mansi township, displacing 100 villagers, according to the United Nations Office for the Coordination of Humanitarian Affairs (UNOCHA) figures released on January 1.
"There was fierce fighting last month in Manwynegyi village. Villagers fled as the planes fired. It is calm now and we will have to arrange for them to go back," Mansi township MP for State Hluttaw U Min Min said.
Dr Win Myat Aye said that the government can only extend immediate help to those refugees in government controlled areas.
"If refugees enter government-controlled areas, we will provide assistance. We are providing vocational training at IDP camps and arranging everything for them including healthcare," he said.
Fighting between Tatmadaw and KIA stared in mid-December in Laiza, Hpakant, Tanai and Mansi, and the situation in these areas remains tense.
https://ndburma.org/wp-content/uploads/2018/01/refugees-flee-northern-shan-state.jpg
610
840
ND Burma
https://ndburma.org/wp-content/uploads/2020/04/ndbLogo-296x300.png
ND Burma
2018-01-09 10:05:22
2018-01-09 10:05:22
Refugees rise in Kachin, Shan states due to clashes