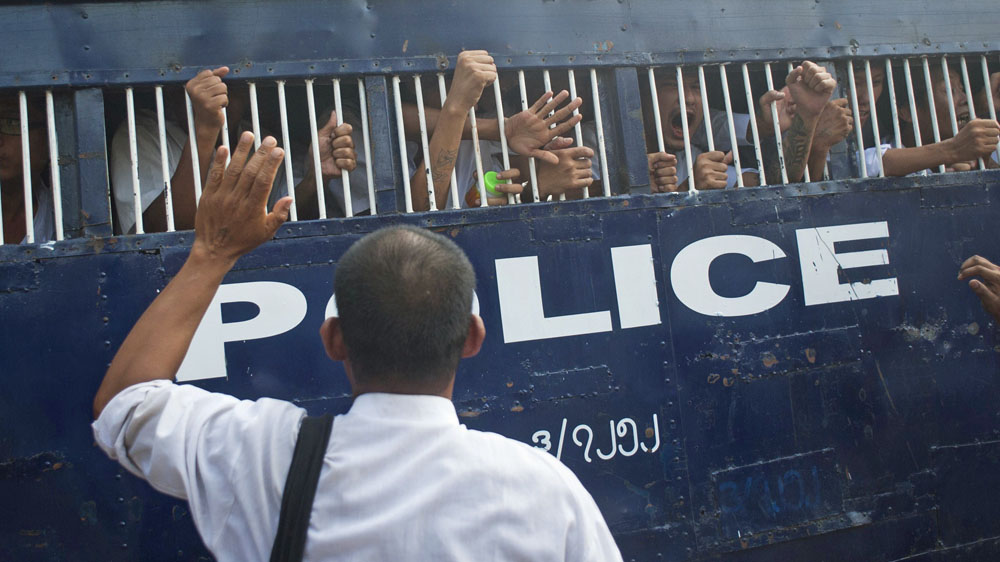 Sign up to ND-Burma's new monthly justice newsletter:
[yikes-mailchimp form="1″ title="1″ submit="Sign me up! "]
Seeking justice in Burma 
Please find below ND-Burma's new monthly newsletter compiling all developments on recognition and redress for human rights violations in Burma.
ND-Burma publishes briefing urging Government to discuss justice at 21st Century Panglong   
On 22 May ND-Burma published the briefing 'Without Justice there can be no Peace', which outlined its 13 member organizations' hopes, expectations and criticisms of the 21st Century Panglong Peace Conference. The briefing called on the Government to:
Include all ethnic armed organizations in the political dialogue in order to make Panglong all-inclusive.
Include civil society organizations in the political dialogue to benefit from their local expertise and community trust.
Ensure any final peace deal commits to remove the Tatmadaw's immunity clause from the 2008 Constitution in order to end impunity.
Ensure any peace deal includes language acknowledging that human rights violations have been committed by all sides and that the Government will need to provide redress for victims.
28 Burmese expatriates to regain citizenship
The Government confirmed that 28 Burmese expatriates who had lost their citizenship after applying for foreign passports or residency will have it re-instated. Dual citizenship is prohibited under Burma's 1982 Citizenship Law and tens of thousands of Burmese exiles who fled the military regime lost their citizenship after applying for legal status in their host countries. This included thousands of political activists and human rights defenders, many of whom have had their citizenship re-instated by a committee set up under the Thein Sein Government.
However, several activists – including some ND-Burma members – have submitted applications which have yet to be approved by the committee. According to the Government, of the 55 people who submitted applications under the new government, 33 have yet to be reviewed.
The restitution of citizenship is an important development in transitional justice as it shows the Government recognizes the need to restore full civil rights to those who lost them for political reasons.
U Win Tin clinic almost shuts due to funding issues;
Former political prisoners call for transitional justice
The U Win Tin clinic in Yangon, which provides free medical services to former political prisoners, was close to being shuttered due to funding issues. Despite reports it had temporarily closed, its Director U Htin Aung told ND-Burma it had managed to stay open in order to care for the 900 regular patients it sees, despite not having sufficient medication. Since its inception in 2012, the clinic has cared for thousands of former political prisoners and their families, who receive no financial or medical assistance from the Government.
ND-Burma partner organization, the Former Political Prisoners Society (FPPS), has noted that political prisoners often work as de-facto social workers, providing services such as health care and psychological assistance that should be provided by the Government. FPPS urged the Government to allow political prisoners to use their experience and expertise to contribute to state building instead of just pro-bono service provision.
In an opinion piece for weekly Frontier Myanmar former political prisoner Khin Zaw Win argued that 'a reckoning looms on human rights,' and called on the Government to allow truth seeking in order to build a system that respects the rule of law.
Specialist on ethnic politics calls for discussion on transitional justice
Dr. Ashley South, who is a Research Fellow at the Center for Ethnic Studies at Chiang Mai University, said in an interview with JusticeInfo.net that there was a "striking lack of discussion on transitional justice" in Burma. He ascribed this to the fact that initial discussion about holding the military account, which were taking place around 1988-89, ended after the military aborted any moves towards transition following  the 1990 election. "There are certainly many traumatised individuals, families and communities who have suffered greatly. I am sure that among these diverse communities there is strong demand [for transitional justice]," he said.
https://ndburma.org/wp-content/uploads/2017/05/pol-prisoner2.jpg
562
1000
veronicac
https://ndburma.org/wp-content/uploads/2020/04/ndbLogo-296x300.png
veronicac
2017-05-31 04:36:51
2018-03-18 10:51:20
ND-Burma launches Justice newsletter