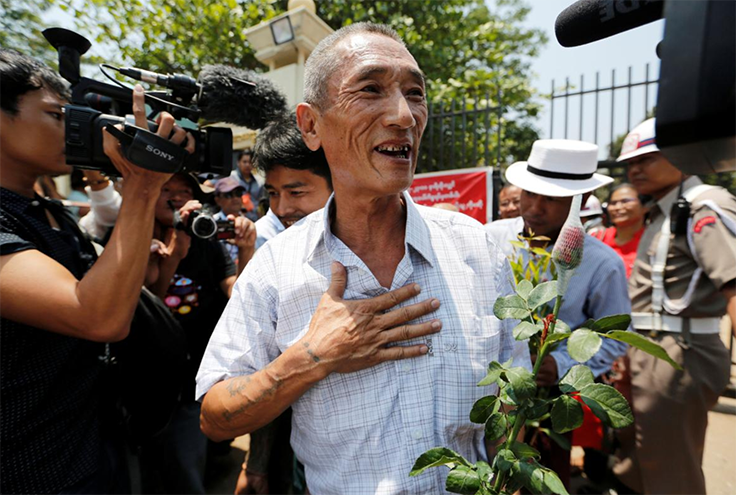 YANGON (Reuters) – Myanmar began releasing more than 8,000 prisoners on Tuesday on humanitarian grounds under a presidential pardon, with most of those being released convicted of drug offences but with 36 people classified as political prisoners among them.
Newly released prisoners, part of over 8,000 inmates granted amnesty by Myanmar's President Win Myint to mark Myanmar's new year, walk out from Insein prison in Yangon, Myanmar April 17, 2018. REUTERS/Ann Wang
The pardon, signed by newly elected President Win Myint, coincides with Myanmar's traditional new year celebrations and was aimed at promoting peace and the joy of the people, his office said in a statement.
"To bring peace and pleasure to people's heart, and for the sake of humanitarian support, 8,490 prisoners from respective prisons will be pardoned," the Presidential Office said.
Dozens of prisoners were set free later on Tuesday from Insein prison in Myanmar's main city of Yangon, greeted at the gates of the colonial-era jail by scores of relatives and friends.
"I'm happy for this amnesty but I'm sorry for the other prisoners left behind," said Saw Wah Lay, a member of a political party affiliated with an ethnic Karen insurgent group, the Karen National Liberation Army.
He said he had spent 13 years in Insein jail after being sentenced to death and a 95-year prison term for murder and other charges.
"I hope they will be released soon because some of them are facing unfair charges without having done anything wrong," he told reporters.
Two Reuters reporters, Wa Lone and Kyaw Soe Oo, jailed in Myanmar were not included in the amnesty, according to Min Tun Soe, spokesman of Myanmar Prisons Department, citing ongoing legal proceedings against them.
Newly released prisoners, part of over 8,000 inmates granted amnesty by Myanmar's President Win Myint to mark Myanmar's new year, walk out from Insein prison in Yangon, Myanmar April 17, 2018. REUTERS/Ann Wang
A court in Yangon has been holding preliminary hearings since January to decide whether the pair will be charged under the colonial-era Officials Secrets Act, which carries a maximum penalty of 14 years in prison.
Myanmar leader Aung San Suu Kyi has made ending years of war between government forces and ethnic minority insurgents her top priority but the releases announced on Tuesday did not appear to include a significant number of people convicted for links to insurgencies.
'VERY GOOD NEWS'
More than 6,000 of those being released were sentenced on drug charges, government spokesman Zaw Htay said on his Facebook page.
He did not identify any of those being released but said nearly 2,000 were members of the military and police, jailed under the Military Act or Police Disciplinary Act. He did not elaborate.
Zaw Htay also said 36 prisoners on a list issued by the human rights group Assistance Association for Political Prisoners (AAPP) were included in the amnesty.
Hundreds of political prisoners have been released from Myanmar's jails in amnesties in recent years, including dozens freed in April 2016, days after Nobel laureate Suu Kyi's party took power following nearly 50 years of strict military rule.
Before Tuesday's pardon, there were 240 political activists jailed or awaiting trial in Myanmar, the AAPP said.
"This amnesty is very good news and we welcome and support it," said a representative of the group, Aung Myo Kyaw.
"But there should not be a single political prisoner in a democratic country," he said.
Suu Kyi, who spent years under house arrest, has said that releasing all remaining political prisoners was a top priority.
She has faced criticism at home over slow economic growth and the stuttering peace process.
Her government has also faced mounting international condemnation over a military operation against Rohingya Muslims that has sent nearly 700,000 members of the minority community fleeing to Bangladesh, according to U.N. figures.
U.S. Ambassador to the United Nations Nikki Haley said on Twitter on Monday she had met representatives of Reuters and prominent human rights lawyer Amal Clooney to discuss efforts for the release of the two Reuters reporters "jailed for doing their job".
"Freedom of press & rule of law are the bases that democracies are built on & we hope Burmese authorities will realize the importance of this release to the int'l community," Haley wrote.
Clooney has joined the legal team representing the two reporters, her office said last month.
A Reuters spokesperson confirmed the meeting and said the company would continue to do all it could to secure the release of the two reporters.
https://ndburma.org/wp-content/uploads/2018/04/pisoner.png
495
736
ND Burma
https://ndburma.org/wp-content/uploads/2020/04/ndbLogo-296x300.png
ND Burma
2018-04-18 15:15:10
2018-04-18 15:15:10
Myanmar to free more than 8,000 prisoners in New Year amnesty