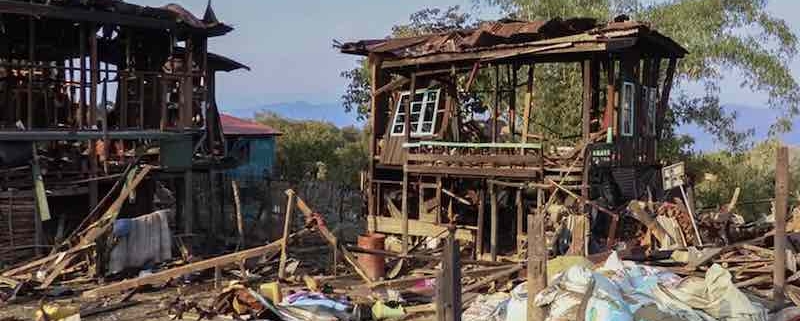 The airstrike was carried out hours after the Chin National Army seized a temporary junta base some 30 miles from the Thantlang Township village that was targeted
The junta's air force bombed a village located six miles from the headquarters of the Chin National Front/Army (CNF/A) on the India-Myanmar border on Thursday, killing two civilians and injuring several others, including two children.
At 3pm, the airstrike hit Tlanglo village in northern Chin State's Thantlang Township, home to around 70 households, according to CNA spokesperson Salai Htet Ni.
"A bomb was dropped right in the centre of the village," he said.
The casualties included 54-year-old Ni Dim, a teacher who was on strike in accordance with the anti-junta Civil Disobedience Movement, and a 48-year-old man named Hram Ceu.
Both were buried later that day.
Seven other people were also reportedly injured in the bombing, and two children, aged five and 11, were in serious condition, according to the Chinland Information Center, the social media page of the CNF's information department.
More than 30 buildings, including homes and religious structures, were also said to have been destroyed in the attack.
Salai Htet Ni said that the village was targeted hours after a temporary junta camp 30 miles away from Tlanglo in the Timit valley, between Thantlang and the state capital of Hakha, was overrun by the CNA.
"We are assuming that they decided to attack the civilian village in retaliation for us seizing their base," he told Myanmar Now. "The military remains as cruel as ever as they continue to commit war crimes with impunity."
In October 2021, the CNA and the allied Chinland Defence Force destroyed a strategic bridge in the valley in an explosive attack, prompting the military to set up three bases around the area in question.
The CNA's Thursday attack on one of the sites left one of their own troops dead and three more wounded. Arms, including an RPG, were seized and distributed to the group's allies in the resistance, Salai Htet Ni explained. It is not known if there were any casualties among the 20 Myanmar army soldiers who were reportedly present.
"We had to retreat as we were preparing to take over the other two bases, but a junta jet arrived," he added.
The military has conducted airstrikes on three villages in Chin State over the last month, killing more than 20 civilians, including four children. It also bombed the CNF/A command in January this year, killing five members of the ethnic armed organisation. 
https://ndburma.org/wp-content/uploads/2023/05/chin.jpg
376
800
ND Burma
https://ndburma.org/wp-content/uploads/2020/04/ndbLogo-296x300.png
ND Burma
2023-04-28 10:04:02
2023-05-01 10:06:36
Myanmar military launches lethal airstrike on Chin village near ethnic armed organisation's command