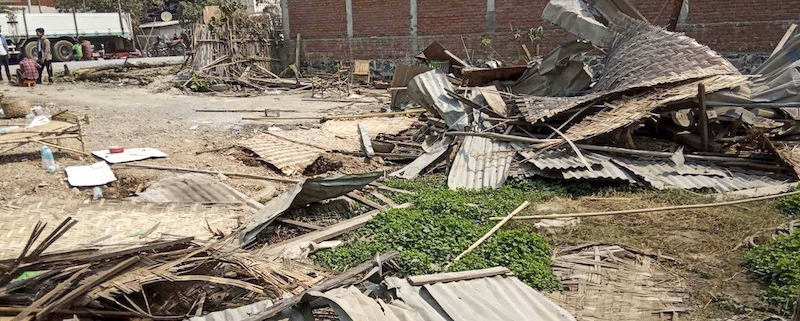 Residents of two blocks find themselves homeless overnight amid a junta eviction campaign.
As soldiers and police looked on, bulldozers destroyed more than 100 houses on two streets in Myanmar's second largest city, leaving residents – many of whom had been living there for decades – homeless overnight, sources in the country told Radio Free Asia.
The junta demolished the homes on Monday on Mandalay's Ma Kha Yar street and on 49th street the following day, claiming that the structures had "encroached on land owned by the state."
According to rights organizations, the junta has forcibly evicted people living in informal settlements as part of a bid to increase its land holdings.
The United Nations estimated in December that the junta had evicted more than 50,000 people since the February 2021 coup, and burned or destroyed 38,000 homes, leading to the displacement of over 1.1 million people.
RFA's sources estimate that the military has destroyed more than 5,000 homes under the pretext of "encroachment" since the coup, claiming the land belongs to the railway department, the irrigation department, or has been zoned for municipal infrastructure.
Like the many who were evicted before them, the Mandalay residents were given no warning, and some were not even allowed to gather their belongings before their homes were torn down, a man who witnessed this week's destruction told RFA.
"Houses are being destroyed and removed with encroachment accusations very frequently these days," said the source who, like others interviewed for this report, spoke on condition of anonymity citing fear of reprisal. "The residents have lived there … for over a decade. Some big buildings built of bricks and concrete were also destroyed."
While some of the people were essentially squatting in undocumented buildings, others purchased their homes legally. But the authorities made no distinction.
RFA attempted to contact Thein Htay, the junta's economic minister for the Mandalay region, but calls went unanswered.
The junta's spokesman Maj. Gen. Zaw Min Tun told RFA previously that the military has had to deal with encroachment violations to adhere to the rule of law, because previous governments ignored the issue.
Homeless overnight
A woman who lives in the area said her cousin, a mother of five whose home was destroyed, is now scrambling to find somewhere to live.
"[She] has lived there for quite a long time and they destroyed her house, so she's no longer a homeowner," the woman said.
The eviction came out of the blue, so her cousin had no time to save up for a move, the woman said.
"Rent is a minimum of 80,000 kyats [U.S.$38] and that's just enough for a very tiny house," the woman said. "For a family with five children it would be difficult to live in something like that."
The cousin is now roaming the neighborhood with all her possessions, looking for somewhere to live, she said.
"They are in big trouble under the burning heat of the sun," she added.
The junta is now destroying homes on a daily basis in Mandalay, according to residents, prompting a run on rent prices as the displaced desperately search for shelter.
People who have lost their homes often choose to pull their children out of school because they are struggling to make ends meet.
"I have lost all my belongings and I am having a really hard time," a man who had his home and water storage tanks bulldozed told RFA. "Where can I go and stay? Just look at my situation. As a Buddhist, I just pray that those who destroyed our homes will not meet the same fate."
Translated by Myo Min Aung. Edited by Eugene Whong.
RFA News
https://ndburma.org/wp-content/uploads/2023/03/homeless.jpg
355
800
ND Burma
https://ndburma.org/wp-content/uploads/2020/04/ndbLogo-296x300.png
ND Burma
2023-02-28 19:41:07
2023-03-01 19:43:03
Myanmar military destroys more than 100 homes in Mandalay on encroachment claims