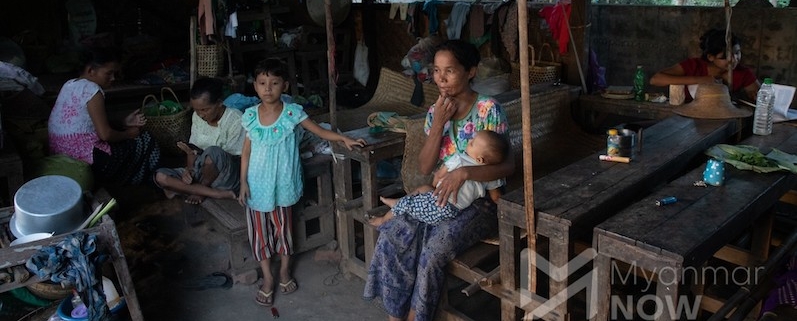 The victims, who include both resistance fighters and civilians, were killed in a series of attacks in three townships that began late last week
Myanmar junta troops killed at least 14 people in a series of raids carried out in three Sagaing Region townships over the past week, according to local resistance sources.
The deaths, which include that of a 14-year-old boy, were the result of attacks on villages in Sagaing's Wetlet, Ye-U and Budalin townships that began last Wednesday.
On Sunday, around 60 regime soldiers raided the village of Htan Gyi, located some 20km southeast of the town of Wetlet, killing at least five people and torching around 300 homes, according to the leader of a local defence team.
Htangyi.jpeg
The charred remains of bodies discovered in Htan Gyi following a raid by junta troops on November 13 (Supplied)
The bodies of the deceased were found in two houses that had been set on fire by the regime forces, he said. Four were in a house just outside of the village near the local train station and the fifth was inside the village, he added.
The four bodies found near the train station belonged to members of another local defence team based in Pauk Kan, a village about 4km northwest of Htan Gyi.
"One had his throat slit. They were all badly disfigured. They were burned with their motorbikes. I don't know if they were burned alive or set on fire after they were killed," said the defence team leader, who did not want to be named.
He added that the junta forces initiated the raid on Htan Gyi from the area near the train station, firing on the village with heavy artillery before entering it and beginning their arson attacks.
The fifth victim was identified as Thinn Ko, a 50-year-old Htan Gyi resident who was ill and unable to flee the village when the soldiers arrived.
"It seems he died hiding inside one of the houses that was burned down," the defence force leader told Myanmar Now.
Wetlet_1.Jpeg
A vehicle destroyed in an arson attack by junta troops (Supplied)
After leaving Htan Gyi on Sunday evening, the junta column moved southeast to Kyaung Phyu, about 4km away, where they clashed with local defence groups, sources said.
Two days earlier, the military launched a series of airstrikes between the villages of Si Thar Myay and Lein Taw in Ye-U Township, about 80km northwest of Wetlet, using two Mi-35 attack helicopters, according to local resistance sources. Two Mi-17 transport helicopters were also used to airlift soldiers into the area, they added.
The two attack helicopters bombed the area for about 20 minutes before the other helicopters arrived with around 100 troops, the sources said.
Three resistance fighters were trapped during the air raid, which was reportedly ordered after the military received information that resistance forces were planning to hold a meeting in the area.
According to a source within Battalion 14 of the Shwebo District chapter of the People's Defence Force led by the shadow National Unity Government, the three resistance fighters were later captured and killed.
All three had bullet wounds in their heads, the source said. 
Img_7368_2.Jpeg
Members of a local defence team in Sagaing (Myanmar Now)
For the next two days, the junta troops remained in the nearby village of Pan Kone, which they used as a base to carry out ground assaults on other villages in the area.
During this time, soldiers killed two local civilians, including a 50-year-old mentally handicapped man living in Pan Kone, according to a Ye-U-based resistance fighter.
"They were both regular civilians, not politically active at all," he said, adding that two other residents of the village were also taken hostage and had not been released by the time the regime forces left Pan Kone for the town of Ye-U on Sunday.
Meanwhile, regime troops also carried out a series of attacks in Budalin Township, about 50km southwest of Ye-U, beginning on November 9. A total of four people, including two resistance fighters and a 14-year-old boy, were killed in these assaults, local sources reported.
The first two victims were killed in the village of Thet Shey Kan, where the village head and a resistance fighter died trying to help residents flee a column of around 50 soldiers.
The two men, identified as Bo Mee Tauk and Myo Thu Win, were both tortured after being captured, according a resistance source based in Budalin.
"When we found his body, the hands were all twisted and there were also cuts on the arms, stomach and back. His intestines were also falling out of his stomach," said the source, referring to the body of village head Bo Mee Tauk.
"Both had also been hit repeatedly in the jaw with rifle butts, leaving the entire area black," he added.
After spending last Wednesday night in Thet Shay Kan, the junta troops left for Ywar Shay, another village about 6km to the east.
Two residents of the village were shot dead when they encountered soldiers as they were trying to flee heavy artillery fire, according to a local who managed to escape.
The victims were identified as U Shan, 50, and Aung Myo Thant, 14.
Despite being located near Monywa, where the Northwestern Military Command is based, Butalin Township is largely under the control of anti-regime forces, and so is frequently targeted by the military.
Additional reporting by Moe Oo
https://ndburma.org/wp-content/uploads/2022/11/sagaing_idp_0.jpeg
345
797
ND Burma
https://ndburma.org/wp-content/uploads/2020/04/ndbLogo-296x300.png
ND Burma
2022-11-16 08:17:36
2022-11-18 08:19:39
Myanmar junta raids in Sagaing leave at least 14 dead