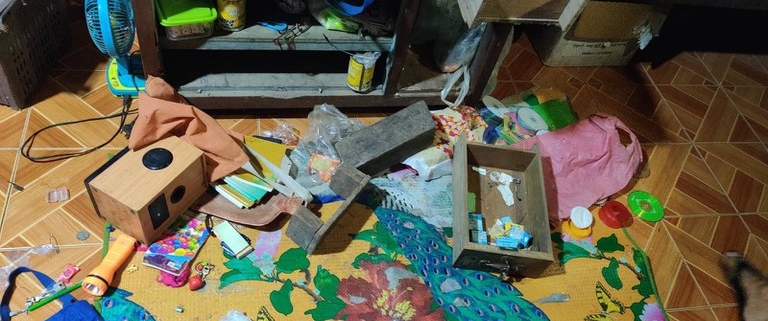 Locals say a local pro-junta militia was also involved in the killings in Dawei district.
Two people in their sixties were tied up and shot dead at close range by junta forces and their allies at a village in Myanmar's southwestern Tanintharyi region on Sunday as revenge attacks by troops and their militia allies increase.
Around 15 troops, and militia members from a nearby village entered Kadakgyi village in Launglon township, Dawei district, according to an official from the Democracy Movement Strike Committee (DMSC), Dawei district. The official identified the married couple as Thaung Win and Win Aye (nicknamed Mi Kyone). He said militia members from Pande village took part in the killings.
"They came into the village and cuffed the couple's hands behind their backs. The couple were shot dead in the street. I could not see any badges, but there were military intelligence and military-affiliated Pyu Saw Htee members," the official said.
The two villagers were shot in their heads, eyes, stomachs and backs, the official told RFA, adding that the bodies had been taken to a morgue.
The couple had been involved in the anti-regime movement and supported young protesters, the official said.Junta forces and their militia allies looted houses after the killings. CREDIT: Democracy Movement Strike Committee, Dawei district.
Local residents said the junta forces raided five houses in Kadakgyi village and took money and valuables after killing the couple. They say the troops and militia destroyed homes and belongings that were not claimed by villagers.
The military council has not released a statement about the incident and calls to a military council spokesman by RFA went unanswered on Monday.
The DMSC statement said six civilians had been shot dead and two injured by junta forces and Pyu Saw Htee groups between June 16 and 26.
There has been a rise in attacks involving pro-junta militia in Tanintharyi recently.
The Soon Ye (Kite Force) militia is thought to be behind the shooting deaths of three villagers in Launglon township on April 28 and another killing on the road between Dawei and Launglon on May 3.
The day before the second killing, the militia wrote on Facebook that it had the addresses of anti-coup protesters and would harm their families if they did not stop their activities.
At least 2,021 people have been killed in Myanmar since the coup on February 1, 2021 to June 24 this year, according to the Assistance Association for Political Prisoners (Burma). Figures gathered by Data for Myanmar between February 1, 2021 and April 28, 2022 show that 27 people had been killed in Taninthary, the sixth highest level of 15 regions.
https://ndburma.org/wp-content/uploads/2022/06/loung-lon.jpg
349
768
ND Burma
https://ndburma.org/wp-content/uploads/2020/04/ndbLogo-296x300.png
ND Burma
2022-06-27 07:52:00
2022-06-28 07:54:12
Married couple tied up and shot by Myanmar forces in Tanintharyi region