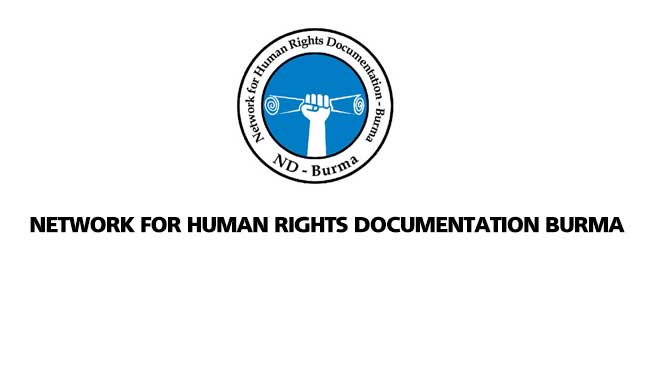 Latest Report by the Network for Human Rights Documentation – Burma Finds Crimes Against Humanity, War Crimes Perpetrated by the Myanmar Junta
For Immediate Release
28 July 2022:
Today, the Network for Human Rights Documentation – Burma (ND-Burma) released, "Resisting a Coup," a new six-month report which covers human rights violations committed by the Myanmar military junta between January and June 2022. Over the course of the six-month reporting period, the regime torched thousands of homes, and murdered civilians with impunity. Against the backdrop of the violence continues to be a full-fledged humanitarian crisis that has left thousands displaced and living in poverty. ND-Burma calls for immediate international intervention including targeted sanctions and a global arms embargo.
Across ND-Burma's member target areas are cases of extreme violence perpetrated by the soldiers of the Myanmar military. The wide-spread antagonism against the junta has led to the regime responding the only way they know how – by waging more internal conflict. This is evident in the mass numbers of civilians who have been routinely internally displaced. Evidence of the military junta deliberately embarking on a 'trajectory of terror' suggest that the regime will not stop their merciless attacks until the masses submit.
ND-Burma members have documented crimes committed by the Myanmar Army including arbitrary arrest and detainment, torture, rape and sexual violence, destruction of property, enforced disappearances, murder and others. The acts of violence that the junta has committed amount to war crimes, crimes against humanity and genocide. Accountability for their crimes is long overdue.
Further, the ND-Burma calls for an immediate cessation in violence and a retreat of junta soldiers from civilian areas. The international community, including UN bodies, and the Association of Southeast Asian Nations, must take concrete steps which hold the junta responsible.
ND-Burma supports a United Nations Security Council resolution on a global arms embargo, and an immediate referral of the situation of Myanmar to the International Criminal Court. We call for diplomatic, political, and economic pressure on the military junta to immediately cease the targeting of the civilian population in Myanmar. Attempts for peace and reconciliation will not be taken seriously under the military junta.
Media Contact:
Ko Ting Oo
+66815956138
arakanvictory@protonmail.com
Diamond Htoo
+66 96 759 5082
outreachofficer@nd-burma.org
ND-Burma formed in 2004 in order to provide a way for Burma human rights organizations to collaborate on the human rights documentation process. The 13 ND-Burma member organizations seek to collectively use the truth of what communities in Burma have endured to advocate for justice for victims. ND-Burma trains local organizations in human rights documentation; coordinates members' input into a common database using Martus, a secure open-source software; and engages in joint-advocacy campaigns.
Full Members
Assistance Association for Political Prisoners – Burma
Association Human Rights Defenders and Promoters
All Arakan Students' and Youths' Congress
Future Light Center
Human Rights Foundation of Monland
Kachin Women's Association – Thailand
Ta'ang Women's Organization
Ta'ang Students and Youth Union
Tavoyan Women's Union
Affiliate members
Chin Human Rights Organization
East Bago – Former Political Prisoners Network
Pa-O Youth Organization
Progressive Voice
https://ndburma.org/wp-content/uploads/2018/09/statement-ndb.jpg
386
656
ND Burma
https://ndburma.org/wp-content/uploads/2020/04/ndbLogo-296x300.png
ND Burma
2022-07-28 07:58:27
2022-07-28 08:00:41
Latest Report by the Network for Human Rights Documentation - Burma Finds Crimes Against Humanity, War Crimes Perpetrated by the Myanmar Junta