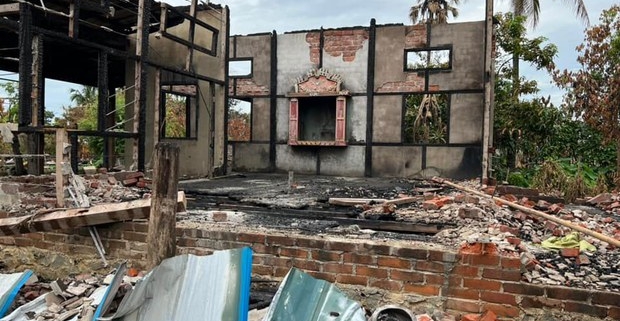 Sources said 20,000 residents from 80 villages fled their homes amid the attacks.
Junta troops in Myanmar's Sagaing region have killed at least 12 civilians and burned down more than 500 houses in 11 days since entering the region's northern townships of Kawlin, Kanbalu and Kyunhla, villagers and local defense groups said Friday.
Sources in the area told RFA Burmese that the military had set nearly 50 villages alight since Aug. 22, forcing more than 20,000 residents from 80 villages in the area to flee their homes for safety.
Nay Zin Lat, the former National League for Democracy (NLD) representative for Kanbalu township, said a dozen people had been killed over the past 11 days and that three villages in Kyunhla township were set on fire on Thursday alone.
"Kyunhla township's Hmaw Tone village is still burning today," he said.
"Eight unidentified bodies were found on Aug. 23 near [Kyunhla's] Tei Pin Seik village. They might have been burned to death or killed by heavy weapons. We cannot confirm anything yet."
Nay Zin Lat said three fighter jets fired at Kawlin township's Thit Seint Kone village at around 11:20 p.m. the same day, adding that "five villagers were hit and only one survived."
The Kawlin Revolution Group, an anti-junta paramilitary organization, told RFA that four people were killed in the attack, including six-year-old Pyisone, Moe Aung, Zin Myo Tun, and his nine-months pregnant wife, Phyu Zar Win.
RFA tried to contact family members of the victims but was unable to reach them because the phone lines were cut.
Local anti-junta People's Defense Force (PDF) groups announced that more than 40 enemy troops were killed in a skirmish between the PDF and the military near the border of Kanbalu and Kawlin townships on Aug. 22-23, and that three officers and a cache of ammunition were captured.
A resident of Aung Chan Thar village told RFA that junta troops started burning his and other villages in Kawlin township as they passed through the next day.
"The troops that were airdropped into the area set fire to our village. The fighting took place on Aug. 22 and they started burning the village on the 23rd," the resident said, speaking on condition of anonymity.
"There used to be 75 houses in our village. They set fire to almost every village they entered. All those from our village are on the run and are depending on food donated by people nearby. But when it rains, life is miserable and we don't have any food or medicine."
500 homes burned
Sources told RFA that more than 500 houses have been burned since Aug. 22, including 75 from Kawlin township's Aung Chan Thar village, as well as 59 from Kone See village, two from Tei Pin Seik village, 95 from Ein Chay village, 17 from Inn Yar village, and 53 from Ywar Koe Gyi village — all in Kyunhla township. They said at least 220 houses were torched in three other villages as well, without providing details.
"Even my pucca (brick) building has turned to ashes. All 95 of the houses have been destroyed," said a villager from Ein Chay, who also declined to be named, fearing reprisal.
"Right now, we don't dare to stay [in the village] and we don't have a place to live. All the villagers have fled. When it rains, everyone has a difficult time."
Other sources said the military had cut off internet access in Kawlin and Kanbalu townships and that details of the arson attacks remain unknown.
A member of a local armed-resistance unit said junta troops are still stationed in Kyunhla's Ywar Koe Gyi and Kaing Wun villages and that a nearby area came under attack by air raid on Thursday night.
"The army columns are not leaving. They aren't going anywhere," the fighter said.
"Last night, a jet fighter came and fired at some places between their forces and our camp. It was between Ywar Koe Gyi and Kaing Wun villages and there were no casualties."
RFA contacted the junta's minister for social affairs in Sagaing, Aye Hlaing, but was unable to reach him on Friday.
The latest offensive in Sagaing came days after an Aug. 17 meeting between junta chief Snr. Gen. Min Aung Hlaing and U.N. Special Representative Noeleen Heyzer, during which the former claimed that his forces were not responsible for using arson attacks against villages.
However, Data For Myanmar, a group that monitors the fires nationwide, said on Aug. 29 that a total of 28,434 homes have been burned across the country since the military's Feb. 1, 2021, coup.
https://ndburma.org/wp-content/uploads/2022/09/kan-lel-gyi.jpg
465
620
ND Burma
https://ndburma.org/wp-content/uploads/2020/04/ndbLogo-296x300.png
ND Burma
2022-09-02 13:19:00
2022-09-05 13:20:59
Junta troops kill 12, burn hundreds of homes in 11 days of raids in Sagaing