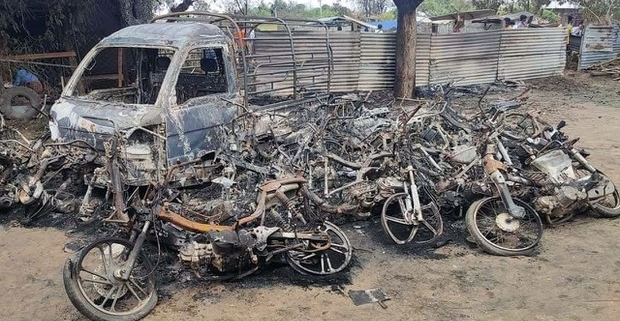 Victims of the attacks include an 80-year-old woman found burned to death after failing to escape.
Junta forces stepped up their attacks in Myanmar's hard-hit Sagaing region in the first week of August, torching nearly 500 homes in 10 villages and causing at least 5,000 people to flee, local sources said.
The attacks in Sagaing's Tabayin and Ayadaw townships included air raids and ground assaults and appeared especially to target large and well-built homes, but houses were burned in every village through which troops passed, one source said.
Around 180 out of nearly 200 homes were destroyed on Aug. 4 in Tabayin's Kaing Kan village alone, one resident told RFA on Saturday, speaking on condition of anonymity for security reasons.
"Troops entered the village at 9:00 am, burning down the bigger and nicer houses as they came in. But houses have been burned down in every village that they entered," RFA's source said.
"They think that anti-junta resistance will stop when the people are repressed and have to struggle for their living instead of engaging in opposition activities. I believe that this repression will fail, though," he added.
Locals said that four bodies, including the body of a woman, were discovered near a drain outside Kaing Kan village following the attack but had not yet been identified.
In Ayadaw township's Min Ywa Gyi village, heavy shelling by junta forces preceded the burning of homes during weekend attacks, one village resident said on Monday, also declining to be named because of safety concerns.
"The [ruling] Military Council set fire to the houses. This is their usual tactic," he said. "The troops came by helicopter, shelled the village with heavy artillery and then burned the houses.
"As far as I could see yesterday, no fewer than 200 houses had been burned down," he added.
Myanmar military forces are at war with People's Defense Force (PDF) units created to oppose junta rule, "but instead they are destroying civilians' lives and homes, which isn't fair," he said.
Woman burned to death
Local sources said that Daw Shin, an 80-year-old woman, was found burned to death in Min Yaw Gyi after failing to escape the military raid and that local defense groups were busy Sunday clearing landmines left behind by junta troops, with those displaced by the fighting seeking shelter in a nearby monastery and with charity associations.
Calls seeking comment from a Military Council spokesman rang unanswered Monday. But a member of Tapayin township's People's Defense Force told RFA that the more junta forces repress the local people, the more the people will fight against junta rule.
"We are not scared by these brutalities," he said. "If there were 100 people resisting before, 300 people will come out now, and the more violent the junta troops become, the more the people will rise up against them."
Also speaking to RFA, Nay Zin Lat—a regional MP from Kanbalu township for the National League for Democracy, which was overthrown in a Feb. 1, 2021 military coup—said that military leaders are trying to rule Myanmar's people through fear.
"They are limited in their ability to attack the PDF forces on the ground, so when they find they can't do it, they just torture the local civilians, who have nothing to do with the PDFs.
"By doing this, they are trying to cut local contacts with the PDFs and spread fear among the people so that they will end their support for the fighters. This is the cruelest treatment imaginable," he said.
https://ndburma.org/wp-content/uploads/2022/08/rfa-ima.jpg
348
620
ND Burma
https://ndburma.org/wp-content/uploads/2020/04/ndbLogo-296x300.png
ND Burma
2022-08-08 08:49:00
2022-08-09 08:51:01
Junta troops burn 500 homes, displace thousands in Sagaing