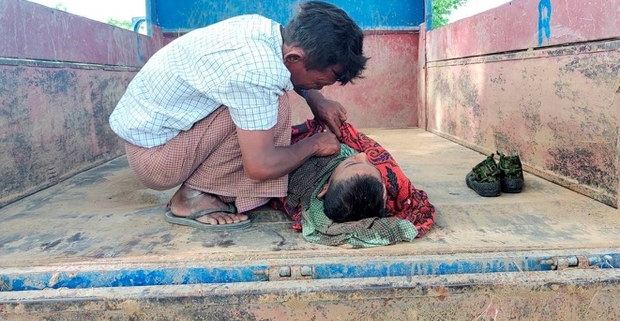 Witnesses said 2 gunships fired on the school 'for nearly an hour.'
Military helicopters fired on a village school in Myanmar "for nearly an hour" before junta foot soldiers let loose with guns, killing at least seven children, residents said Monday, in what appeared to be the deadliest attack on children since last year's coup.
UNICEF condemned Friday's attack in Tabyin township and put the death toll even higher, saying at least 11 children died "in an airstrike and indiscriminate fire in civilian areas." It said at least 15 other children from the same school were still missing.
The raid is believed to have caused the highest number of child deaths of any single incident since the military seized power in a Feb. 1, 2021, coup and came barely one week after the release of a report that said thousands of students and teachers have been injured or killed in attacks in Myanmar over the past two years.
Residents of Tabayin township said that four helicopters approached the village of Let Yet Kone on the afternoon of Sept. 16. Two of the helicopters landed and deployed around 80 junta troops, while the other two fired at a secondary school located in the nearby Maha Dhammaranthi monastery compound.
"They fired rockets and then machine guns for nearly an hour continuously. Two helicopters hovered above and attacked us from both sides. For an hour, there was nothing we could do," one parent who witnessed the attack told RFA Burmese, speaking on condition of anonymity.
"After a while, soldiers with baskets on their backs entered our school. They came in, with guns blazing," the parent said.
"I heard a voice saying 'Stop! Stop!' [The troops] said, 'Keep your heads down and don't look up.' They said they would shoot if we looked at them. I took a glimpse and saw children running out of the kindergarten. Some were limping, some were dripping with blood. There were many children covered in blood."
Witnesses said the soldiers who raided the school belonged to Light Infantry Battalion 368, under the 10th Military Operations Command based in Kyi Kone village, in Sagaing's Kale township, adding that most were wearing shorts or sweatpants instead of full military uniform.
Another parent, who also declined to be named, said there were 31 teachers and 211 students at the school when it came under attack from the gunships. Four children were killed on the spot, they added.
Residents of Tabayin told RFA that troops detained 15 people, including nine injured students, three teachers, and three villagers — none of whom had been released as of Monday. They said two of the detained children later succumbed to their injuries, bringing the total number of children killed in the school attack to six. Troops buried the bodies of the two children in Ye-U township instead of returning them to their families.
Another child and six adults were killed by troops in Let Yet Kone village following the attack on the school at the Maha Dhammaranthi monastery compound, residents said.
The seven children killed in the attacks on the school and in Let Yet Kone village were identified as Hpone Tay Za, 7; Suyati Hlaing, 7; Zin Way Phyo, 9; Win Win Khaing, 11; Zin Ko Oo, 14; Soe Min Oo, 13; and Aung Aung Oo, 16. Residents said a man and a woman were among the six adults killed in Let Yet Kone, but were unable to provide additional details.
The parent of one student, who asked to remain anonymous citing security concerns, told RFA that the surviving children are dealing with severe trauma from the incident.
"My children are in a state where they do not dare to sleep alone at night. … I have to sit by them and can only leave when they are fast asleep. Otherwise, they wake up startled and begin sobbing," they said.
"All the other parents say the same about their kids. They all are having nightmares."
The school was nearly destroyed in the attack and remains closed, according to residents who said the smell of blood hangs heavy in the air around the compound.
Attack condemned
On Sunday, the ministries of education, women, youth and children's affairs, and human rights under Myanmar's shadow National Unity Government (NUG) issued a joint statement condemning the attack, which they called "an inhuman and horrific war crime."
NUG Deputy Minister of Education Sai Khaing Myo Tun said the incident shows how far the junta is willing to go to cling to power and reach its military objectives.
"It's an example of how seriously they violate the rights of children, such as freedom of education and freedom of thought. But this incident resulted in a terrible loss of lives," he said.
"There is an urgent need to take action against this military regime in accordance with international laws."
Kyaw Zaw, spokesman for the office of NUG President Duwa Lashi La, said the military had used Russian-made Mi-35M helicopters in the attack, which he called "brutal and merciless."
"No country on earth kills children, especially elementary school children," he said. "This was an act of terrorism."
Pro-junta media published an official statement on Sept. 17 which confirmed that civilians had been killed in the incident, but blamed the deaths on fighters with the ethnic Kachin Independence Army (KIA) and the anti-junta People's Defense Force (PDF) paramilitary group, who it said fought back against troops using residents as human shields.
Witnesses, however, said the attack was one-sided with no return fire.
On Monday, UNICEF Myanmar issued a statement condemning the attack and calling on the military to release the missing students.
"On Sept. 16, at least 11 children died in an airstrike and indiscriminate fire in civilian areas, including a school in Tabyin township, Sagaing region," the statement said.
"At least 15 children from the same school are still missing. UNICEF calls for their immediate and safe release."
RFA was unable to independently confirm the number of dead and missing cited by the statement.
A lawyer, who did not want to be named for security reasons, said the attack was a violation of both domestic and international laws.
"It is premeditated and intentional murder [under Myanmar's Penal Code]," he said.
"Additionally, according to international law and the Geneva Convention, the intentional shooting and killing of civilian targets in an operation area, can be … classified as a war crime."
The lawyer called for evidence of the attack to be collected and presented to an international court for prosecution, noting that it is impossible to do so in Myanmar while the judiciary is under the control of the junta.
Schools under attack
The raid on the school and Let Yet Kone village came only a week after New York-based Global Coalition to Protect Education from Attack published a report which found that at least 190 schools were the targets of attack in Myanmar in 2021, up from 10 the previous year.
The report, entitled "The Impacts of Attacks on Education and Military Use in Myanmar" and released on Sept. 9, said attacks on schools spread from at least three to 13 states and regions in Myanmar following the military takeover, with a peak in May 2021, and "often involved the use of explosive weapons with wide-area effects."
Over the past two years, it said, such attacks had killed or injured more than 9,000 students, teachers and education personnel.
The report urged all sides involved in Myanmar's conflict to refrain from setting up camps in schools and attacking the education sector.
According to Thailand's Assistance Association for Political Prisoners, authorities in Myanmar have killed 2,299 civilians and arrested nearly 15,600 since last year's coup — mostly during peaceful anti-junta protests.
Translated by Khin Maung Nyane. Written in English by Joshua Lipes.
https://ndburma.org/wp-content/uploads/2022/09/chil-shcool.jpg
337
620
ND Burma
https://ndburma.org/wp-content/uploads/2020/04/ndbLogo-296x300.png
ND Burma
2022-09-19 08:40:00
2022-09-20 08:42:13
Junta chopper attack on school kills 7 in Myanmar's Sagaing region