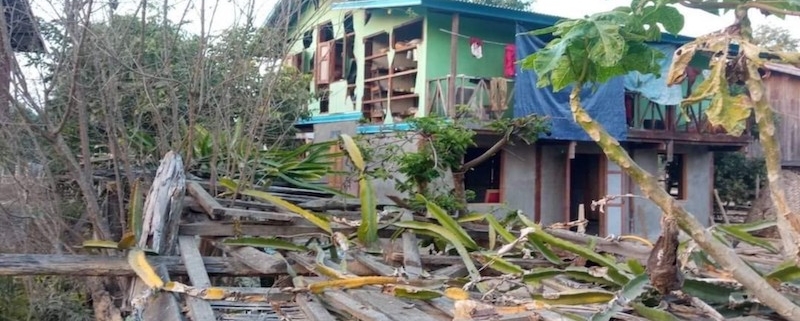 The Myanmar military launches days of consecutive airstrikes on Moe Tar Lay village in Katha Township
Battles between resistance forces and the military followed a series of junta airstrikes launched on Friday in Katha Township, northern Sagaing Region, according to local sources.
Allied guerrilla groups ambushed a Myanmar army column of more than 70 soldiers under Light Infantry Division 77 on January 19 near the village of Moe Tar Lay, some 20 miles from Katha town, as they advanced through the township from the occupied community of Chaung Wa.
Members of the People's Defence Force (PDF), the People's Defence Team and the All Burma Students Democratic Front jointly carried out the assault. The military responded by sending two fighter jets to bomb Moe Tar Lay at around 4pm, killing seven locals and injuring more than 30.
The next day, as clashes escalated, junta aircraft attacked the area three times between 10am and 2:30pm, according to a member of the Katha PDF who spoke to Myanmar Now from the frontline.
He noted that a helicopter and a jet surveyed the area until late in the afternoon.
"We are assuming that they were looking for something as they were just hovering around without firing. It appeared that they were looking for their people to rescue," he explained.
Heavy artillery was also fired by the military in the direction of Moe Tar Lay.
Although local media reported that a Myanmar army tactical officer was killed at the site, Myanmar Now was unable to independently verify his death.
The frontline Katha PDF member said that as of last Friday, the resistance had suffered one casualty in the episode of fighting, and saw one of its members injured.
Thousands of residents from Moe Tar Lay and neighbouring Sin Gon Taing and Tut Kone fled their homes during the fighting and took refuge in Katha town.
Elsewhere in Katha, the PDF clashed with a military column near Alel Kyun on January 19, according to a man from the area, who said that the junta forces torched the village, forcing its residents and those from the nearby communities of Than Taung and Pyin Htaung Gyi to flee.
Attacks from guerrilla forces based in the Sagaing townships of Katha and Htigyaing have been increasing as the military council relies on the Ayeyarwady River—which runs through the region—to transport arms, ammunition, supplies and reinforcements north to Kachin State. 
https://ndburma.org/wp-content/uploads/2023/01/katha_airstrike_0.jpeg
384
800
ND Burma
https://ndburma.org/wp-content/uploads/2020/04/ndbLogo-296x300.png
ND Burma
2023-01-23 09:07:18
2023-01-25 09:09:12
Junta air force repeatedly bombs Sagaing Region village